Crossing the Darién Gap: Migrants Risk Death on the Journey to the U.S.
Tens of thousands of migrants from Haiti, Venezuela, and elsewhere risk their lives each month to cross the Darien Gap between Colombia and Panama. Images from along the journey show the dangers they face.
The Darién Gap is an imposing obstacle on one of the world's most dangerous migration routes. The remote, roadless crossing on the border between Colombia and Panama consists of more than sixty miles of dense rain forest, steep mountains, and vast swamps. It is the only overland path connecting Central and South America. Over the past few years, it has become a leading transit point for migrants in search of work and safety in the United States, as authorities have cracked down on other routes by air and sea.
However, migrants face many challenges on this land journey northward, including treacherous terrain, exposure to disease, and violence at the hands of criminal groups. As the number of migrants grows, so too does the impact on Indigenous communities whose lands they often traverse. Government officials and international organizations have sought to manage the crisis by setting up temporary housing and providing basic services to those arriving in Panama, where resources are rapidly being depleted.
Economic insecurity, political upheaval, violence, and climate change are driving record numbers of migrants from their home countries, according to UN experts. At the same time, the lifting of COVID-19 border restrictions has reopened many travel routes across Latin America. Most migrants are ultimately headed for the southern U.S. border, where they hope the Joe Biden administration will grant them asylum. But many coming from the Caribbean and South America first have to cross the sixty-mile-wide Darién Gap, the only break in the Pan-American Highway that otherwise stretches uninterrupted from Alaska to the southern tip of Argentina.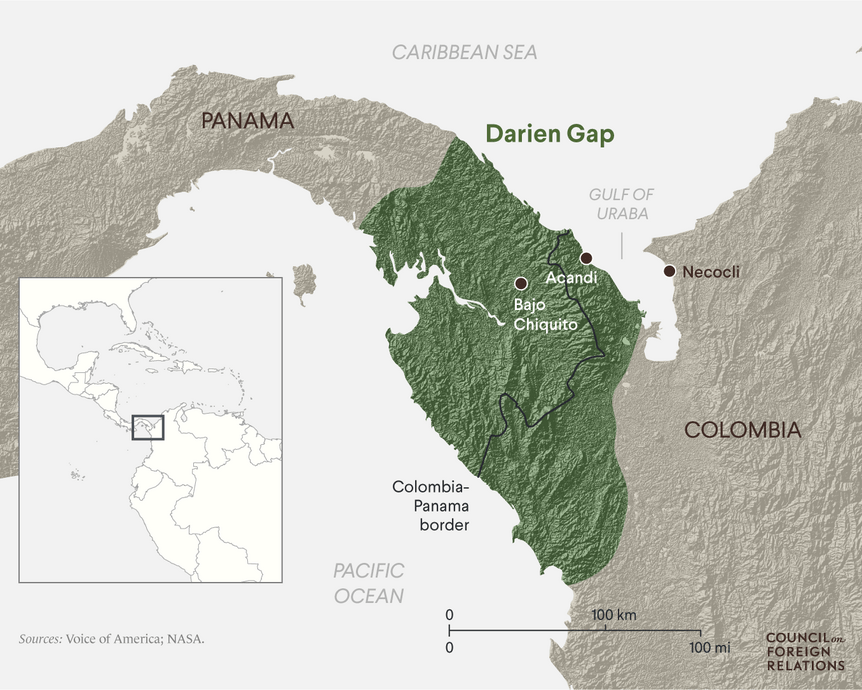 According to the Panamanian government, more than 248,000 migrants crossed [link in Spanish] the Darién Gap en route to the United States in 2022, up from just a couple hundred people annually a decade ago. Over forty thousand of them were children. The majority of migrants were from Venezuela, followed by Ecuador and Haiti—including Haitian children born in Brazil and Chile—but some hailed from as far away as Angola, Bangladesh, and Uzbekistan.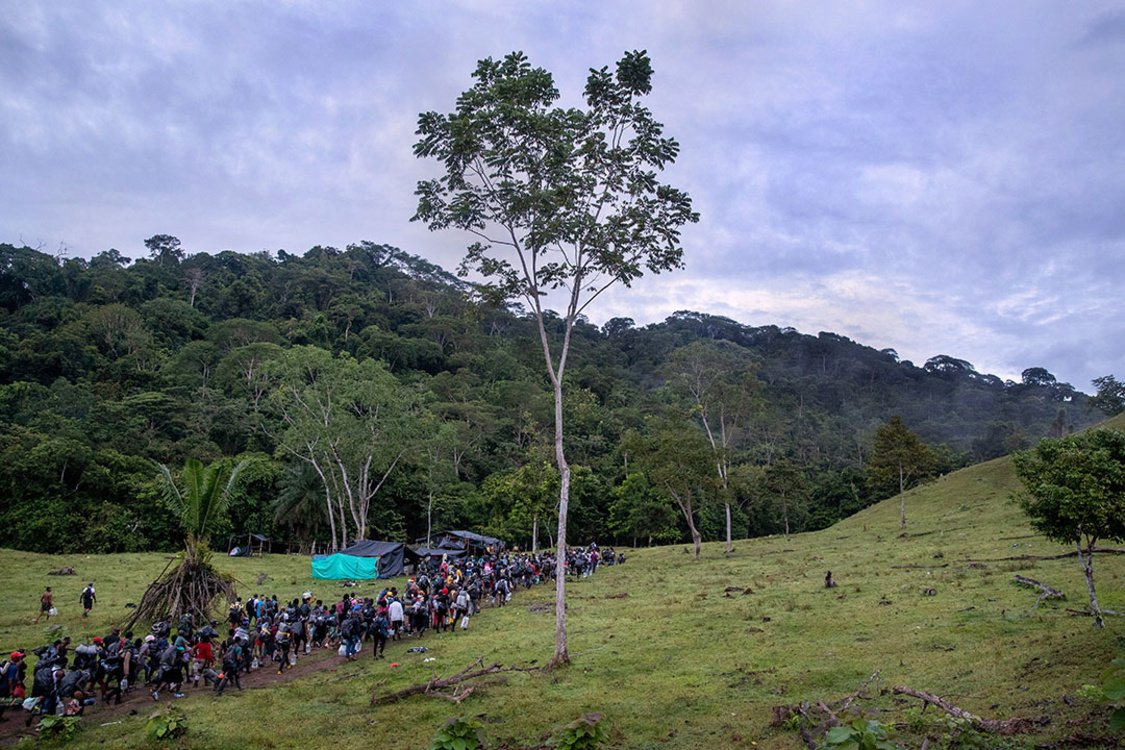 Experts say the number of people risking their lives to cross the gap is expected to increase as socioeconomic conditions continue to worsen across the region. Since a devastating earthquake rocked Haiti in 2010, for instance, tens of thousands of Haitians moved to South America, where they have faced discrimination and economic difficulties. In 2021, 61 percent of migrants traversing the Darién Gap were from Haiti. That number dropped to 9 percent in 2022, though the country continues to endure gang violence, political instability, and the repercussions of a recent earthquake. Meanwhile, the number of Venezuelans crossing the gap has sharply increased as the humanitarian situation in their home country grows more dire.
In 2023, the total number of migrants crossing the gap could soar to as many as four hundred thousand, a record high. As of July, over 251,000 migrants have already made the trek; this is more than the entirety of 2022.
The first stop on the journey north is the coastal town of Necocli, Colombia, on the shore of the Gulf of Urabá. Most migrants already in the region travel on foot or take local transportation to get there. But for those coming from Africa and the Caribbean, the route is more complicated. Under mounting pressure from the United States to contain illegal immigration, the Mexican government has expanded its visa requirements, making it more difficult for people to fly directly to the U.S.-Mexico border. Instead, they will now often fly into Brazil or Ecuador, where visa policies are more lax, before heading for Necocli.
Necoclí is a major transit point for migrants seeking to enter Panama. While the number of migrants crossing the border slowed at the start of the COVID-19 pandemic, the relaxation of travel restrictions across the region has seen thousands of migrants flood the small town. According to Necoclí's mayor, the sudden influx has fueled a public health emergency that began in August 2021: the town's health-care system has collapsed, and there is a continuous shortage of food and water.
While waiting to take an hour-long ferry ride to Acandí, a town about five miles from the Panama border, migrants take shelter in hotels or makeshift camps on the beach. Most have few possessions; any leftover money is often spent buying food and camping gear from street vendors.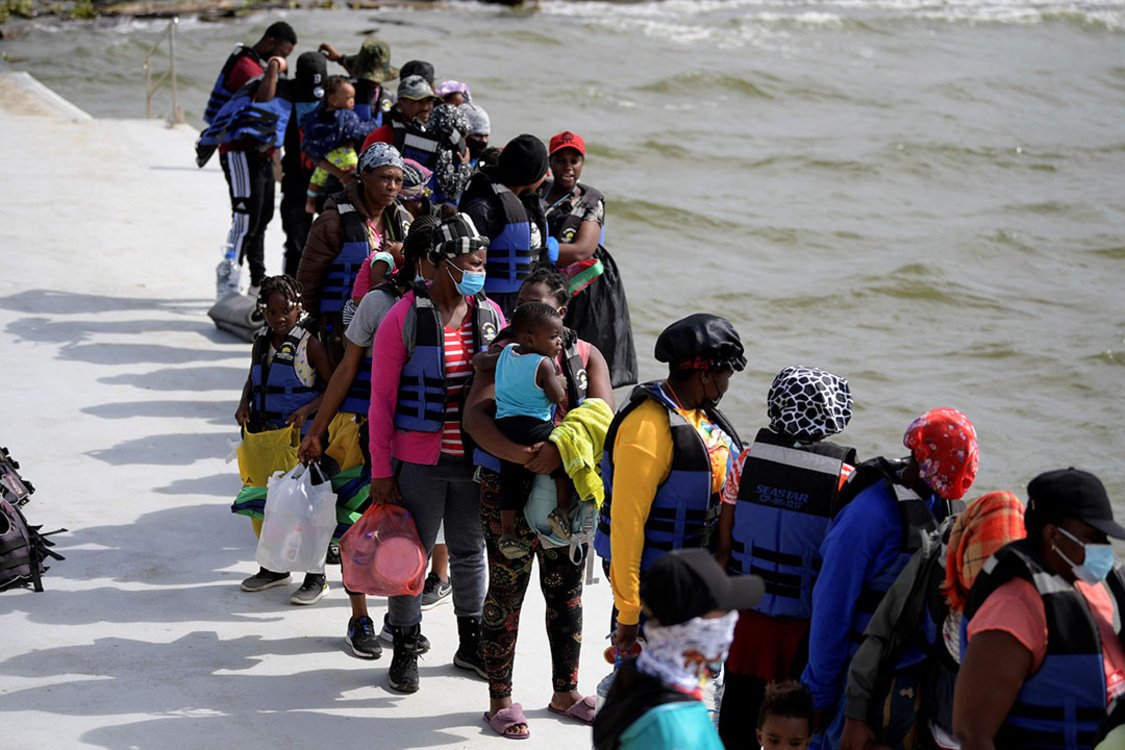 Some have been forced to wait weeks for the ferry. The Ombudsman's Office of Colombia, a government agency responsible for overseeing the protection of civil and human rights, has been tasked with addressing the backup in Necoclí.
Once in Acandí, migrants will head for the Darién Gap jungle, a dangerous hike that can take ten or more days. Many pay to be led by local guides, or "coyotes." Along the route are smugglers and criminal groups, including members of the Revolutionary Armed Forces of Colombia (FARC) and the Gulf Clan, a paramilitary group and Colombia's largest drug cartel. These groups often extort and sexually assault migrants. "Deep in the jungle, robbery, rape, and human trafficking are as dangerous as wild animals, insects and the absolute lack of safe drinking water," Jean Gough, regional director for Latin America and the Caribbean at the UN Children's Fund (UNICEF), said in an October 2021 news release. "Week after week, more children are dying, losing their parents, or getting separated from their relatives while on this perilous journey." UNICEF estimates that half of the children who crossed in 2022 were under five years old, and at least one thousand were unaccompanied or separated.
The environment presents an equally large challenge. The Darién Gap is one of the wettest regions in the world, and frequent rainfall can trigger landslides in the mountainous terrain. Temperatures can reach 95°F (35°C) with high humidity, exacerbating persistent thirst and hunger.
"The journey was really quite hard, especially when the rain came. It was just mud, rivers and going up mountainsides non-stop," one Haitian migrant told Al Jazeera. "There were pregnant women, we had to walk in rivers … children were fainting, and even men, at times, who couldn't continue."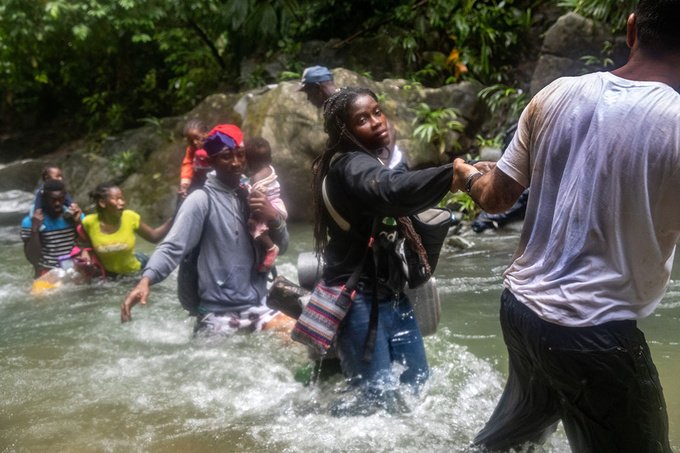 DARIÉN GAP: Left: The journey requires crossing several rivers, where the water can reach waist high. Strong currents have swept away some migrants. Right: Frequent rest breaks are needed as migrants face the breaking point of exhaustion.
Aside from Senafront, Panama's national border service, there is no police force in the area and no formal road, making it difficult to stop arms and drug trafficking, or find help. According to the International Organization for Migration, at least thirty-six people died trying to cross the gap in 2022, though the actual figure is likely to be much higher.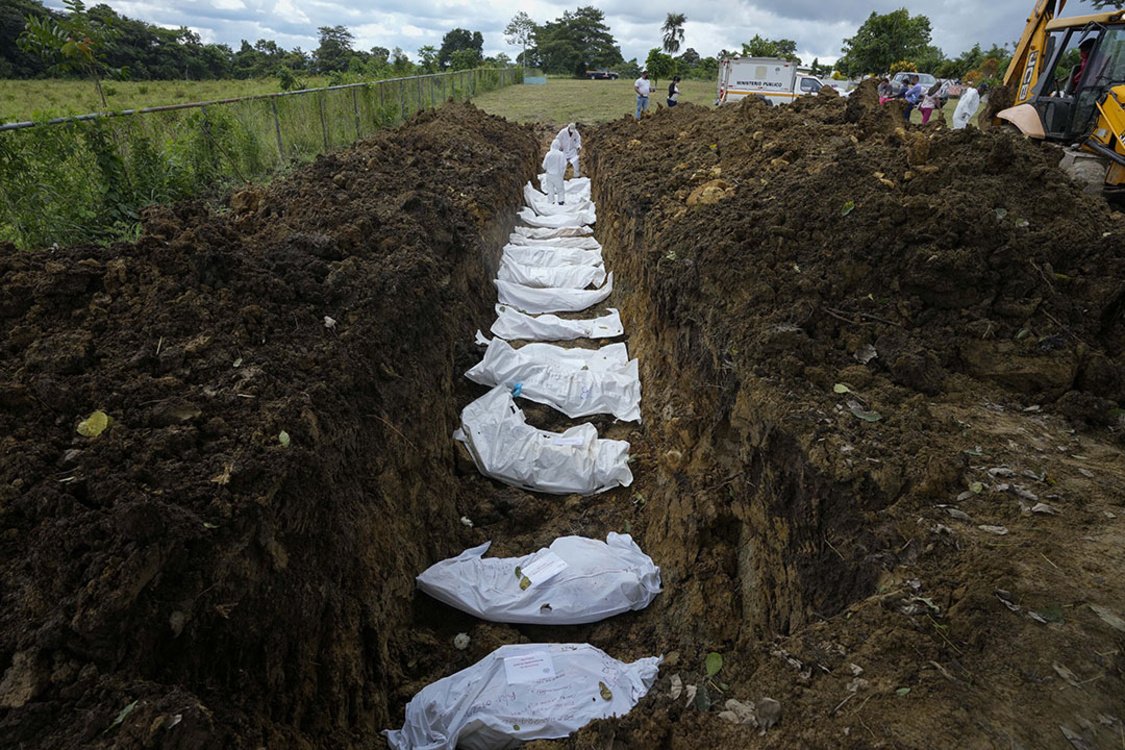 Heading for the United States
While the route is evolving, migrants usually exit the jungle at Bajo Chiquito, a small village in eastern Panama. There, they are met by international humanitarian organizations such as Doctors Without Borders and UNICEF, which have set up reception centers to provide medical care and mental health services. Access to clean water and bathrooms remains limited.
Panamanian authorities have also set up infrastructure to temporarily house migrants and provide them with basic services, but officials say more assistance is needed. According to then Foreign Minister Erika Mouynes, the government lacks the money needed to provide long-term humanitarian support to migrants. Rather than deport them, Panamanian authorities and international organizations, with financial assistance from the United States, focus on providing migrants with essential services. It is in Panama that they are registered as migrants and biometrically screened by authorities for the first time on their journey. Most then quickly resume their trek to the north.
But to get to the United States, migrants have to cross half a dozen more borders, where they face the risk of being stopped or deported. Even if they reach the southern U.S. border—a journey of roughly 2,500 miles over Central America alone—many are expelled back to their home countries under Title 42, a policy that denies migrants asylum on pandemic-related grounds. Ahead of the scheduled termination of Title 42 in May 2023, however, U.S. officials announced they had struck a deal with Colombia and Panama to shut down the Darién Gap route. As part of the plan launched in June, Panama's government will dedicate some 1,200 immigration agents, border police, and naval air service members to combat transnational organized crime in the jungle.
At the same time, hundreds of thousands of migrants continue to flee worsening poverty and unrest in the so-called Northern Triangle countries of El Salvador, Guatemala, and Honduras. U.S. border authorities reported that they apprehended more than 2.3 million people along the border during fiscal year 2022, a record high.