Alongside Real Progress, Kagame's Human Rights Abuses Persist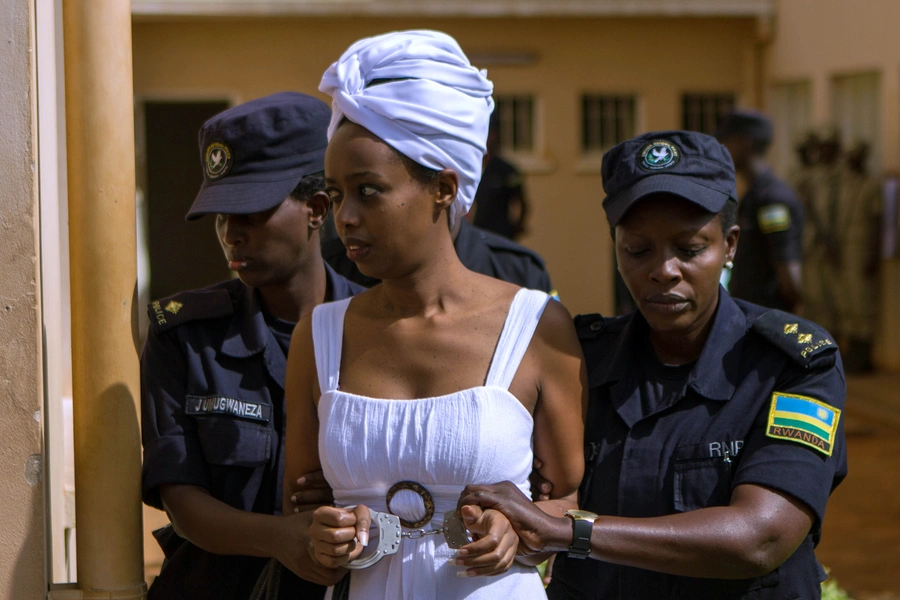 Neil Edwards is the volunteer intern for CFR's Africa Program in Washington, DC. He is a master's candidate at the School of International Service at American University and is a returned Peace Corps Rwanda volunteer.
President Paul Kagame's Vision 2020 roadmap for Rwanda has led to remarkable progress with respect to women's rights. One of the most visible markers is Rwanda's parliament, which has the world's highest proportion of women at 61.3 percent—nearly triple the world's average. Parliament has passed laws on gender-based violence, inheritance, discrimination, and rape. Furthermore, a near-universal healthcare system covers almost 90 percent of the nation, and Rwanda is on pace to become the first nation in the world to eliminate cervical cancer. Almost all Rwandan adolescent girls are vaccinated against it, while in the United States, only four in ten girls are vaccinated. But these great strides in gender equality occur alongside Kagame's persistent human rights abuses. 
In an open letter, former presidential candidate Shima Diane Rwigara calls out Kagame for these abuses. The letter was presumably motivated by the murder of Jean Paul Mwiseneza, a prison guard who was stabbed and beheaded in a Kigali prison on June 10. She writes, "Rwandans experienced enough trauma, anguish and loss during the slaughter of their countrymen and women; the last thing they need is oppression from their liberators. I humbly ask: what to do when those designated to protect are the ones persecuting?"  
Rwigara has been a fierce public critic of President Kagame, targeting the regime's human rights record, weak rule of law, and restrictions on freedoms of expression. She has faced the wrath of the Kagame regime first hand. During her 2017 bid for president, naked photos of Rwigara were leaked to the media. Soon after, she and her family were arrested for tax evasion and inciting an insurrection, and she spent over a year in prison facing those likely spurious charges. Similarly, Victoire Ingabire Umuhoza, another female presidential candidate, was arrested and served eight years of a fifteen year sentence on charges of terrorism and threatening national security. These charges are also widely understood to have been ginned-up for political purposes.   
President Kagame often cites Rwanda's progress on gender representation, access to health care, and improved development statistics to mask his human rights abuses. In an interview with France 24, Kagame was asked about presidential candidates, journalists, and human rights defenders being jailed, physically attacked, killed, silenced, or even forced into exile. Kagame dismissed these allegations entirely, claiming it as "just ridiculous." He pivoted to Rwanda's development, saying "what we are talking about in terms of development, these are human rights: development, schools, education, health, and food security. The level of poverty has decreased by 60 percent." But one does not justify the other. 
Still, Kagame's regular appearances in the international spotlight reflect his successful self-promotion. Kagame makes appearances at NBA basketball games and regularly in international media. He has built a global image as a war hero who rebuilt the nation after he led an army to stop the 1994 genocide. Casual viewers of his interviews and public appearances may not be aware of his regime's political repression. 
Kagame is now serving his third term as president, and after changing the constitution in 2015, he now has the ability to rule until 2034. The president's clampdown on political freedoms dampened checks on his power. Political activism and a truly independent civil society are almost non-existent for fears of prosecution. According to Rwigara, certain "organizations…which are responsible for seeking justice for survivors—are too afraid to stand up to the ruling party."
Despite Rwanda's world-leading representation of women in parliament—and its likely positive impact on policy—the legislature is not able to check Kagame's political repression. Instead, parliament is complicit in the adoption of policies that compromise Rwandans' civil liberties. Members of parliament—both male and female—are necessarily loyal to the ruling Rwandan Patriotic Front party, rather than owing their full allegiance to their constituents who elected them. Amidst the democratic backsliding occurring across Sub-Saharan Africa, policymakers must applaud social progress, but continue to remain vigilant to ongoing human rights abuses.