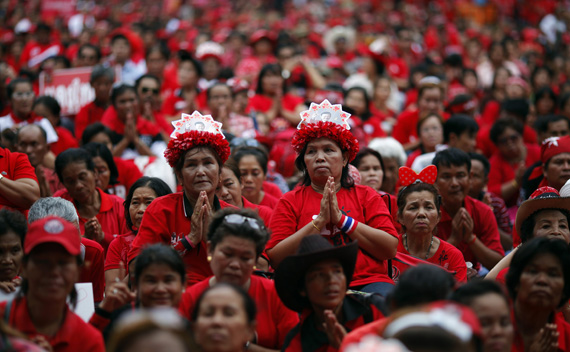 One year ago this week, the standoff in Bangkok between the red shirted protestors and the security forces ended in the worst violence in Thailand in at least two decades, with more than eighty people killed, hundreds injured, and even more locked up in jail. A year later, unfortunately, very little has changed. As Human Rights Watch documents in an excellent new report, the most important aspect of reconciliation, some kind of justice for the perpetrators of the violence, has been almost completely absent. Not only human rights groups, but also Thailand's Department of Special Investigations found that soldiers shot innocent victims, as the Associated Press documents. Yet only the perpetrators of violence from the red shirt side have faced prosecution. To be sure, the red shirts' armed "men in black" committed serious crimes and should be punished, but so did the security forces.
The Truth and Reconciliation Commission established to deal with the events of spring 2010 has also made little headway. Although it has interviewed a number of participants in the events, it has no subpoena power, and has little ability to compel military leaders to appear before it, rendering it all but useless. Meanwhile, the Abhisit government's crackdowns on opposition websites and radio stations do not exactly add to the feeling of reconciliation.
Approaching the new elections, then, Thailand is in just as explosive a place as it was last May. That's a shame, because with the right mix of policies after last May's killing, it might have been possible to create a less inflammatory environment before the national polls.