Biden's Progress on Women's Rights: Good Start, But Not Fast Enough
More than two years into his presidency, Joseph Biden has achieved some of his gender equality goals, and fallen short on others.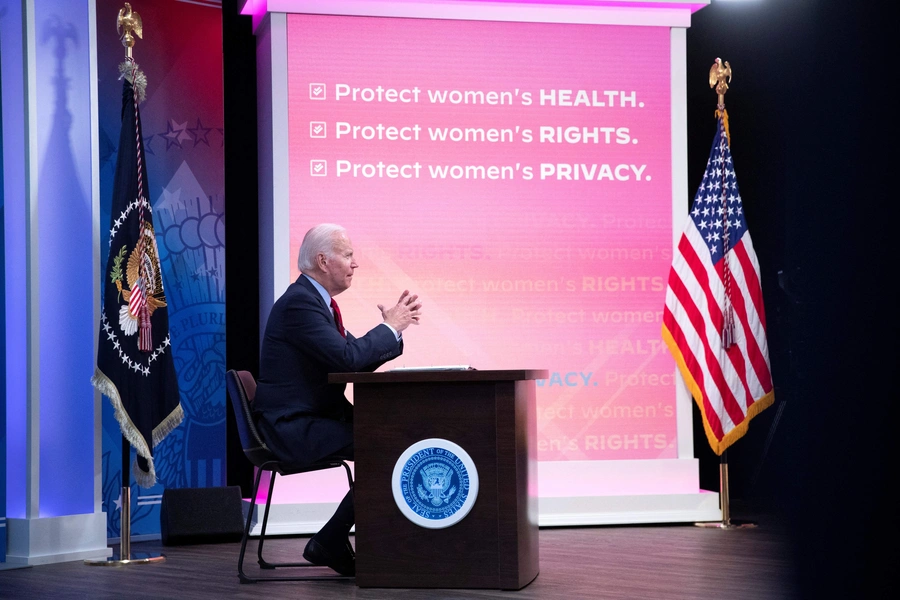 International Women's Day provides an opportune moment to take stock of the U.S. administration's track record on gender equality thus far. Two years into the president's term, the major achievements have included significant numbers of women in top executive branch jobs (including, of course, the first female vice president in the country's history), the first-ever national gender strategy, and a record funding commitment of $2.6 billion  to promote gender equality abroad. Though an impressive figure, this commitment falls short of other Organization for Economic Cooperation and Development (OECD) countries and remains insufficiently documented (and thus difficult to evaluate).
Women in Top Jobs
President Joe Biden set a goal of gender parity for his cabinet, which would have meant his top advisers were fully representative of the population, and achieved 44 percent. Nonetheless, his cabinet has more women than any previous U.S. administration. Women serve in 45 percent of the top national security appointments (this does not include the secretary of defense, however; despite being a frontrunner, defense expert Michele Flournoy did not receive the position). Ambassadorships filled by women recovered from the lows of the Donald Trump administration at 28 percent to a new record of 45 percent.
The most senior woman in the Biden administration is, of course, Vice President Kamala Harris, who broke an important glass ceiling. This achievement has been clouded by sometimes justified criticism of her performance, but even more by unfair, racist, and sexist attacks. For much of the term, she has lacked visibility and a clear portfolio (except for the always-difficult border migration issue) and was tethered to Washington to play the critical tie-breaking role in an evenly-split U.S. Senate. She also aided the Democrats' midterm victories with relentless campaigning around the country. Most recently, Harris has raised her profile as a champion of women's rights and legal reforms, and she pledged U.S. support to Ukraine and justice for victims of Russia's war crimes to a packed crowd in Munich, Germany, on February 18, 2023. This increased visibility may signal Biden's intention to keep her as his running mate for his expected reelection bid. If he does, the partnership could use strengthening in the months ahead lest she be written off as a token.
An Ambitious National Gender Strategy
The National Strategy on Gender Equity and Equality, released in October 2021, lays out ten ambitious goals for Biden's government to advance gender equality at home and abroad. They include promoting women's economic security; health and reproductive rights; education, justice, and human rights; security and access to humanitarian relief; climate change mitigation; and political representation and leadership. An executive order directs that those gender-related actions be integrated into policy across all U.S. departments and agencies. Implementation is overseen by a new White House–based Gender Policy Council that convenes monthly progress meetings under its director, Jen Klein. The jury is still out on whether this is a powerful enough mechanism, even with Klein's deputy Rachel Vogelstein (who previously directed the Council on Foreign Relations' Women and Foreign Policy program) serving as special advisor at the National Security Council.
Commerce Secretary Gina Raimondo and U.S. Trade Representative Katherine Tai have been aggressive champions of gender priorities in their programming and trade relations, but the Senate has yet to confirm Geeta Rao Gupta as U.S. ambassador for Global Women's Issues. The U.S. Agency for International Development (USAID) has a senior gender coordinator reporting to the agency's administrator. But there is no equivalent position reporting to the secretary of defense, even though the Pentagon is the largest department and possesses the primary responsibilities assigned by law in the 2017 Women, Peace, and Security Act.
The ten priorities detailed under the national gender strategy have been translated into concrete action plans by various departments and agencies. Under Acting Ambassador Kat Fotovat, the State Department has produced an action plan to implement the strategy through its programs, bureaus, and embassies. The three major focus points are education and training to promote women's economic security, combating gender-based violence, and training and advocacy for women's leadership in conflict prevention, mitigation, and resolution. Additional efforts are underway to support girl innovators and foster activism in climate change policy.
Most of the U.S. gender-related programs are implemented by the U.S. Agency for International Development (USAID). The administrator, Samantha Power, has a adopted a localization strategy aimed at empowering civil society and government actors around the world to plan and execute grassroots initiatives. USAID has sensibly chosen to expand existing leadership and entrepreneurship programs that have yielded results, such as in the energy and climate sectors. This "powering-down" approach makes sense, as locals with deep understanding of their countries' problems are best suited to address them, but building organizational capacity to execute programs in this way takes years. Moreover, USAID is famously dependent on major contracting firms to implement its programs, and substantial reform of the agency is needed for it to become a permanent, functional model for international development.
The Pentagon has made important strides in training gender advisors in the U.S. military and supporting women in security and peacekeeping forces, but much more remains to be done in both the U.S. military and with willing partner governments' defense establishments. Addressing the alarming, continued increase in sexual assault within the U.S. armed forces needs to be the top priority at home. Some initiatives provide good models for further institutionalization of gender expertise and leadership. The Indo-Pacific Combatant Command has prioritized women, peace, and security in its convenings of Asia's chiefs of defense and other regional conferences. The Naval War College is the only senior service college to have named a Women, Peace, and Security Chair, who ensures that gender issues are integrated into the core curriculum. Such measures ensure that U.S. senior military leaders—still overwhelmingly male—learn, model, and implement gender-equality awareness and policies.
Funding Commitments for Gender Equality and Equity
The Biden administration has committed to spending $2.6 billion of the 2023 foreign assistance approved by Congress in ways that meet the needs of women and girls in various programs as a secondary objective (e.g., aid for refugees and displaced persons, the majority of whom are women and girls.) This commitment, called "attribution," is double the amount so pledged in the previous year. It does not contravene any specific constraints or directives legislated by Congress, but through "gender analysis" seeks to ensure that gender-related considerations are factored into the program design. To evaluate the outcomes and effectiveness of this $2.6 billion, both implementation plans and relevant data on specific programs and apportionment to gender objectives should be made public.
The 2023 omnibus spending bill included $650 million in specifically authorized programs for gender initiatives, including $250 million to prevent and respond to gender-based violence, $200 million for the Gender Equity and Equality Action Fund (including women's economic empowerment), $150 million for Women, Peace, and Security programs, and $50 million for developing political leadership. The latter endeavor is focused on seven countries (Ecuador, Honduras, Ivory Coast, Kyrgyz Republic, Nigeria, Tanzania, and Yemen) where current programs are being assessed for adaptation to help women and girls prepare for, attain, and succeed in political roles.
The administration has made a good start on an ambitious plan, but the momentum needs to accelerate for meaningful results to match global needs, particularly given that women's equality has stalled and even reversed in recent years. With a batch of carefully crafted plans in hand, as Secretary Tony Blinken said at the January launch of the Global Women's Economic Security Strategy, "we now have to get to work to make it real."
Research Associate Noel James assisted with research for this piece.