A California Bill Could Outlaw Caste Discrimination. Other States Should Follow Suit.
California is set to become the first state to ban discrimination on the basis of caste, giving the United States a window of opportunity to be a leading example on the issue across the world.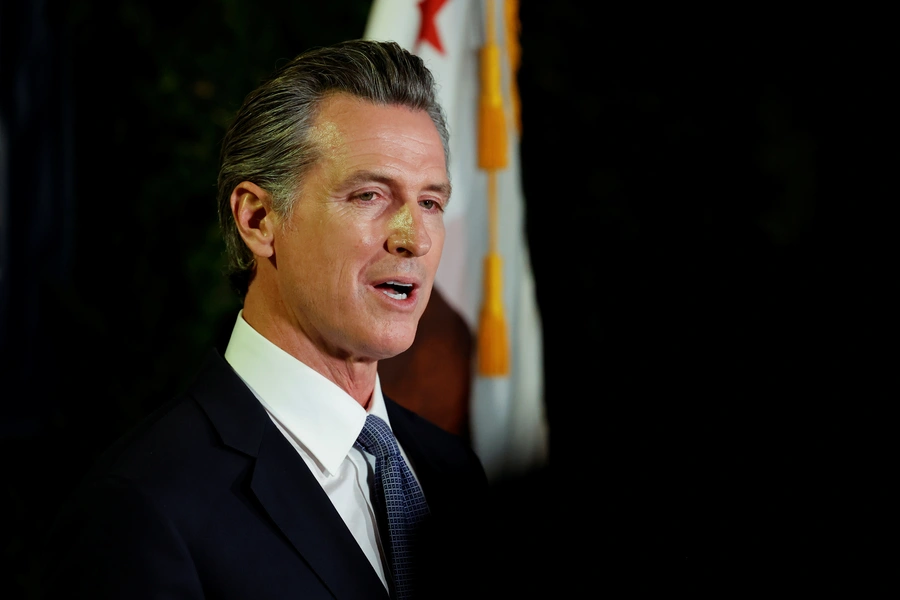 California could become the first state in the country to officially outlaw caste-based discrimination. If signed by Governor Gavin Newsom by October 14, the revolutionary Senate Bill (SB) No. 403 would include caste as a category protected by the California Education Code, the California Fair Employment and Housing Act, and the Unruh Civil Rights Act. In the intervening period, South Asian activists are in the middle of a two-week-long hunger strike outside of Newsom's office in an effort to push the governor to sign the legislation.
The caste system (and the discrimination that accompanies it) has been pervasive in South Asia for the better part of three millennia. The inherently hierarchical system refers to an immutable, predetermined social status defined in the Manusmriti, a sacred Hindu manuscript. In Hinduism, individuals tend to fall within four major groups: Brahmins (priests or teachers); Kshatriyas (rulers or warriors); Vaishyas (merchants or traders); and Sudras (servants or laborers). Those four groups have evolved to include over three thousand subcastes, with the "Ati-Sudra," or Dalits, at the very bottom.
Because of their low rank in the caste system, Dalits have often been referred to as "untouchable," and were historically ostracized from community life and limited to jobs such as sweeping, manual scavenging, and animal slaughter. Untouchability was declared illegal in the 1949 constitutions adopted by the Constituent Assembly of India; however, discrimination still prevails across South Asia, particularly in rural settings.
The origins of caste discrimination in the United States can be traced back almost sixty years to the introduction of the 1965 Immigration and Nationality Act, which enabled the large-scale migration of Asians to the United States. While the act formally ended discrimination for all Asian immigrants, practically, only a very specific set of South Asians was able to migrate: skilled workers with the necessary social status and resources, who often came from higher castes. The perhaps unintended consequence of this legislation is that over 90 percent of Indian American migrants are of dominant castes, while less than 2 percent are Dalits. This wide imbalance enabled a U.S. analog to the caste system to develop as members from oppressed castes started to immigrate to the United States in greater numbers. Despite moving overseas, the caste system has endured, with almost half of Indian Americans asserting they identify with their caste. Caste, being a fixed and arbitrary social status, thrives on inequality. The concept is fundamentally at odds with the American ethos of "liberty and equality for all." Most concerning, caste poses an inherent threat to any democratic nation.
SB 403 was introduced by Democratic State Senator Aisha Wahab not long after Seattle became the first city in the United States to add caste as a protected class to anti-discrimination laws this past February. Those efforts were prompted in no small part by the recent 2020 Department of Fair Employment and Housing v. Cisco Systems, Inc. case, in which an engineer employed by the company alleged that two upper-caste supervisors discriminated against him due to his position in the lowest caste of Dalits. This case prompted thirty women engineers in the Dalit caste to write an anonymous letter describing their experiences with caste discrimination in the U.S. tech industry. That same year, civil rights group Equality Labs reported more than two hundred-fifty unsolicited complaints involving discrimination on the basis of caste in Silicon Valley. The civil rights group also reported that almost a quarter of Dalits described themselves as victims of caste-driven verbal and physical assault. In 2021, a lawsuit was filed against Bochasanwasi Akshar Purushottam Swaminarayan Sanstha, a Hindu nonprofit, over allegations that the organization forced a group of Dalits into exploitative construction work on a Hindu temple in New Jersey.
In California, there is a heated debate between those in favor of and opposed to SB 403, with the latter claiming that the legislation will associate Indian Americans with the caste system even though a large proportion do not believe in or relate to the institution. While this could be true for some, the lingering influence of the caste system necessitates broader legal changes to protect oppressed castes in the United States, particularly in employment. As it stands, caste remains in a legal gray area, as those arguments are largely untested in the courts. While Title VII of the Civil Rights Act of 1964 offers some protection by appealing to caste as a type of racial, religious, and national origin discrimination, recognizing caste discrimination as distinct offers individuals far greater power to assert their rights in court.
Because the United States holds wide influence across the globe, a push for caste-specific legislation would send a message to the greater Indian diaspora and hopefully inspire meaningful change in other nations with large South Asian populations. In March, British Columbia resident Manoj Bhangu was awarded $9,000 CAD in court following verbal harassment and assault by two colleagues for belong to the Dalit caste. In the United Kingdom, sixty-eight-year-old Amrik Singh Bajwa was sentenced to jail for posting a TikTok video in which he "glorified a community for sexually abusing Dalit women in Indian villages as a matter of pride" in April. In February, the Guardian reported on several Australians and their experiences with caste-based harassment in the workplace. Given these instances of international caste-based discrimination, California's bill gives the United States the opportunity to spearhead a movement against caste discrimination globally.
With just over one week until the mid-October deadline, Governor Newsom is facing pressure from both sides of the caste debate. His decision will speak volumes on how the United States and other nations will address caste-based discrimination—and broader questions of equality—moving forward.
This post was written for the Council on Foreign Relations' Renewing America initiative—an effort established on the premise that for the United States to succeed, it must fortify the political, economic, and societal foundations fundamental to its national security and international influence. Renewing America evaluates nine critical domestic issues that shape the ability of the United States to navigate a demanding, competitive, and dangerous world. For more Renewing America resources, visit https://www.cfr.org/programs/renewing-america and follow the initiative on Twitter @RenewingAmerica.