Can Mahathir Mohamad be Malaysia's First Democratically Elected Prime Minister?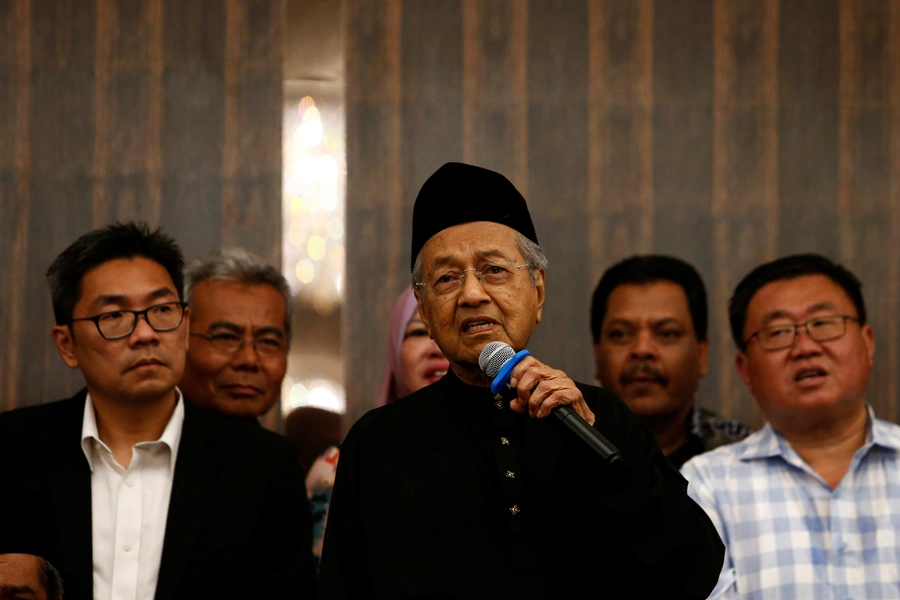 By Thomas Pepinsky

On May 9, Malaysian voters delivered a stunning defeat to the incumbent Barisan Nasional (BN, "National Front") regime. Since independence in 1957, Malaysia has been ruled by a prime minister from the United Malays National Organisation (UMNO). UMNO was the largest party in the Alliance, the predecessor to the BN. Since the transition from Alliance to the BN after the suspension of Parliament from 1969-1971, UMNO has played an increasingly dominant role in the ruling coalition.

The era of BN rule is now over. On the evening of May 10, Mahathir Mohamad from the Malaysian United Indigenous Party (a.k.a. BERSATU), a member of the opposition Pakatan Harapan (PH, "Alliance of Hope") coalition, was sworn in as Malaysia's seventh prime minister. PH, which holds a simple majority in Malaysia's parliament, now forms the country's government. UMNO is now an opposition party, one of the two main opposition parties representing peninsular Malaysia (the other is the Islamist Pan-Malaysian Islamic Party).

Anyone with a sense of Southeast Asian history will find the previous paragraph jarring. Mahathir Mohamad, after all, is Malaysia's most famous UMNO politician—at least he was until he broke with the party several years ago. As an UMNO member, he was Malaysia's longest-serving prime minister, from 1981 until 2003. He has also long been a voice for ethnic Malay interests in a multiethnic country, having authored The Malay Dilemma, an explosive book in Malaysian politics that outlined a stark economic and political agenda that used legislation and government action to boost the economic and political power of ethnic Malays. How can he lead a democratic government comprised of his own party and a coalition of former opposition parties such as mostly ethnically Chinese Democratic Action Party and the People's Justice Party, which draws support from urban areas, each of which is vocally multicultural in its platform and has long opposed UMNO?

Malaysia watchers also will remember that Mahathir has a history of acting aggressively against his political opponents. He has no reputation as a committed democratic or civil libertarian. In 1987, the anti-opposition crackdown known as "Operasi Lalang" saw opposition Democratic Action Party head Lim Kit Siang detained without trial for over a year. After more than five decades in opposition politics, Lim Kit Siang will sit in Parliament as a member of the majority headed by Mahathir.

Even more famously, Mahathir ousted his former Deputy Prime Minister, Anwar Ibrahim, in 1998, and subsequent events saw Anwar jailed for corruption and sodomy. Although he is no longer imprisoned for the same reason, Anwar remains in custody, and had to watch Mahathir's swearing in from prison. Anwar's wife Wan Azizah Wan Ismail is now Malaysia's deputy prime minister. How can Mahathir rule in a coalition with his former political enemies, against whom he showed no mercy in the 1980s and 1990s?

The answer to these questions is to recall that democracy is not government by democrats. As I have argued elsewhere:

The better way to think about political regimes—the general term for democracies and dictatorships—is to think about them as systems. Systems may have features that are independent of the features of the actors who work within them. Political regimes are comprised of individuals arranged into parties, bureaucracies, factions, movements, organizations, and other collective actors that interact with one another and with the individuals that comprise them. The key point then is that 'democracy' is a feature of a system—the regime—rather than a feature of the individuals who comprise it.
By a simple test of was there an election, did the incumbent government lose, and has it respected the results and turned over power to its opponents? Malaysia appears to have democratized. That Mahathir is the new prime minister is perhaps a paradox; with the benefit of history it is certainly a shocking development. His Malay chauvinism and authoritarian tendencies may have mellowed, or not, but it does not actually matter. As of the time of writing, Mahathir appears to be the first democratically elected prime minister of Malaysia.

Now the question is how the PH will rule. PH will need to find a way to contain both an ethnic Malay-first party—which is what BERSATU is—and other, multiethnic parties that hold far more parliamentary seats than BERSATU. If Malay voters abandoned the BN and jumped to PH because they thought it better able to represent their interest than UMNO, it remains to be seen how BERSATU will deliver on that promise, and how the other PH component parties will respond. But that is nothing more than the challenge of multiparty democracy in ethnically heterogeneous societies. Many Malaysians have waited for decades for this, and now we will see how it unfolds.

Thomas Pepinsky is associate professor in the Department of Government at Cornell University. He specializes in comparative politics and international political economy, with a focus on island Southeast Asia. He blogs about Southeast Asian politics at http://tompepinsky.com/blog.