"Difficult Choices: Taiwan's Quest for Security and the Good Life": A Review
Taiwan will need to make painful tradeoffs to ensure its continued security, Richard Bush argues in a new book.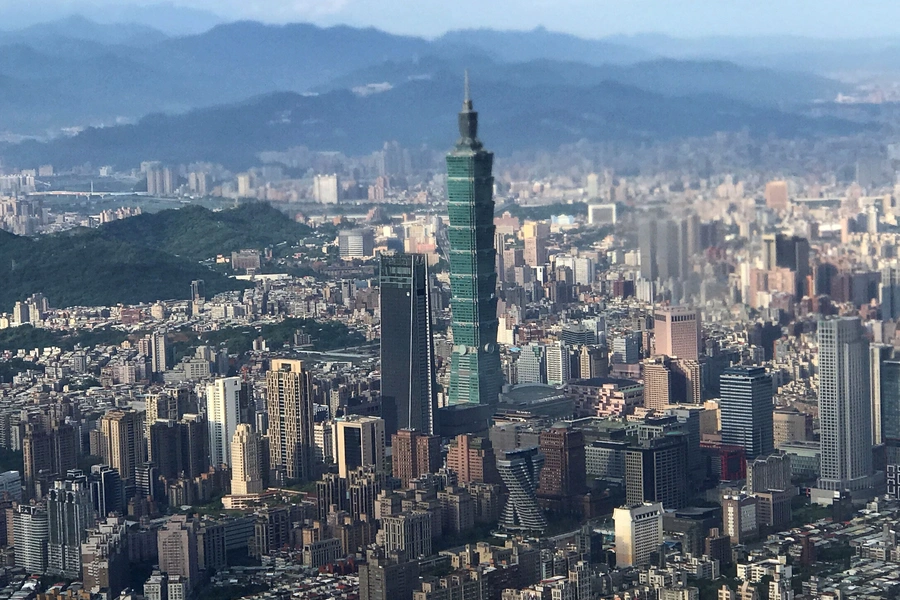 Tensions in the Taiwan Strait are rising. China is ramping up its coercion of Taiwan, and the head of U.S. Indo-Pacific Command has warned that China could take military action against Taiwan in the next six years. Recognizing the potential for Chinese adventurism, the Joe Biden administration has publicly signaled that its commitment to Taiwan is "rock-solid." China's foreign minister has pushed back, asserting there is "no room for compromise or concession" and warning the United States not to cross China's "red line." Some now argue Taiwan "is becoming the most dangerous flash point in the world."
It is in this context that the Brookings Institution's Richard Bush, one of the United States' leading experts on Taiwan, offers an important new book that deftly analyzes the myriad challenges Taiwan is facing. In Difficult Choices: Taiwan's Quest for Security and the Good Life, Bush asks whether Taiwan will be able to simultaneously ensure its security and preserve its hard-won economic and societal gains, or whether the two will become increasingly incompatible. Bush comes at this question from multiple angles with nuance and authority, addressing cross-Strait relations, Taiwan's domestic challenges, and Taiwanese views on critical strategic and economic issues.
Like many advanced economies, Taiwan must grapple with rising economic inequality, stagnating wages, an increasing cost of living, and young people who cannot find work. Taiwan also will have to contend with an aging—and shrinking—population, and the need to rebalance its economy, which is currently too reliant on information technology manufacturing.
What makes Taiwan unique, however, in the developed world, is that it must navigate these issues while holding at bay China, which seeks to end Taiwan's separate existence and place the island under its control, and holds out the possibility of using force if necessary to accomplish this. Taiwan does not want to be overly reliant on trade with a country that poses an existential threat, but China happens to be its largest trading partner and it must maintain access to the Chinese market in order to ensure continued economic growth. China has also pressured countries not to pursue trade agreements with Taiwan, leading to trade diversion and making Taiwanese companies less competitive.
Bush warns that Chinese leaders believe that shifting regional power dynamics—a rising China and a declining United States and Taiwan—will allow Beijing to achieve its objectives without having to persuade Taiwan's public that unification is in their interests. Instead, China is increasingly focused on what Bush terms "coercion without violence," which entails punishing Taiwan for policies that are inconsistent with Beijing's interests (such as cutting the number of Chinese tourists allowed to travel to Taiwan), coopting Taiwanese society, and interfering in its democratic process. Its aim is to sow divisions and erode Taiwanese people's confidence in their government. China's coercive tactics, however, have thus far backfired, as Taiwanese have become increasingly wary of engagement with the mainland and overwhelmingly reject China's offer of "unification" under one country, two systems.
To simultaneously provide its people with the "good life" and address the challenge posed by China, Bush concludes Taiwan cannot just muddle through, and must instead have a political system that is operating with a high degree of efficiency. And while many laud Taiwan's democracy, Bush cites the government's inability to allocate more resources to pressing needs such as defense, pursue a rational energy policy, undertake real transitional justice, and reorient its economy to conclude that Taiwan's "political system is performing at only a suboptimal level." This stands at odds with many analyses, which point to Taiwan's almost unparalleled success in containing COVID-19, its multiple peaceful transfers of power, firm civilian control over the military, and vibrant civil society as evidence of a healthy democracy that is delivering for its people.
Taiwan cannot afford to be divided at home, Bush argues, because these cleavages make it more vulnerable to Beijing's pressure. He identifies a number of factors that contribute to the ineffectiveness of Taiwan's democracy: severe polarization that makes compromise difficult, a zero-sum mentality among its politicians and political parties, the formation of splinter parties that encourages fragmentation, and the ability of politicians to use legislative tactics to block needed reforms. Given the stakes, a unity of purpose is needed, Bush concludes.
Bush offers a number of sensible U.S. policy recommendations to bolster Taiwan's security. He advocates that the United States do more to build economic ties with Taiwan, and in particular negotiate a free trade agreement with the island. U.S. diplomats, he believes, should continue to remind Chinese interlocutors that Beijing must engage directly with Taiwan's elected representatives. The United States should continue to provide Taiwan with weapons that support an asymmetric defense strategy, while ensuring its own ability to come to Taiwan's defense. It should work with Taiwan to counter Chinese coercion via disinformation and other online activities, such as collaborating on cybersecurity.
Bush urges Taiwan to raise taxes so that it can spend more on defense and other priorities, reverse the phase out of nuclear power until enough renewables are in place to replace it, and pursue transitional justice in a way that heals the wounds of Taiwan's authoritarian period instead of focusing on political score-settling. He argues Taiwan should diversify its economy away from the mainland, invest more in research and development and STEM education, and develop its software industry. He suggests Taiwan should develop a whole of government approach to combatting Chinese coercion and a bipartisan approach to cross-Strait relations. Taiwanese need to come together on a conception of the nation and the state so that Taipei can approach Beijing from a stronger position, and its legislators should prioritize bipartisan deal-making, he further argues. Bush even suggests a formal government of national unity might be needed to rise to the China challenge.
The United States is likely to implement many of the policies Bush identifies. Washington continues to sell Taipei advanced weapons, is increasing its interactions with Taiwan's military, is already working with Taiwan to counter Chinese disinformation, and is becoming increasingly vocal about its commitment to Taiwan. Given China's increasing power and its willingness to forcefully assert its interests, however, it is unclear that this agenda will be sufficient. The United States might need to contemplate bolder actions that make clear to Beijing its commitment to Taiwan and its ability to honor that commitment.
It is less clear that Taiwan will make the difficult choices Bush deems necessary to ensure its continued security and prosperity. Taiwanese politics remains a blood sport, with little appetite for bipartisanship and strong disagreements on the proper approach to China. It is hard to see the two main political parties finding common ground on cross-Strait relations given the extent to which both parties use this issue to energize their political bases. Taiwan's budget has remained remarkably consistent over the past two decades, even as the threat across the Strait has dramatically increased: defense spending accounted for 11 percent of government spending in both 2001 and 2019. Recognizing that Taiwan's reliance on the Chinese market is a source of vulnerability, the Tsai Ing-wen administration introduced policies to diversify Taiwan's markets, but despite its efforts Taiwan's exports to China hit an all-time high in 2020. Future administrations will find it difficult to rebalance Taiwan's economy.
This is a sobering picture. Taiwanese naturally do not want to make tradeoffs. They want to see their standard of living continue to rise, their freedoms protected by a responsive government, and their security ensured by a capable military. Painful choices, however, are likely necessary as the Chinese threat continues to increase. While the United States is committed to its relationship with Taiwan, it cannot want Taiwan's security more than the Taiwanese themselves. Ultimately, it is their responsibility. One hopes they will make the changes necessary to protect their democracy—and that their leaders heed the warnings in Difficult Choices.