Is Duterte Warming to the United States?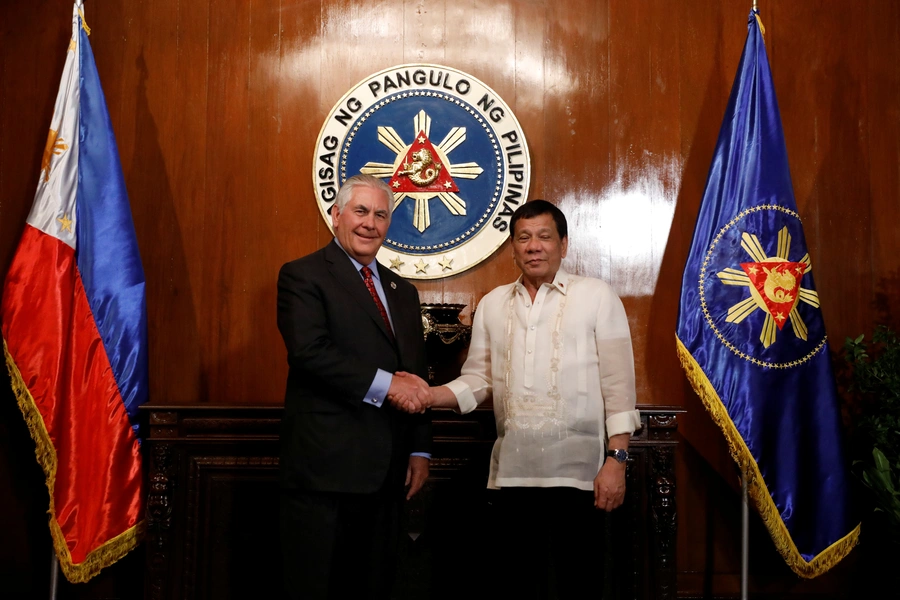 Philippine president Rodrigo Duterte, who blasted the United States repeatedly in 2016, and has reportedly had a lifetime of grievances against Washington, may be recognizing he needs to take a different approach to U.S.-Philippines ties. Duterte repeatedly slammed former president Barack Obama in 2016, and bristled at U.S. criticism of his brutal war on drugs. As the Wall Street Journal reported, this anger seemingly ran deep. Duterte grew up in the Philippine south, a hotbed of anti-American sentiment. According to the article, he had been infuriated by U.S. actions in Mindanao during his time as governor of Davao—and also by the United States' reported refusal to grant Duterte a visa to visit.

After Donald Trump was elected president, Duterte's rhetoric toward the United States warmed somewhat. In part, Duterte simply seemed to like Trump's style. The Philippine leader also surely realized that the Trump administration would not push him hard on rights abuses in his war on drugs—a realization that came true this week, when Secretary of State Rex Tillerson avoided mentioning Duterte's rights abuses in his public appearance. As CBS reported:
"Tillerson did not use the moment [of meeting Duterte] to take a stand for human rights. As Duterte and Tillerson stood and shook hands in the presidential palace, each donning a wide grin, Tillerson ignored a CBS News reporter's questions about the agenda of the meeting. Another reporter blurted out a question about human rights—which was hard to hear above the loud, incessant camera clicks in the room—but Tillerson didn't say anything … Tillerson never publicly addressed the brutal anti-drug tactics while he was in the country. When Tillerson met one on one with Duterte, two Filipino government officials say that Tillerson didn't mention the U.S. government's human rights concerns with regard to the anti-narcotics tactics."
But despite his warm words for Trump, noticeable in a call he held with the U.S. president earlier this year, Duterte still seemed determined to pursue a foreign policy that shifted the Philippines away from the United States and toward warmer ties with China, Russia, and other powers. He also appeared wary of seeming too conciliatory with Washington, even with Trump as president. After being invited to Washington by Trump, Duterte publicly declared that he did not know if he had the time to visit.

But in the past three months, the major deficiencies of the Philippine armed forces, already known to defense experts in the Philippines, the region, and the United States, have become even more obvious to all. As regional powers like China and Vietnam spar over the South China Sea, backed by their military modernization efforts, the Philippines is left behind. As Islamic State–linked groups continue to battle the Philippine military in Mindanao, predictions of a rapid victory by Philippine government forces have proven hollow. The military has lost troops to friendly fire incidents, used conventional bombs that killed civilians, and still has not taken all of Marawi city back from the militants. As the military struggles in Mindanao, Duterte reportedly has asked Philippine congresspeople to increase funding to expand the armed forces.

Duterte's administration seems to increasingly realize it needs help. During the Tillerson visit, the Philippine president told the Secretary of State that he was a "humble friend" of the United States. According to NBC, the Philippines now may allow U.S. forces—probably drones—to launch airstrikes against militants in the southern Philippines. This would be a dramatic shift from Duterte's former claims, earlier in his presidency, that he wanted to actually evict all U.S. forces out of the southern Philippines. Yet as the struggle for Marawi drags on, Duterte already had shifted, even before the NBC report. He had been allowing U.S. advisors and U.S. surveillance flights over Mindanao, as well as new shipments of U.S. small arms. As the battle against Islamic State–linked groups in Southeast Asia expands, the Philippine armed forces likely will need much more help—from the United States and other regional powers.