Erickson and Strange: Pragmatic Partners, the Unsung Story of U.S.-China Anti-Piracy Coordination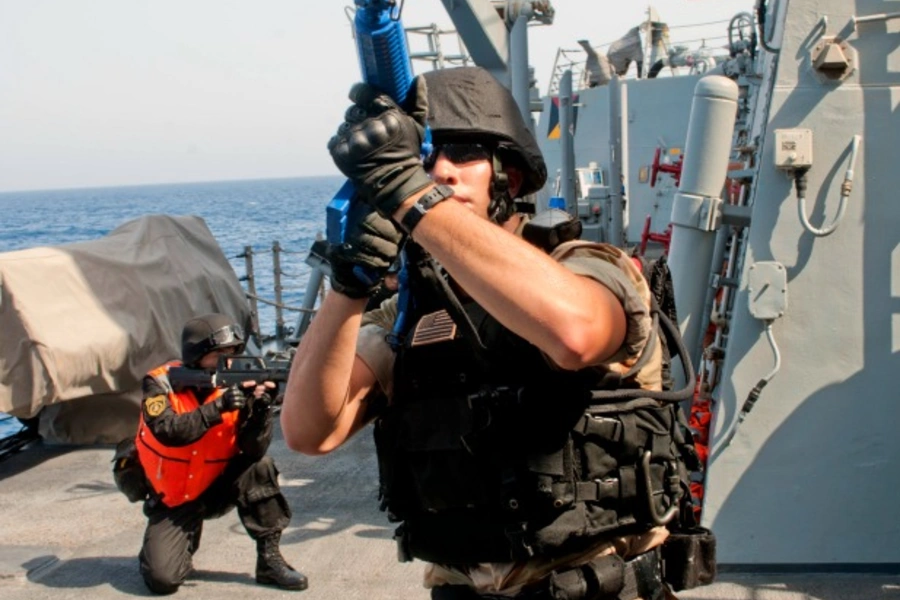 This guest post is by Andrew Erickson, an associate professor in the Strategic Research Department at the U.S. Naval War College, and Austin Strange, a researcher for the College's China Maritime Studies Institute. 
Out of the limelight, Gulf of Aden cooperation has provided both China and the United States with a vital conduit for progressive military contact amid protracted mistrust in the Asia Pacific. Indeed, their navies recently conducted a joint anti-piracy exercise there. In the future, Far Seas non-traditional security cooperation is set to play an even larger role in buttressing Sino-American military relations.
U.S.-China maritime engagement, particularly in China's nautical periphery, remains rife with mistrust, overlapping interests, and uncertainty. Strong official statements and emotionally charged saber rattling characterize much of the discourse in this region. In August 2012, for example, PLAN Rear Admiral and frequent CCTV commentator Zhang Zhaozhong declared that the United States would "run like rabbits" in the event of Sino-Japanese conflict over East China Sea territorial disputes. Indeed, the two maritime powers are arguably primarily competitors, as opposed to partners, in the contested Near Seas.
Nevertheless, the world goes on even as long-term naval strategies unfold in the Asia Pacific. Myriad maritime non-traditional security threats increasingly require the attention of the world's two largest military spenders. Somali piracy has been one of the most notorious of these challenges, with Tom Hanks joining the struggle as Captain Phillips in the thriller dramatizing the 2009 Maersk Alabama pirating. What does anti-piracy cooperation reveal about how the United States and China might lead multi-state responses to future non-traditional threats?
The answer is not what you might think. While unprecedented bilateral anti-piracy exercises enjoy the media spotlight and help build military-to-military ties, unsung U.S.-China parallel contributions within multilateral security frameworks are subtly forming the blueprint for twenty-first-century international maritime governance.
Highly-touted bilateral anti-piracy exercises have put an exclamation point on the willingness of the United States and China to put strategic rivalry aside when both sides perceive themselves as "in the same boat." In September 2012, guided missile frigate Yiyang of the twelfth PLAN escort task force and U.S. Navy missile destroyer USS Winston Churchill jointly participated in an anti-piracy exercise. U.S. and Chinese naval personnel combined to form a mixed assault team which employed helicopters and skiffs to board a pirated commercial vessel, then provide cover for each other while capturing the suspected pirates. Then, in August 2013, both sides deployed missile-equipped destroyers, supply ships, and ship-based helicopters and special task forces off Yemeni waters to participate in a second joint exercise. The 2013 exercises reportedly centered around ten new tasks that emphasized the use of weapons and live-fire training and is the first instance that included Special Forces and aerial surveillance on maritime targets in night conditions. Similar to inaugural joint exercises in September 2012, the 2013 exercises involved onboard search and seizure drills, as well as a joint U.S.-China anti-piracy team. American and Chinese crewmen jointly boarded a Chinese oiler acting as a pirate vessel during a simulation that included hostages and emergency medical assistance.
Bilateral naval cooperation is valuable and ship-to-ship anti-piracy teamwork is an excellent primer for China's inaugural participation in next year's RIMPAC exercises. But it is overly dependent on the broader U.S.-China strategic relationship. For instance, a scheduled joint anti-piracy exercise in 2011 was apparently canceled by China due to strategic frictions. In contrast, U.S.-China military relations were boosted in 2013 following a string of high-level diplomatic and military contacts from April to September, helping ensure that the September 2013 joint anti-piracy exercises could occur.
As the last five years have demonstrated, the most valuable form of U.S.-China anti-piracy cooperation has been multilateral. Unlike the United States, which helps lead a multilateral anti-piracy coalition, China is considered an independent provider in the Gulf of Aden. Its primary contributions are unilateral escorts of commercial boats. While previously it would be difficult to link these incongruent approaches, in 2008 the creation of Shared Awareness and De-Confliction (SHADE), a voluntary anti-piracy coordination mechanism, began facilitating coordination of diverse multinational and independent sources of anti-piracy assets, including those of the United States and China. SHADE is completely voluntary and allows states like China to interface their operations without sacrificing identity. For example, China's mouthpiece newspapers regularly report PLAN anti-piracy escort and rescue statistics independent of other navies. At the same time, China uses SHADE to coordinate its monthly escort schedules with other independent escorters including Japan, South Korea, and India.
Willingness on the part of independent navies, China's in particular, to synchronize their anti-piracy operations with Western forces within the SHADE mechanism is an historic achievement for twenty-first-century maritime commons governance. SHADE's raison d'etre has been, as Deng Xiaoping might have put it, "getting something done." Fanfare and press conferences take a back seat to pragmatic coordination that protects more ships, gives pirates less operating room, and saves more lives.
Given mounting tensions in the East and South China Seas, the United States and China, as well as their maritime partners, will need to capitalize on future instances where collaboration is universally beneficial. The Gulf of Aden experience offers cause for measured optimism, but also a stark contrast to choppy East Asian seas. Future maritime non-traditional security responses by both sides should be linked more closely to balance an increasingly stormy "Near Seas" relationship which some believe is currently rife with "real and present danger."
This post draws on the authors' monograph "No Substitute for Experience: Chinese Anti-Piracy Operations in the Gulf of Aden," Naval War College China Maritime Study 10 (forthcoming 2013). It reflects solely their personal views.