Friday Asia Update: Five Stories From the Week of October 7, 2016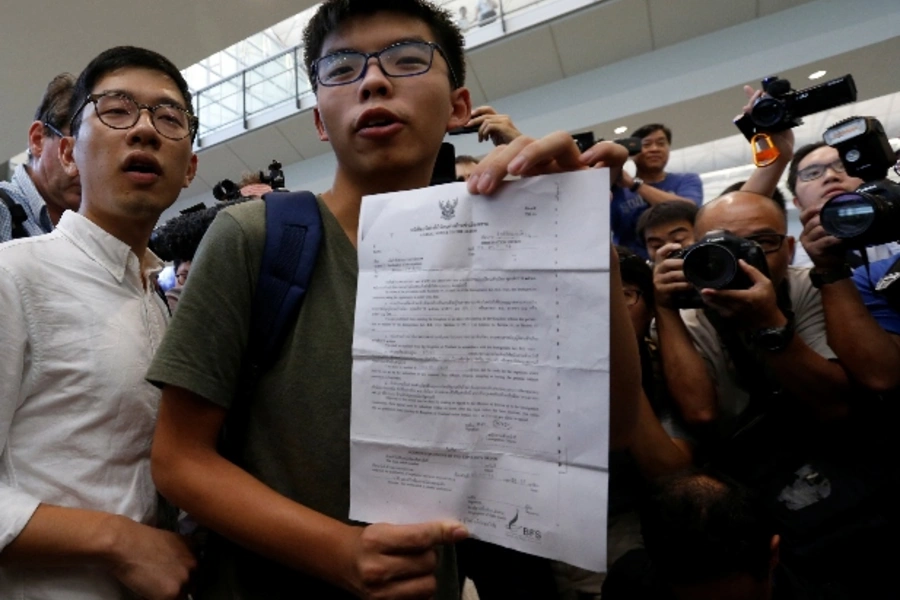 Rachel Brown, Lincoln Davidson, Gabriella Meltzer, David O'Connor, and Gabriel Walker look at five stories from Asia this week.
1. Thailand detains Hong Kong democracy activist. Thai authorities detained Occupy Central organizer Joshua Wong for twelve hours earlier this week and denied him entry to the country. Wong, who is nineteen, was visiting Thailand to address students in Bangkok. Following his return to Hong Kong, Wong claimed that the Thai government had detained him because it had been directed to do so by the Chinese government. Over the last year, a Swedish citizen who sold books critiquing the Chinese Communist Party and a Chinese journalist who fled to Thailand seeking asylum both disappeared in Thailand, only to reappear months later in the custody of Chinese authorities. With these disappearances in mind, Wong said he feared being similarly handed over to Chinese authorities.
2. Afghanistan to receive $15.2 billion in foreign aid. This past week, the European Union (EU) and government of Afghanistan co-hosted the Brussels conference on Afghanistan. The meeting convened over seventy nations and thirty international organizations to reaffirm their political and financial commitment to Afghan peace, state-building, and development. The governments in attendance agreed upon a donation of roughly $3 billion annually through 2020 on the condition that Afghanistan will address corruption, reabsorb failed asylum seekers, and improve human rights. This arrangement reflects the country's current economic situation, where 70 percent of its annual income is dependent upon international aid, 42 percent of which is earmarked for defense. EU officials state that this deal stipulates that all unaccompanied minors will only be returned to Afghanistan if their families are identified and their "well-being is assured." Cases of single women, elderly, and ill will be evaluated on a case-by-case basis. Although the EU is obligated under international law to give shelter to refugees, countries are allowed to send back "economic migrants" if their country of origin is deemed safe. Roughly 213,000 Afghans sought asylum in Europe during 2015. Many have voiced strong opposition to this arrangement, citing the record high civilian casualties in Afghanistan as the Taliban continues to launch offensives in some the country's largest cities, including Kunduz.
3. Xi Jinping may delay choosing his successor. Chinese President Xi Jinping, the country's most powerful party leader since Mao, seems prepared to subvert the tradition of choosing a successor before the beginning of the current leader's second term. This convention, developed to minimize intra-party friction, has forced previous party leaders to accept successors they would not have preferred. By upending it, Xi could further consolidate his authority and extend his influence beyond his administration, but he also risks upsetting party leaders and raising fears that he may seek a third term. Xi's anti-corruption campaign has already allowed him to attain unusual standing in the party, and there are rumors that he wishes to replace his premier with Wang Qishan, the public face of Xi's anticorruption drive. An official decision will not be known before the National People's Congress convention next spring, and internal factional divides are likely to sharpen as the contest unfolds.
4. Mongolian mortgages face an uncertain future. Two years ago, Mongolia's economy boasted a growth rate of almost 8 percent. Housing prices in Ulaanbaatar in particular were inflated to nearly all-time highs of more than 20 percent, as buildings sprouted up to accommodate rural migrants moving en masse to the country's capital. But now the generous mortgage program that helped spur construction there has also created a bubble in the affordable housing market. In 2013, the Mongolian finance ministry began offering commercial banks government funding to help underwrite mortgages of 5 or 8 percent. But the central bank discontinued the 5 percent rate last month, and just recently suspended funding for the 8 percent rate after finding that commercial banks were "misusing" the government funds. Mongolia has little choice but to end the program altogether, as funds for it have long since been used up and overall fiscal discipline is waning. However, doing so will have serious economic repercussions: the construction and housing sectors rely heavily on the artificial demand created by state-backed mortgages, and banks are already highly exposed to mortgages that may not be repaid if country-wide economic growth slows further—likely dropping to zero or negative in 2016.
5. New challenges emerge for Chinese projects in Pakistan. Stumbling blocks in the construction of the China-Pakistan Economic Corridor (CPEC), a $46 billion trade and investment initiative, have cropped up in the past few weeks. CPEC aims to connect the Pakistani port of Gwadar with China's Xinjiang province by road and rail, and if completed as planned, it could provide Pakistan with a major economic boost. Over the next fourteen years, the projects associated with CPEC are expected to create roughly 700,000 new jobs and increase yearly GDP growth by 2–2.5 percent there. However, unrest in Balochistan province, through which much of the new infrastructure will pass, could threaten the corridor's success. For example, a suicide bombing in August may have specifically aimed at undermining CPEC, and there is growing resentment among the local population over whether new projects will benefit their communities. To address security threats, Pakistan already deployed nearly 15,000 security personnel in June. China's state-run Global Times has also weighed in on the risks of the project, with an article in mid-September stating, "the increasing cost of security is becoming a big problem in efficiently pushing forward the projects" and that "China may not want to put too much focus on the region." But all hope is not lost; the project is attracting renewed international attention as Iran has conveyed its interest in joining too.
Bonus: Fukushima's unwitting bovine science heroes. In the aftermath of the 2011 Fukushima disaster, the Japanese government ordered all livestock within a twenty-kilometer radius of the damaged power plant to be euthanized. Because the area was designated a no-entry zone, owners could not have continued to feed the animals, so killing them first was seen as the most humane option. But some cattle owners resisted the edict, releasing their cows to roam free or returning two or three times a week to keep them alive out of compassion. Today, researchers have also benefited from these farmers' benevolence: they maintain 200 of these cattle several miles northwest of the defunct power plant to study the effects of long-term, low-dose radiation levels on large mammals. The scientists visit every three months to collect samples from the cows, and so far have found no increased incidence of leukemia or cancer but have noticed mysterious white spots appearing on many of the animals. Though many ranchers hope animal husbandry will one day return to Fukushima, that is far from a reality at least for now.