Friday Asia Update: Top Five Stories for the Week of October 10, 2014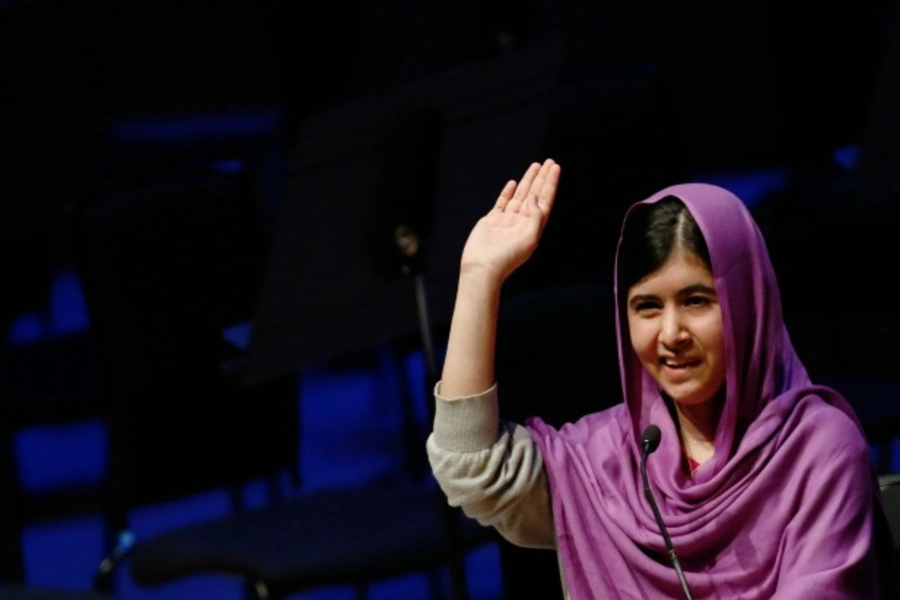 Ashlyn Anderson, Lauren Dickey, Darcie Draudt, Andrew Hill, Will Piekos, and Sharone Tobias look at the top stories in Asia today.
1. Indian and Pakistani share Nobel Peace Prize; gunfire results in casualties in Kashmir. Kailash Stayarthi, an Indian activist against child labor and trafficking, and Malala Yousafzai, a Pakistani activist for girls' education, jointly won the Nobel Peace Prize on Friday. At seventeen, Yousafzai is the youngest person to ever receive the prize. In unrelated news, Indian and Pakistani troops exchanged gunfire over their border in the divided region of Kashmir, resulting in the deaths of at least seventeen civilians and forcing thousands out of their homes. Each country blames the other for targeting civilians and violating a border truce that has largely held since 2003.
2. U.S. and Japan enhance defense pact for the first time in decades. The United States and Japan released an interim report this week on their efforts to revise their defense cooperation guidelines. The development comes after Prime Minister Shinzo Abe's government announced in July that it will reinterpret the constitutions's Article 9, in which Japan formally renounced war, to allow Japanese forces to fight abroad in support of collective self-defense. The last time the two countries revised these guidelines was in 1997. A senior U.S. State Department official noted that the new guidelines will reflect the alliance's "more global nature." The announcement will likely cause increased tension with South Korea and China, where memories of Japanese actions in World War II are still fresh.
3. North Korea and South Korea exchange fire across the DMZ. On Friday, North Korean forces fired machine gun rounds at balloons containing propaganda leaflets sent across the demarcation line by South Korean activists; South Korea's military responded with gunfire of its own. There were no casualties. Also this week, South and North Korean patrol boats exchanged warning shots off the disputed western maritime border. These incidents dampen new hope for inter-Korean dialogue sparked by last Saturday's unannounced visit of high-ranking North Korean officials to South Korea.
4. The leaders of Thailand and Myanmar meet amidst protests. Thai Prime Minister Prayuth Chanocha traveled to Myanmar to meet with President Thein Sein, marking his first official foreign visit since the military coup. The two leaders—both former generals—discussed the expansion of economic relations, as well as a number of thorny issues marring the bilateral relationship, including border security concerns and the plight of Myanmar's migrant workers in Thailand. The leaders also chose the Mae Sot district, an important border-crossing area, for the creation of a special economic zone. The visit was overshadowed by protests over the arrest of two Myanmar migrant workers in Thailand suspected of murdering two British tourists. Protesters in Myanmar are suspicious of the investigation, and results of DNA testing have cast further doubt on the involvement of the workers.
5. Hong Kong protests pick up steam after calm. Protests in Hong Kong dwindled into the hundreds over the past week as the Hong Kong government and student leaders agreed to Friday talks. But with neither side indicating a willingness to compromise, protesters called for a new round of civil disobedience on Thursday, and the government subsequently canceled the negotiations before they even began. Demonstrators are now repopulating the streets and barricades that they had previously manned. Meanwhile, an anonymous source informed the Sydney Morning Herald of a secret contract that paid Hong Kong Chief Executive Leung Chun-ying $6.4 million from an Australian engineering company. Both Leung, whose removal from power has been a focus of the Hong Kong protests, and the Australian firm, UGL, have denied that the contract and payments were improper.
Bonus: Siberian tiger defects to China from Russia. Chinese forestry officials were alerted to the presence of an endangered Siberian tiger in the country's northeast this week. The tiger, named Kuzya, was personally released earlier this year by Russian President Vladimir Putin (who celebrated his sixty-second birthday on Tuesday). No word yet if Putin will be called upon to wrangle the beast back to Siberia.