The Future of the Quad's Technology Cooperation Hangs in the Balance
The United States is a major collaborator on artificial intelligence (AI) research with other members of the Quad, but, according to a new report, research collaboration on AI between the other members is lacking.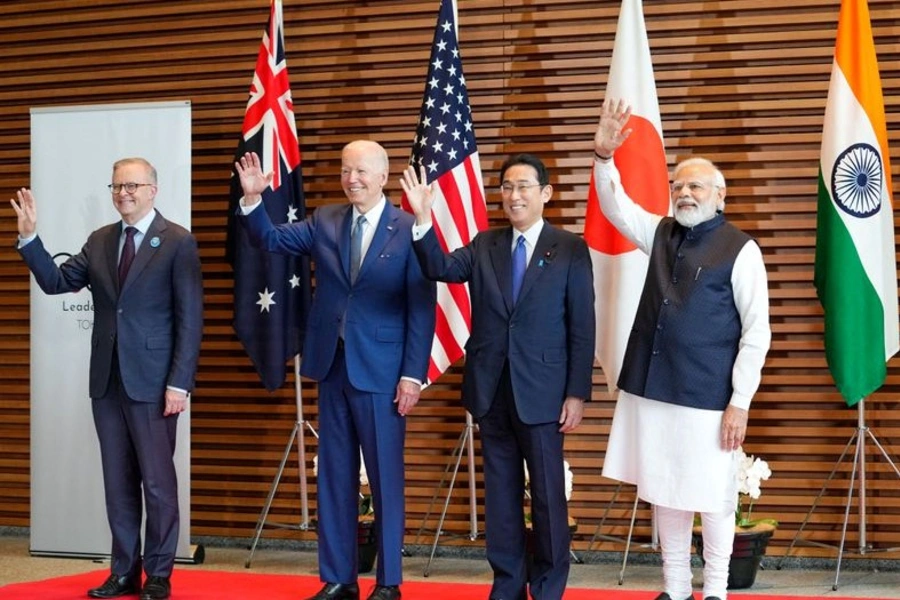 U.S. President Joe Biden last month made a historic trip to Tokyo, where he met with the prime ministers of the other countries in the Quadrilateral Security Dialogue, known as the Quad: Australia, India, and Japan. The four leaders reaffirmed their commitment to a free, open, inclusive, and resilient Indo-Pacific, as well as their interest in collaborating on critical and emerging technologies such as artificial intelligence (AI).  
AI has taken center stage for the Quad. In the last five years, all four countries have announced national AI strategies aiming to leverage the technology for societal development, economic prosperity, and military power. Beyond national agendas and investments, the Quad countries also see multinational technology collaboration with like-minded democracies as key to responsible AI development. Promising to promote an accessible and secure technology ecosystem, Quad-led AI collaboration could also help counter China's disruptive behavior in the region, particularly the country's malicious use of AI for surveillance, censorship, and misinformation. 
While the Quad is not a formal alliance, its flexible structure, atop a strong foundation of bilateral and multilateral ties, allows room for experimentation and agility in collective efforts. During previous meetings, the Quad launched the Critical and Emerging Technology Working Group and released joint statements on technology design, development, governance and use. At the Quad Summit in Tokyo, they followed up with a number of initiatives including the official launch of fellowships for leading STEM graduate students, and a new memorandum of cooperation on 5G Supplier Diversification and Open RAN. The Quad countries also introduced several new initiatives, among them an Indo-Pacific Partnership for Maritime Domain Awareness, a Quad Investors Network, a Quad Cybersecurity Partnership, and an International Standards Cooperation Network to share information on technical standards. 
But moving from statements to coordinated and collective action is no easy task. Regulatory barriers such as differences on national data sharing laws can hinder the implementation of joint initiatives. Moreover, different geopolitical priorities, as illustrated by India's reluctance to join the sanctions against Russia for its invasion of Ukraine, could sour the relationship. In addition, each of the Quad countries has significant economic and trade ties with China, which could further complicate the group's collaborative technology agenda.  
The May 2022 summit therefore comes at an opportune time, as the future of the Quad as a strategically important forum for technology cooperation hangs in the balance.  
Our recent report from Georgetown University's Center for Security and Emerging Technology (CSET) examined trends in joint AI-related research publications and investment in AI companies within the Quad over the past decade. Our findings show that while Australia, India, and Japan each have robust AI research partnerships and investment ties with the United States, the three Indo-Pacific nations collaborate far less with one another.  
Looking at internationally co-authored scholarly publications between 2010 and 2020, it appears that AI researchers in Australia, India, and Japan collaborated with U.S. AI researchers at least five times more often than they did with one other. Similarly, while the United States is the largest foreign investor in Australian, Indian, and Japanese AI companies, there is little AI investment activity between the three Indo-Pacific countries.  
Moreover, despite increasing tensions with Beijing, each of the Quad countries' AI ecosystems are closely intertwined with China's powerful AI research apparatus and market. In fact, China is the top research partner for the United States and the second leading partner for the rest of the Quad members. And not only does the United States have far more AI investment activities with China than with Australia, India, and Japan individually, but each of these three Quad members have closer ties to China than they do with one another.  
Scientific research collaborations and financial activities often operate on a separate plain from national security imperatives. Indeed, there is much to gain from an open scientific system and global flows of investment capital. And in a sense, the Quad's close linkages with China will hardly come as a surprise given that the country is a global leader in scientific research and has a massive economy and technology market.  
That said, there are valid concerns about research integrity and security, as well as overdependence on the Chinese market, technology, and capital. The Chinese Communist Party (CCP) has launched numerous simultaneous strategies to advance China's global position as a science and technology powerhouse, including by relying on foreign technology transfer and intellectual property theft from leaders in emerging technologies such as the Quad countries. The CCP is also using AI-enabled technologies for human rights violations against the country's minority population, and exporting AI surveillance technologies worldwide.  
Over the past several years, the Quad countries have all launched different initiatives to strengthen their domestic AI ecosystems, expand research and investment ties with one another, and enforce greater scrutiny over China's misuse of technology. For example, the governments of Japan and India signed the 2018 Japan-India Digital Partnership agreement to link Japanese venture capital investors to Indian startups. The recently introduced Quad Investors Network will bring together investors with the goal to increase access to capital for emerging technologies within and across the Quad countries. 
Meanwhile, India and the United States launched the U.S.-India Artificial Intelligence Initiative in 2021 to promote bilateral R&D collaboration through networking and workshops, among others. As these initiatives begin to take shape, tracking their progress will help inform policymakers across the Quad countries of gaps and opportunities to expand collaboration among all members. 
As the Quad agenda on technology cooperation continues to evolve, it's worth remembering that ad hoc groupings like the Quad work best when the barriers to coordination between the countries involved are low and the potential payoffs are high. In this vein, one potentially promising area for collaboration is on privacy-preserving machine learning techniques (PPML) that could enable data sharing on commercial and non-commercial datasets without triggering privacy concerns and could reduce cybersecurity risks by protecting individual data while preserving its usefulness. The U.S.-EU Trade and Technology Council has already initiated efforts to identify common projects utilizing privacy-enhancing technologies. As for the Quad, the four countries can co-fund joint research or coordinate investments into PPML and other techniques like synthetic data and advanced simulations that make personal data less relevant for AI systems. 
The White House's Indo-Pacific Strategy is clear about the need for U.S. allies and partners to strengthen their ties with one another. Boosting AI-related collaboration between Australia, India, and Japan can reassert the Quad as a pillar of stability in the Indo-Pacific region, as well as help the United States achieve its strategic objectives. With all eyes on the Quad, the group must deliver on its promises. 
 
Ngor Luong is a research analyst with the Center for Security and Emerging Technology (CSET) at Georgetown University.  
Husanjot Chahal is a research analyst with the Center for Security and Emerging Technology (CSET) at Georgetown University.