¡Gracias, Donald!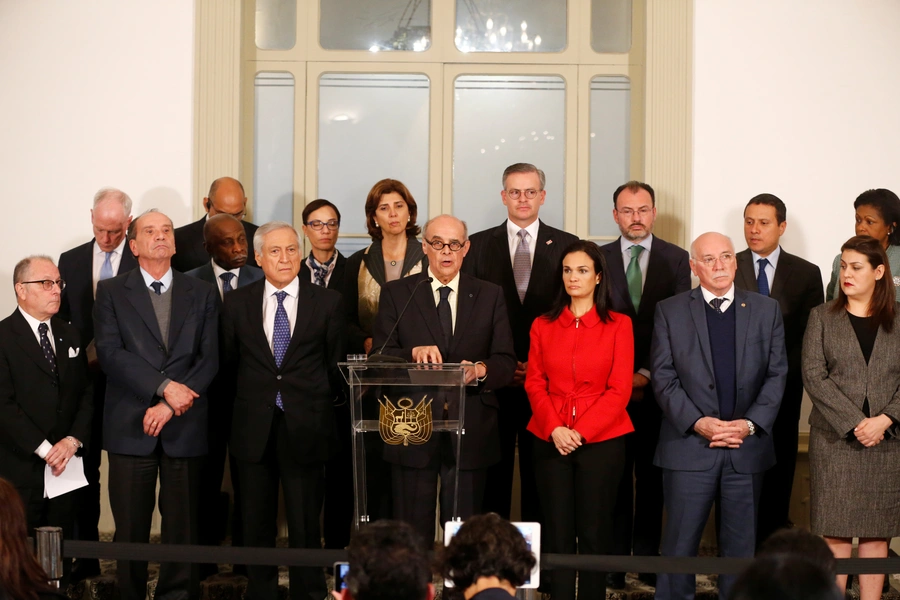 August has brought a number of depressing reversals in the United States' relation with Latin America: President Trump's seemingly offhand statement on the possibility of military intervention in Venezuela, which sucked all the oxygen out of Vice President Pence's much anticipated tour of the region; the cancellation of the Central American Minors (CAM) Parole program, a decisive step in the administration's broader nativist turn on immigration; and the beginning of NAFTA renegotiation, where the U.S.' opening gambit was to complain about trade deficits.
The foolishness of these moves is remarkable. The call for military intervention was a beautifully wrapped, sumptuous gift to dictator Nicolás Maduro, who has had few foils on which to blame that country's devastating crisis. Maduro did not waste a minute in harking back to old shibboleths about the evil Empire that is seeking to subvert the Venezuelan people, and has seized upon those accusations to further discredit the peaceful opposition. The Department of Homeland Security's decision on the CAM Parole program is simply cruel: the program was tiny, benefiting fewer than 3,000, and now children of parents legally in the United States who had benefited from the program have lost a safe and legal way to be with their families. As for trade deficits, one of the basic lessons of introductory economics is that deficits are not in and of themselves a bad thing. While there are good reasons to renegotiate NAFTA, attempting to eliminate trade deficits is not one of them. Perhaps the focus on deficits is merely rhetorical, but the bluster and bombast of this negotiating position will only throw sand in the gears of a complex three-party negotiation on an extraordinarily intricate set of issues.
Not surprisingly, Trump's presidency has led to a cratering of Latin American perceptions of the United States. In the seven largest nations in the region, a global Pew Research poll shows that perceptions of the U.S. have declined by 19 percent on average under Trump. Among those seven countries, median levels of confidence in President Trump to "do the right thing regarding world affairs" are at 14 percent, the lowest of any region in the world.
In the face of the onslaught of poorly considered U.S. moves toward the region, one possible reaction for Latin American foreign ministers would be to duck and cover, and hope to go unnoticed by the bullying twitterer-in-chief for the next three years. This strategy is a nonstarter, though, because for many Latin countries the bilateral relationship is too big and too important, or because they know that regional cooperation is needed, as in the effort to address the Venezuelan crisis. A second response would be to mount an anti-yanqui crusade, full of bluster about the return of gunboat diplomacy and imperialism, a la Maduro. Thankfully, only a few of the usual suspects have gone down this path.
To their credit, most of Latin America has instead chosen a third route: giving the United States a lesson in grown-up diplomacy. All of the major Latin leaders forcefully rejected Trump's calls for military intervention, while nonetheless calling out the Maduro dictatorship's fraudulent Constituent Assembly. The largest Latin countries have worked to generate a consensus on a peaceful approach to isolate Venezuela: the Lima Declaration by twelve regional powers rejected the Constituent Assembly, and Mercosul has invoked its democratic clause against the country.  In the face of Trump's decision to pull out of the Trans-Pacific Partnership (TPP) and renegotiate NAFTA, Latin America is doubling down on trade: Mercosul is pushing hard to finalize a deal with the EU; countries involved in the original TPP are discussing a new deal; and investment agreements with China continue to multiply.
In sum, Latin American leaders are offering a lesson in a type of foreign policy that many in Washington long considered hallmarks of American diplomacy: democracy, trade, and consensus-building within international organizations. For this, perhaps Trump should be thanked.
This is my last blog post for Latin America's Moment. After a rewarding stint at CFR, I am returning to my research at American University, where I hope we can stay in touch.