How the Inflation Reduction Act Will Help the United States to Lead in the Clean Energy Economy
The IRA not only benefits the climate but also strengthens American competitiveness and spurs clean energy innovation.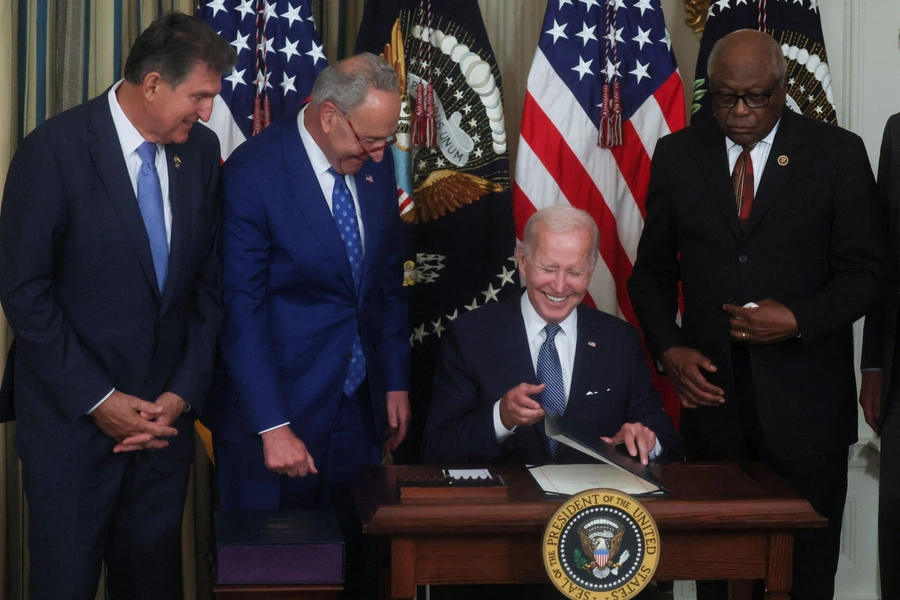 The recently passed Inflation Reduction Act (IRA) has attracted a lot of attention as a major piece of climate legislation, and for good reason. The IRA is a landmark investment in the United States' decarbonization and climate resilience efforts, on a much larger scale than any other climate measures in the past. The White House projects it will decrease U.S. greenhouse gas emissions by about 40 percent by 2030—a reduction of about one gigaton.
Beyond its obvious benefits for the climate, the legislation also marks a major investment in American competitiveness and innovation. The IRA is designed to create a new landscape for clean energy, building in incentives that will foster technological advances and encourage domestic manufacturing. With this bill, Congress is not only trying to decrease emissions, but also to do so in a way that helps the United States emerge as a clean energy industrial powerhouse.
In recent decades, the United States has fallen behind on clean energy production. Take solar, for example. The United States' share of solar manufacturing has declined by 80 percent in the past decade, while China has grown to dominate virtually the entire solar supply chain. This trend has become true for other clean energies. China is currently the top producer of wind energy, the principal investor in renewable energy, and also leads in the production of minerals needed for most types of clean energy production. While the production of clean energy abroad is not inherently bad, its concentration in China means the United States loses the opportunity to diversify clean energy supply chains, foster more competition, create domestic manufacturing jobs, and reduce the risks posed by geopolitical factors—most recently emphasized by the Russian invasion of Ukraine.
The IRA seeks to address exactly this issue. It is a budget reconciliation bill; every provision translates to money being spent or collected through spending, tax credits, tax revenue, or loans. Its allocation of $369 billion to clean energy and decarbonization projects is largely focused on deployment—meaning it provides incentives for clean energy technologies to be produced and implemented in the United States. Much of the bill's provisions can be described as demand-pull policies, which promise a market for clean energy products and components. It offers tax credits to clean energy suppliers that essentially pay those firms to operate. It also includes subsidies and rebates that make clean energy cheaper for consumers. Other provisions are supply-push policies, offering low-interest government loans and tax credits for new factories and clean energy projects. Together, these investments create a landscape where consumers are incentivized to buy clean energy and firms are incentivized to produce it. 
Because the goal of the bill is not only to have clean energy technology deployed in the United States, but also to establish entire clean energy supply chains, the legislation includes a host of incentives for clean energy manufacturing. It creates demand by implementing "bonus" credits that offer additional tax incentives for firms that use components or manufactured products produced in the United States. And because the United States currently does not produce most components along clean energy supply chains, it pulls at supply by investing over $60 billion to onshore clean energy manufacturing. 
Using the solar industry again as an example, with the IRA, the federal government will provide loan guarantees to new solar factories that produce any and all components of the solar supply chain. It provides further tax incentives for the components those factories produce. And, it generates demand for the solar components and panels created, providing tax credits that pay per kilowatt hour of energy produced.
For American competitiveness, the implications are clear. The Joe Biden administration has prioritized strengthening supply chains and creating good-paying manufacturing jobs in the process. By creating demand and lessening the cost of operation for clean energy industries, the legislation creates incentives that allow American firms to compete with producers abroad. If successful, this legislation will strengthen U.S. leadership in clean energy industries for years to come.
As for innovation? The IRA does not invest in what some people traditionally think of as innovation, such as the early stages of research and development (R&D) or prototyping. But it does create markets for innovative industries. By extending clean-energy tax credits, technologies that are not yet ready for deployment can take advantage of the promise of a stable market over the next ten years as they develop. This helps bring developing technologies from the lab to the market. Additionally, the bill benefits innovation with its "learning by doing" aspect. The more the federal government invests in financing and building clean energy, the better it will get at it. Ultimately, though, the IRA's effect on clean energy innovation will be how it complements two other recent major pieces of legislation—the Infrastructure Investment and Jobs Act and the CHIPS and Science Act. These three bills create generous incentives for new clean energy technology at each stage of the innovation pipeline—investing billions in early R&D, funding demonstration projects to help new technologies showcase their viability, providing the infrastructure needed to scale these technologies, and enabling deployment by driving investment growth. Together, these laws will accelerate American innovation across clean energy industries.