How to Make the Inflation Reduction Act Rollout a Success: Lessons from Europe
Many EU countries' long experiences with industrial policy can show the United States how to make a success of the IRA rollout.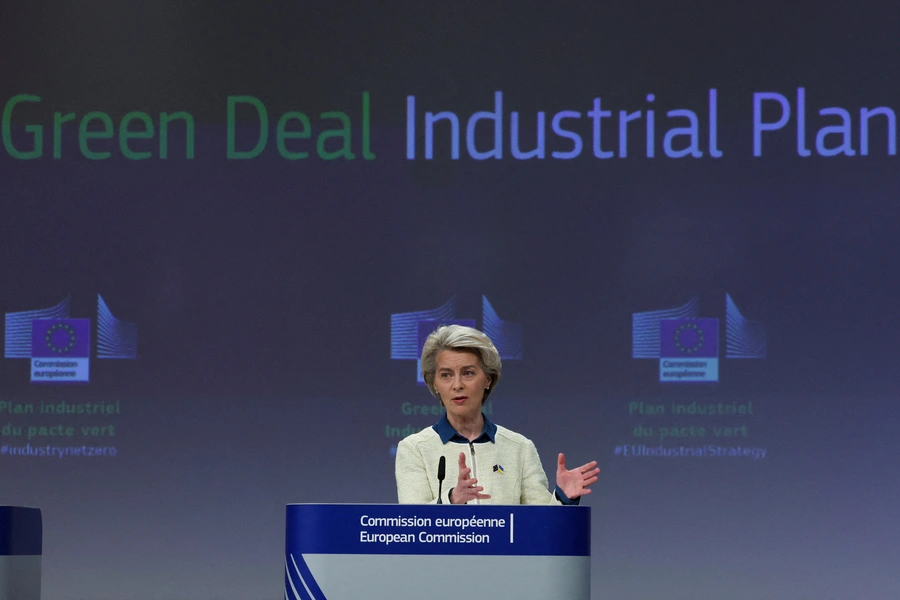 The U.S. Congress passed the Inflation Reduction Act (IRA) last summer—a $369 billion energy security and climate change government program that could end up allocating close to $1.2 trillion in incentives to accelerate the transition from fossil fuels to sustainable and green energy. It has the potential to crowd in trillions of dollars in additional private sector investments. The IRA is testimony to a new U.S. commitment to addressing the climate crisis and will likely confirm the Biden administration's expectation that the United States can reap substantial economic benefits while doing so, especially when it comes to jobs.
The IRA's passage also marks a new chapter in U.S. economic policymaking, as it uses a range of industrial policies to secure the creation of domestic supply chains for clean energy technologies. For the first time, domestic support for clean energy markets is now conditional on meeting "local content requirements," which mandates American companies to source a certain amount of the final value of a good or service from domestic firms. This is a remarkable shift for a country that has spent the better part of two decades fighting similar provisions in China.
The EU's Response to the IRA
The scale and scope of the IRA has concerned U.S. allies, particularly in Europe, who fear it could mark the end of the postwar U.S. commitment to a rules-based international economic order that has been governed by the World Trade Organization, and before that the General Agreement on Tariffs and Trade. The European Union (EU) is unable to directly match the U.S. industrial policy response—the IRA primarily employs tax credits, and the EU does not tax—prompting Europe to worry about its future competitiveness in a world where industrial policy is once again the name of the game.
Internally, EU member states have debated whether to continue limiting industrial policy interventions to preserve a level playing field for firms in the common market (a view promoted by the Danish EU commissioner for competition, Margrethe Vestager, who has decried a lot of state aid as "greenwashing") or whether to continue to loosen restrictions on state aid to the private sector—an idea promoted by the French EU commissioner for the single market, Thierry Breton—even if this primarily benefits larger EU member states such as Germany and France.
While a number of automakers and battery producers have indeed halted investments in Europe in order to take advantage of U.S. IRA subsidies, the European debate has paid insufficient attention to the considerable strength EU member states bring to the table on matters of industrial policy. Some European governments—especially Germany—have intervened in the economy far longer and more systematically to bolster their domestic manufacturing sector than have their American peers.
European Lessons for the United States' Green Transition
Many EU countries' long experiences with industrial policy should not only allow them to respond to U.S. advances with a distinct industrial policy approach of their own, but also instruct the United States on making a success of the IRA rollout.
Lesson 1: Take Vocational Training Seriously
First of all, as the Biden administration seeks to "rejuvenate the economy from the bottom up and the middle out," a new comprehensive approach to vocational training is needed in the United States. Already, labor shortages are affecting critical segments of clean technology supply chains. This has affected firms looking to expand manufacturing capacity in the United States as well as those that install wind, solar, and battery technologies, many of which are struggling to find workers who meet the apprenticeship requirements that are included in the IRA.
Germany's dual vocational system, which combines apprenticeships with part-time training at vocational schools, offers lessons for how such programs can be scaled institutionally and implemented collaboratively among vocational schools, employers, unions, and the state. Europe's battery alliance, for example, brings businesses and governments together to jointly define future workforce needs while training and upskilling some eight-hundred-thousand workers for the battery industry.
Such an approach puts Europe on a strong foundation and holds insights for the United States, where workforce training is fragmented across states and labor shortages are usually addressed locally through arrangements between individual firms and state governments, rather than fixed at scale.
Lesson 2: Rethink Money and Financing
The United States government could also learn from Europe's history of financing green manufacturing. The United States lacks its own development bank that could systematically fund firms that are responding to government industrial policy and close gaps in domestic financial markets.
Germany's state-owned KfW Development Bank serves as an instructive example. It provides "patient capital." These are long-term, low-interest loans, particularly for sectors underserved by financial markets or in areas, such as clean energy, where financing is often an obstacle to achieving policy goals.
While the IRA has expanded the authority of the Department of Energy's Loan Program Office (LPO) to issue loans and loan guarantees to firms in the clean energy sector, it falls short of establishing a designated institution to address such issues across administrations and sectors. Proposals to create an Industrial Finance Corporation to improve financing for sectors of central importance to both national competitiveness and security have yet to be taken seriously.
Lesson 3: Empower Small and Medium-Sized Enterprises
Finally, the United States needs to address the traditional dichotomy between small and medium-sized enterprises (SMEs) and large multinational corporations as it builds the green economy of the future. There is a real risk that the bulk of the new federal funding from the IRA will be usurped by big corporations, leaving SMEs out in the cold. Already, the LPO has announced that some of its largest-ever loans will go to major corporations, including an $8 billion loan to Ford Motor Company for the establishment of three manufacturing plants to produce batteries for electric vehicles.
The Biden administration should establish mechanisms that ensure SMEs—often referred to as the backbone of the American economy—have a fair chance at participating in the new green economy. This could take the form of designated set-asides, tax credits, or even preferential lending. It could also entail grants for collaborative research and development with public research institutions, modeled on the German Fraunhofer Institutes, to help smaller firms punch above their weight. The goal of spending all this IRA taxpayer money should be to ensure that firms, irrespective of their size, can both contribute to and benefit from the United States' green renewal.
Making a Success of the IRA
Europeans have long complained that their American cousins were either uninterested or too slow to take the threat of climate change seriously and failed to do anything about it. That lack of U.S. leadership has been more than made up for by the landmark legislative achievement that is the IRA. As the U.S. Treasury and the European Commission work out their differences over how both European and U.S. companies can benefit from each other's industrial policies, the United States would also be wise to look across the Atlantic for valuable lessons when it comes to implementation. Passing a $369 billion bill through Congress was the easy part; implementing it on the ground so that its benefits are widely shared across the U.S. economy is much harder. Luckily, the United States does not need to reinvent the wheel.
Jonas Nahm is associate professor at Johns Hopkins University's School of Advanced International Studies.
This post was written for the Council on Foreign Relations'  Renewing America initiative—an effort established on the premise that for the United States to succeed, it must fortify the political, economic, and societal foundations fundamental to its national security and international influence. Renewing America evaluates nine critical domestic issues that shape the ability of the United States to navigate a demanding, competitive, and dangerous world. For more Renewing America resources, visit https://www.cfr.org/programs/renewing-america and follow the initiative on Twitter @RenewingAmerica.