Iran Unlikely to Negotiate With the United States in the Near-Term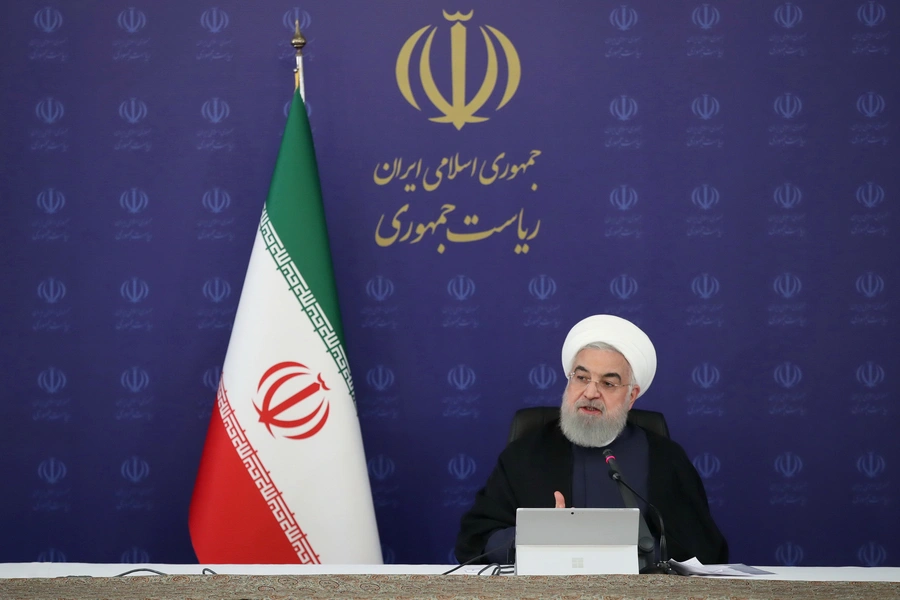 Amir Asmar is a Department of Defense analyst and CFR's national intelligence fellow. Throughout his intelligence career, his primary area of focus has been the Middle East. He held a wide range of analytic, senior analytic, and leadership positions for the Department of the Army, the Defense Intelligence Agency, and the National Intelligence Council. The statements of fact, opinion, or analysis expressed in this blog post are strictly those of the author and do not reflect the official policy or position of the Department of Defense (DoD) or the U.S. government. Review of the material does not imply DoD or U.S. government endorsement of factual accuracy or opinion.
Jacob Ware is a research associate for CFR's counterterrorism and studies program.
Even as the world grapples with the effects of the novel coronavirus, tensions between the United States and Iran continue to simmer. Prospects of renewed negotiations over Iran's nuclear program and regional behavior have grown increasingly distant. After the United States withdrew from the Joint Comprehensive Plan of Action (JCPOA) in 2018, Iran began to violate terms of the 2015 nuclear deal last year and appears now to have enriched enough uranium to produce a single nuclear weapon. Despite significant damage to the Iranian economy from U.S. sanctions, there is little evidence of the Iranian regime changing its behavior sufficiently to satisfy U.S. concerns or being willing to make significant concessions in any negotiations. The regime can afford to delay negotiations with the West because it is more resilient than generally assumed. Although some will point to protests as evidence of regime weakness, there are three reasons why the regime in Tehran will remain in power and in control: first, pride of Persian nationhood, which the regime effectively manipulates to promote domestic support for its activities; second, sanctions that are less impactful than presumed and Tehran's past experience in managing sanctions; and third, Tehran's use of violence to pursue foreign policy objectives abroad and ensure its survival against internal dissidents.
Iran has been under almost uninterrupted U.S. sanctions since the 1979 seizure of the last U.S. Embassy in Tehran by student supporters of the Islamic Revolution. When Tehran began to promote Shia militant movements in the Middle East in the early 1980s, the United States designated Iran a state sponsor of terrorism. In the last few years, the United States has ramped up a campaign of maximum pressure, with Secretary of State Mike Pompeo outlining U.S. demands in a speech at the Heritage Foundation in May 2018. These twelve demands included an end to processing of nuclear material and missile development, and for Iran to end its support for militia groups in the region.
The Iranian regime has been able to resist this pressure in part by drawing on the country's fierce national pride to promote Iranian nationalism and garner domestic support for the regime's actions. As journalist Robin Wright explained of the strength of national pride in Iran, "the best way to understand Persians is to think of the most chauvinistic Texan you know and add 5,000 years [of history] and then you begin to understand just how proud they are." Nationalist chauvinism prevails in the Iranian regime's rhetoric about the United States and its allies. President Hassan Rouhani claimed that "the United States has always sought to sow intrigue against Iran but has never succeeded in the face of Iran's greatness." Drawing on national pride, Tehran has made the domestic case for not engaging in any negotiations where Iranians are asked to "subject" themselves to the will of a foreign power. This has allowed Iran to more forcefully resist U.S. demands, including starting renewed negotiations.
Tehran has also proven resilient and well-versed in blunting the net effect of U.S. sanctions. The sanctions have been, by all objective measures, painful. The rial has lost half its value in just under two years, oil exports are down nearly 90 percent from 2018, and the economy shrank 7.1 percent in 2019. Sanctions have negatively affected public health and living standards across the country, and black market prices of everything from fuel to chemotherapy drugs are steadily rising. The European signatories to the JCPOA, despite their desire to preserve the deal, have failed to attenuate the effect of sanctions. European states set up a mechanism to maintain economic and humanitarian relief offered by the JCPOA, but it has only recently facilitated its first export of humanitarian goods from Europe to Iran, despite the instrument being in place for over a year. One analyst explains how Iran manages this economic adversity: "the Iranians really do have alternative industries to fall back on and a significant domestic capacity, as well as the ability to leverage their relationships with several of their neighboring states." U.S. sanctions primarily focus on a few key sectors—banking, energy, and politics—so Iran has been able to fall back on other parts of its diversifying economy, including a growing manufacturing sector. Iran is also able to receive compensation for its exports through informal payment mechanisms, which allow Iranian trading partners to sidestep U.S. secondary sanctions. Moreover, Tehran is increasing trade with China and Russia, both of which reject U.S. sanctions, and has implemented tough austerity measures to cut domestic spending.
The Iranian regime also remains willing to use violence to secure its interests abroad—and at home—despite U.S. sanctions and demands. Iran cannot compete in an all-out conventional military conflict with any Western power, but it still projects strength to assert influence and pursue foreign policy interests throughout the broader Middle East, including by signaling ambiguity regarding its nuclear weapons intentions, supporting subnational armed groups, and developing an increasingly large and sophisticated missile inventory. Tehran continues to encourage proxy attacks against U.S. targets, including a missile attack in Iraq in mid-March that killed one UK and two U.S. citizens, and retains the capacity to attack the United States or allies in the region.
At home, too, the regime continues to use force to protect its interests. At times, popular anger—triggered by economic hardships, such as rising fuel prices or cuts in state subsidies—has spilled onto the streets, as it did in the form of widespread demonstrations in November and December of last year. The Iranian regime, however, had no compunction about using violence to repress popular demonstrations and has successfully done so numerous times. Tehran showcased its disregard for public well-being by killing more than one thousand protesters during the demonstrations last year, suggesting it will have little reluctance to continue to crack down on dissent within its borders. The recent demonstrations do not seem to represent a sufficiently widespread popular mobilization to threaten the regime.
The global spread of coronavirus has led some to speculate that the effects of the pandemic in Iran present an existential threat to the clerical regime. If reports about the rate of COVID-19 infections and deaths in Iran are accurate—several senior officials have been infected, and the country is experiencing serious shortages in essential medical supplies—the regime may face challenges deflecting blame for a growing human catastrophe. However, even in this context, Iran has shown that it is willing and able to resist U.S. demands, and continues to employ violence via its proxies in the Middle East. The United States might view the additional pressure that COVID-19 has placed on the Iranian regime as an opportunity to take initial steps to reduce tensions and regain a measure of trust from the Iranian public, which polling indicates Washington has lost. It could do this by offering unconditional medical assistance or communicating that other states could do so without being subjected to secondary sanctions. The United States' allies in Europe have begun shipping humanitarian aid to Iran, perhaps opening the door to some U.S. action.
Tehran will most likely wait for the results of U.S. presidential elections in November 2020 before deciding on the desired timing and strategy for renewed nuclear negotiations with the United States. Iran's priority in the face of sanctions has been to maintain its posture and activity, resuming key aspects of its nuclear program, continuing to develop its missile arsenal, and—despite reports that sanctions have forced Tehran to cut some of its support to subnational armed groups—providing financial and military support to regional proxies. The Iranian regime has demonstrated resilience and durability in the face of sanctions on numerous previous occasions, and, rather than position itself for negotiations, continues to pursue domestic and regional policy goals opposed by the West despite economic challenges.
The appearance of external hyperlinks do not constitute endorsement by the United States Department of Defense (DoD) for the linked websites, the information, the products, or the services contained therein. The DoD does not exercise any editorial, security, or other control over the information you may find in these locations.