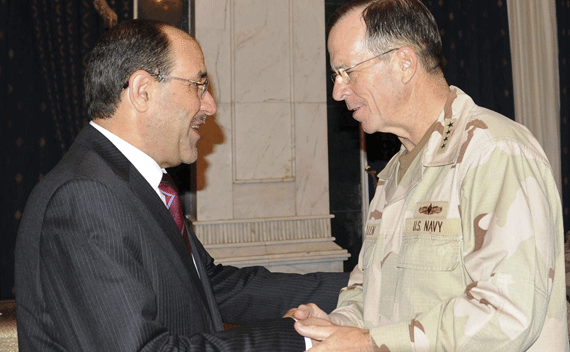 Today, I have a piece on the website of our sister publication, Foreign Affairs: "It's Hard to Say Goodbye to Iraq." In it, I argue that the Barack Obama administration should fully implement the Status of Forces Agreement (SOFA), which was signed by the George W. Bush administration and the government of Iraq in November 2008.
The SOFA contained two key deadlines for the U.S. military, both of which President Obama had previously endorsed. "All United States combat forces shall withdraw from Iraqi cities, villages, and localities…no later than June 30, 2009." And: "All the United States Forces shall withdraw from all Iraqi territory no later than December 31, 2011."
The Obama administration, however, has reversed course and taken to begging Baghdad to formally request that a small number of U.S. troops (10,000 is the number most-often cited) remain in the country after the year's end. 
Beyond the analysis presented in my piece, there are two additional points worth raising:
First, U.S. defense officials contend that these 10,000 troops would provide the personnel for the infrastructure and critical enablers—helicopter and fixed-wing airlift, and manned and unmanned intelligence, surveillance, and reconnaissance platforms—to conduct special operations raids against Iranian agents, or Iranian-backed Shia militias, in Iraq and beyond.
It is true that these capabilities are essential for special operations forces to operate in Iraq or anywhere else. However, Iraq has severely constrained how U.S. troops can operate in the country, and the Shia-led government will not give U.S. special operators a free hand to kill or detain their Shia brethren.
Second, several senior military officials have recently told me that such a small U.S. military force—burdened by Iraqi-imposed limits on its operational movements—could be killed in large numbers. Examples of such tragedies include the June 25, 1996 Khobar Towers bombing in Saudi Arabia, which killed 19 U.S. Air Force personnel. 
Or much worse, the October 23, 1983 suicide truck bombing at the Beirut International Airport, which killed 241 U.S. military personnel.  On Tuesday, during his Senate confirmation hearing to become the next Chairman of the Joint Chiefs of Staff, Gen. Martin Dempsey warned that "Iran's activities in southern Iraq are intended to produce some kind of Beirut-like moment."
After the Beirut bombing, a Pentagon-convened commission comprised of retired military officials issued a report, which found that mistakes were made throughout the chain of command: there was an absence of timely and specific threat intelligence provided to commanders, the rules of engagement were neither effective nor adequate for such a hostile environment, and commanders never should have placed so many military personnel in a single structure.
The broader strategic question that the commission did not address was the wisdom of policymakers to station forces in Lebanon in the first place. Within three and half months after the bombing, President Ronald Reagan ordered the withdrawal of all U.S. military forces from Lebanon. General Colin Powell would later acknowledge of Beirut what the majority of Americans believe about Iraq today: "Beirut wasn't sensible and it never did serve a purpose. It was goofy from the beginning."