Just How Important Is the Rift Between Qatar and the Saudi Arabia-led Quartet?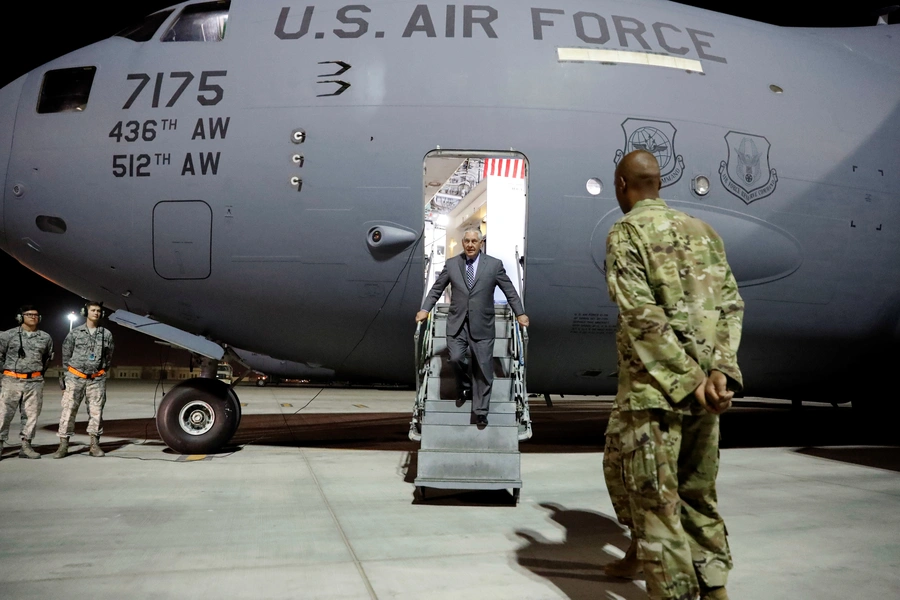 Amir Asmar is a Department of Defense analyst and CFR's national intelligence fellow. Throughout his intelligence career, his primary area of focus has been the Middle East. He held a wide range of analytic, senior analytic, and leadership positions for the Department of the Army, the Defense Intelligence Agency, and the National Intelligence Council. The statements of fact, opinion, or analysis expressed in this blog post are strictly those of the author and do not reflect the official policy or position of the Department of Defense (DoD) or the U.S. government. Review of the material does not imply DoD or U.S. government endorsement of factual accuracy or opinion.
Gabriela Hasaj is a research associate for CFR's military fellowship program.
It is unlikely that the 2017 rift between Qatar and the Gang of Four—Arab states led by Saudi Arabia and including Bahrain, Egypt, and the United Arab Emirates (UAE)—will heal anytime soon. A few months after the rift began, then Secretary of State Rex Tillerson had to intervene to stop a Saudi Arabia and UAE-led plan to invade Qatar. An effort at a negotiated solution in February faltered, and an April call between U.S. President Donald J. Trump and Qatari Sheikh Tamim bin Hamad failed to facilitate a resolution. Although the Saudi-led group criticizes Qatar's relationship with Iran and its outreach to Islamist groups, the dispute centers on Doha's unwillingness to follow Riyadh's lead on regional issues. The United States has maintained security relationships with the two sides, but a variety of U.S. regional objectives—collective security structures, particularly to contain Iran; more effective countering terrorism efforts; stability in Libya; and energy production and distribution—have been or are likely to be affected by the rift.
Although the quartet broke diplomatic relations with Qatar after its April 2017 ransom payment to Shia militants to gain the release of twenty-six Qataris abducted in southern Iraq, elements of the conflict between Doha and Riyadh predate the payoff. With the 1995 ascent of Sheikh Hamad bin Khalifa al-Thani as emir of Qatar, Doha pursued an independent foreign policy that sought ties to important regional and international players. Al-Jazeera, founded in 1996, is a voice of the Doha government and angers Riyadh with its critical coverage. In 2011, Doha argued that the wave of Arab revolts "could not be ignored or contained and can only be moderated if they were engaged." It deviated from the Saudi approach, supporting Islamist parties that came to power in Tunisia and Egypt, and anti-Qaddafi forces in Libya. Rather than criticize Iran for stoking Bahrain's Shia revolt, Doha held high-level meetings with Iranians during the protests to discuss security and economic issues.
As one of many conditions for ending the rift, the quartet has demanded that Doha sever all ties with Iran. Washington would probably also prefer that as many of its partners as possible take steps to further isolate and pressure Tehran. Qatar insists, however, that maintaining cordial relations with Iran is a commercial necessity. Since the 2017 break with the quartet, Qatar's relations with Iran have grown closer. Doha restored full diplomatic relations with Tehran, and Iran provided Qatar with sea shipments of fresh food and allowed Qatari airplanes to use its airspace. Qatar is on the record in support of Iran's right to peaceful uses of nuclear power. Also, senior Qatari defense officials have called for the restoration of the 2015 Iran nuclear agreement—which was opposed by Riyadh and Abu Dhabi—and indicated Qatar would not join any conflict against Iran. Although they ended up on opposite sides of the Syrian civil war, Iran sought Qatar's influence among opponents of the Damascus regime to avoid conflict with its own militias.
Although there is no indication that any party to the rift is reconsidering its security ties to the United States, including U.S. basing on their soil, divisions among Washington's Gulf partners also make them reluctant to embrace ideas regarding collective security. The U.S. Central Command's (CENTCOM) naval forces remain in Manama, while the United States' largest air presence in the region and CENTCOM's forward headquarters are at Al-Udeid Air Base near Doha. U.S. troops are also based in Saudi Arabia and the UAE. Qatar and three members of the quartet were in the top fifteen purchasers of U.S. arms in the world between 2008 and 2018. However, as a result of the rift, the 2017 U.S. proposal of a Middle East Strategic Alliance, a regional NATO encompassing Egypt, Jordan, and the six Gulf Cooperation Council (GCC) states—Bahrain, Kuwait, Oman, Qatar, Saudi Arabia, and the UAE—with an initial focus on containing Iran, never got off the ground. The GCC and its Peninsula Shield Force, typically a non-player in the region's major conflicts, is unlikely to become more effective or contribute to U.S. regional security priorities.
Furthermore, Doha clearly engages with militant groups and may be frustrating Washington's objectives of stifling funding for some violent extremists. In addition to the 2017 payment of hundreds of millions of dollars in ransom to groups currently designated by the U.S. as foreign terrorist organizations (FTO)—Iran's Islamic Revolutionary Guard Corps, Lebanon's Hezballah, and Iraq's Kata'ib Hezballah—Doha has explicitly supported jihadists fighting the Syrian regime, including Ahrar al-Sham and al-Qaeda affiliate Jabhat al-Nusra. With Israeli acquiescence, it sends funds to the Palestinian resistance group Hamas, a U.S.-designated FTO descended from the Muslim Brotherhood that has worked for years to undermine U.S. regional peace proposals. Doha also permits the Afghan Taliban to maintain an office in Qatar. Senior U.S. Department of the Treasury officials have criticized Qatar for allowing fundraisers to solicit donations for extremist groups such as al-Qaeda and the self-proclaimed Islamic State in the country. Moreover, al-Jazeera's news coverage provides a platform to operatives from many terrorist groups. For its part, Doha has denied enabling terrorist attacks, and it is worth noting that some of its quartet accusers likely have their own links to militants through government and private funding of Islamist proselytization, schooling, and charities and are cynically using this issue in an effort to paint Doha in the worst possible light.
In Libya, where the United States has sought stability since Qaddafi's 2011 downfall, the Gulf rift has created openings for external powers to intervene in violation of a nine-year-old UN arms embargo. Turkey has joined Qatar in providing arms to the UN-recognized Government of National Accord (GNA) in Tripoli against UAE- and Egypt-supported strongman Khalifa Haftar. The Muslim Brotherhood-backed Justice and Construction Party retains a strong position within the GNA, which explains Doha's support and the quartet's hostility. The nine-year-old civil war has created a security vacuum and made the country a base for terrorist attacks in Europe, North Africa, and the Sahel. Had the GCC maintained the ability to come to coordinated policies, picking a partner in Libya may have reduced the scope of the Libyan conflict to the benefit of Libyans, their neighbors, and the United States' European partners.
The rift between Qatar and the Saudi Arabia-led quartet has also impacted the energy sector. In 2018, the year after the quartet broke relations with Qatar, it left the Organization of the Petroleum Exporting Countries (OPEC) to signal its disapproval of Saudi influence in OPEC and to focus on becoming a leader in the liquefied natural gas (LNG) market. Historically, LNG was priced based on the price of oil. Quitting OPEC gave Qatar more freedom to price its LNG with less deference to Riyadh's oil pricing. Although the UAE has a longstanding LNG agreement with Qatar that remains unaffected by the rift, it expires in 2032, and Abu Dhabi has decided to expand its own natural gas production capacity. A recent discovery of a massive gas field on the border of Dubai and Abu Dhabi could lead to the UAE becoming a net exporter of LNG at Doha's expense. Riyadh is also seeking to become a player in the LNG field, through a network of GCC countries and relationships with U.S. and Russian LNG producers. Qatar—already the leading LNG exporter to the United States' largest trading partners in Europe—reached a partnership deal with the Italian company Eni to develop oil fields in Oman, Mexico, and Mozambique, and invested in the Golden Pass LNG project in Texas.
In conclusion, the rift has made it more difficult to move closer to a number of U.S. regional objectives, including constructing a regional security architecture, placing greater limits on Tehran, averting more effectively the funding of extremist groups responsible for regional terrorism, and containing the damage from Libya's civil war. The energy sector may well become the next battlefield of competition between Qatar and its adversaries. To avoid a dynamic similar to the recent destructive Russia-Saudi oil price war, Qatar and Saudi Arabia or the UAE would need to communicate and separate their longstanding differences from the LNG market. Their split will continue to invite involvement in Arab affairs from Iran, Turkey, and other actors. Despite the rift's obvious negative consequences, Washington has benefitted from Doha's relationships. It negotiated an agreement with the Taliban in Qatari-hosted talks. Also, Qatar's ties to Syrian insurgents enabled the 2014 release of Peter Curtis, an American held by Jabhat al-Nusra. Qatar's increasingly close ties to Tehran could serve a similar role if U.S.-Iranian talks resume. However, until it is resolved, the rift will continue to render achieving many U.S. regional objectives more difficult.
The appearance of external hyperlinks do not constitute endorsement by the United States Department of Defense (DoD) for the linked websites, the information, the products, or the services contained therein. The DoD does not exercise any editorial, security, or other control over the information you may find in these locations.