Merkel's Erdogan Problem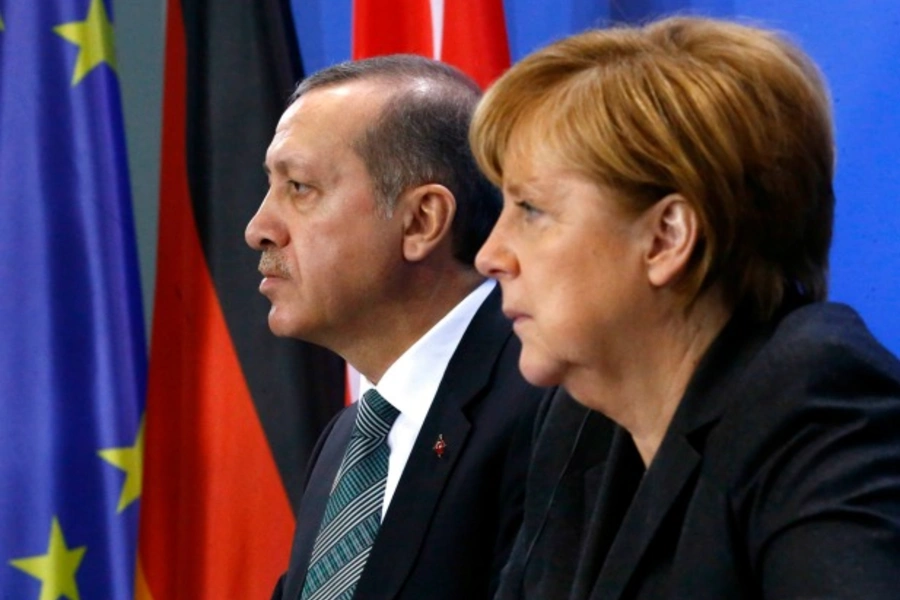 Sabina Frizell is a research associate in the Civil Society, Markets, and Democracy Program at the Council on Foreign Relations.
This week alone, Turkey jailed two journalists on trumped-up terrorism charges, threatened to sue a professor for insulting President Erdogan, and pushed forward the same construction project that sparked massive anti-government protests in 2013. As Turkey's democracy deteriorates, German-Turkish relations have gone from tense to outright hostile. Chancellor Angela Merkel is vacillating on whether to hold firm to core European Union (EU) values of democracy and human rights or appease Turkey. She can either continue to waver, tacitly accepting Erdogan's behavior, or send Turkey a strong signal that its human and civil rights violations are unacceptable.
Germany and Turkey are bound by over fifty years of migration. Starting in the 1960s, hundreds of thousands of Turks began immigrating to Germany under its supposedly temporary Gastarbeiter (guest worker) program—but many stayed beyond the intended one-to-two years, bringing their families and settling for good. Today Germany has over three million citizens and residents of Turkish descent, making Turks the country's largest immigrant group.
Amid the ongoing refugee crisis, migration again ties the two countries together. Germany and Turkey were the primary negotiators of the EU-Turkey migrant deal, which set up a one-for-one trade of asylum seekers for Syrian refugees. The EU also pledged €6 billion for Turkey to help settle migrants, and raised the possibility of visa-free travel for Turks. Though widely declared a human rights catastrophe (and rightly so), the deal is critical to Merkel's already-waning popularity at home—and its success in stemming the flow of migrants hinges on Turkey's cooperation. As a result, Merkel's government developed some degree of dependency on Turkey, despite Erdogan's many affronts to democracy and ever-tightening grip on power.
In this context, Germany has at times compromised its own values rather than strain its relationship with Turkey, as in the case of the charges against German comedian Jan Böhmermann. After Böhmermann read a crude poem insulting Erdogan on television, the Turkish government filed a criminal complaint demanding that Germany charge him for violating an archaic German law from the 19th century that prohibits slander of foreign heads of state. Though the law leaves some room for interpretation—it applies to slander, but not satire, riding a fine and subjective line—Merkel approved a criminal prosecution against Böhmermann, and even apologized for the poem. With Turkey extending limitations on free speech beyond its borders, many Germans were outraged, saying Merkel was kowtowing to Erdogan for fear that he might back out of the migrant deal.
But the Bundestag has also proved ready to challenge Turkey. This month, the parliament voted almost unanimously to officially recognize the Ottomans' slaughter of some 1.5 million Armenians during World War I as genocide. Germany follows over twenty countries that have passed similar resolutions, but its voice is especially significant given both its own history, and its complicity with the Armenian genocide as a then ally of the Ottoman Empire (which the resolution acknowledges, calling Germany "partially responsible.") The Turkish government, which vehemently denies the killings constitute genocide contrary to almost all historical assessments, called Germany's vote a "test of friendship" and within hours recalled their ambassador to Turkey—warning the move was just a first step. Judging by Turkey's short memory of other countries' rulings on the genocide, the threats will likely die down. But the episode nevertheless rattled the countries' fragile bond.
Germany is attempting a precarious balance with Erdogan, and should adopt a more coherent stance—one that recognizes his government's transgressions consistently, not selectively. To start it should make aid, not just visa-free travel, contingent on Turkish respect for human rights, especially those of the migrants. With a wave of far right parties gaining momentum across Europe and the refugee deal falling apart, Merkel's center right Christian Democratic Union party may be in jeopardy. Recent polls show support for the bloc is at an all-time low, while distrust of Turkey is rising. Merkel's ability to manage relations with Ankara will be one crucial piece of maintaining public support.