The Most Dangerous New York Knick
The 7-foot center Enes Kanter has become a symbol of Turkey's never-ending purge—and a potential assassination target.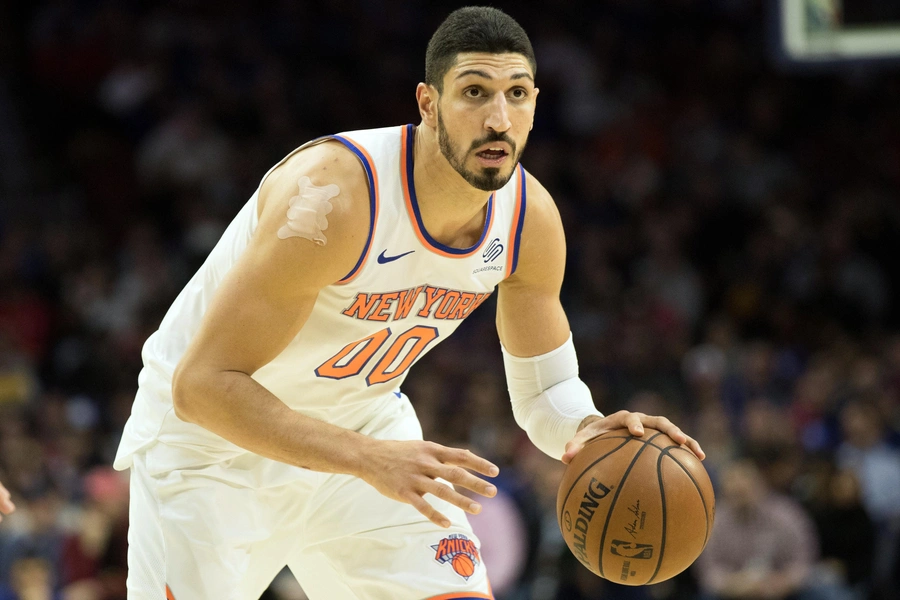 No matter where I have lived as an adult, my teams have always been the New York Yankees, New York Giants, New York Rangers, and, especially, the New York Knicks. I remember going to my first professional basketball game when I was 6 years old and holding my father's hand as we climbed to the top of Madison Square Garden to watch Walt "Clyde" Frazier and the Knickerbockers play. I saw a rookie named Patrick Ewing and his Knicks beat the mighty Chicago Bulls and Michael Jordan the day after Christmas in 1985—a real-life miracle on 34th street. I missed the 1994 NBA finals, but my dad filled me in when I called home from the central post office in Damascus.
It's been pretty bleak ever since; the Knicks haven't been relevant for more than a decade, and my interest has naturally waned. But I recently started checking the Knicks box scores with renewed devotion. That's because my worlds have collided on the team's center court.
In September 2017, a 6-foot-11-inch Turk named Enes Kanter was traded from the Oklahoma City Thunder to the Knicks. Born in Switzerland to Turkish parents and raised in Turkey, Kanter played junior basketball for Turkey's famed Fenerbahce Spor Kulubu before moving to the United States in high school and entering the NBA draft in 2011. But it's not his Turkish heritage that sets him apart; there have been previous Turks in the NBA, including Mehmet Okur and Hedo Turkoglu, to name just two. But none of those predecessors—unlike Kanter—was ever targeted for arrest by Turkey as a result of his religion. Kanter is, in addition to being a Knick, the highest-profile and most outspoken disciple in the United States of the cleric Fethullah Gulen.
The full text of this article can be accessed here on CFR.org.