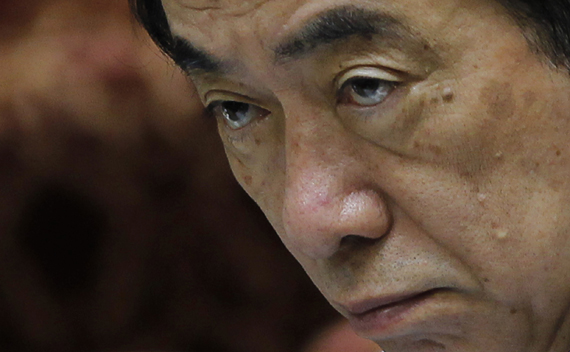 Prime Minister Naoto Kan is facing a parliamentary challenge: opposition parties—the Liberal Democratic Party (LDP), the Komeito, and Tachiagare Nippon—have called for a vote of no confidence tomorrow in Japan's Lower House of parliament.
Reports out of Tokyo are that members of Kan's own party, the Democratic Party of Japan (DPJ), may join in his ouster. Former Prime Minister Yukio Hatoyama has publicly stated that he would vote against Kan. Former DPJ Secretary General Ichiro Ozawa, in a widely-publicized interview with the Wall Street Journal last week, clearly advertised that he was willing—yet again—to pull the rug out from underneath the DPJ leader that had beaten him (and his surrogates) in two leadership contests.    
This is not the first time this sort of struggle for leadership in the ruling party has rocked Japanese politics. A similar drama unfolded within the LDP when their party struggled with a leader who had lost public confidence. Prime Minister Yoshiro Mori, whose support rating dropped in his final days to a miserable 7 percent, presided over a massive electoral loss in the Lower House in 2000. Mori was prone to making blunders and was perhaps best known for his statement that Japan was a divine nation centered on the emperor, a statement associated with Japan's prewar era more than with its democratic postwar.    
The biggest threat to Prime Minister Mori, like the threat to Prime Minister Kan today, came from within his party. Back then, Koichi Kato's threat to join in a no-confidence vote led to a wave of support for ousting Mori. In the end, Kato and others backed off from their threat in the name of party unity after a strong-fisted party secretary, Hiromu Nonaka, made it clear there would be an electoral price to pay for any LDP member who strayed.
That no-confidence vote—prompted by internal strife—was the beginning of the end for the LDP. Mori stayed in office for some months, but the clashes internally led to a series of decisions within the LDP that transformed that party's role in Japanese politics. Junichiro Koizumi then went on to become what Japan needed most: an agent of change and one of Japan's strongest postwar prime ministers. But the LDP as a party did not fare as well. A post-Koizumi LDP returned to internal squabbling and lost the public's confidence—and its position as Japan's ruling party.
So, what does this mean for the no-confidence vote scheduled for tomorrow? For those politicians trying to decide how to vote, the lesson is be careful what you wish for. The numbers are telling, and reveal the complexity of how to sustain a government in this era of coalition politics. If 78 members of the DPJ vote against their own prime minister, the no-confidence vote will carry. A new coalition government will need to be formed with just as tenuous claims on the loyalty of its members. There is no guarantee that this will produce a stable government. On the contrary, greater volatility—and political intrigue—is likely.
For Japanese voters, the lesson is rather to be careful of who you vote for. This spectacle would be an interesting political tale, if not for one obvious difference between 2000 and today. Japan has been devastated by the effects of the March 11 earthquake-tsunami, and the country still faces the real dangers associated with the Fukushima Daiichi nuclear power plant. For the hundreds of thousands of Japanese who live in the ruins of Tohoku and who are counting on their national leaders for help, I cannot imagine that this recent bout of political rivalry will instill confidence—let alone deliver help.