Note to China: Why Ai Weiwei Matters to the Rest of the World
April 11, 2011
10:32 am (EST)
Blog Post

Blog posts represent the views of CFR fellows and staff and not those of CFR, which takes no institutional positions.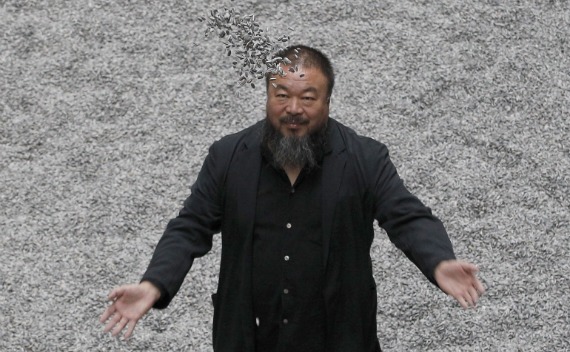 China's detention of the artist/activist Ai Weiwei has resulted in an international outcry. Ai is well-known not only for his thought-provoking art—such as the sunflower seed installation at the Tate Modern in London—but also for his "in-your-face" activism on behalf of the 2008 Sichuan earthquake victims. Ai has been working relentlessly over the past few years to develop a comprehensive list of the children who died in the earthquake—something the Chinese government has worked hard to prevent.
Ai has now been detained, ostensibly on the grounds of "economic crimes." Other reports, however, suggest that a recent art work, in which Ai mocks the Communist Party (warning: graphic), may be to blame for his incarceration. It also has been evident for some time that the Chinese leadership is feeling particularly threatened by dissenting voices in the wake of the revolutions in the Middle East and calls for a "jasmine revolution" in China.
Whatever the reason, the question now remains as to what the rest of the world can do—not just about Ai Weiwei but about all the Chinese who are harassed, detained, and imprisoned because of their push for greater openness. The truth is that the Chinese government doesn't seem to understand why the rest of the world cares or has any business caring about what happens inside China's borders.
Typically, outside analysts try to explain to China that what China does at home affects its behavior abroad. We argue that the lack of transparency, rule of law, and official accountability inherent in the Chinese system is an issue not only of domestic but also of international concern. Poor corporate governance at home translates into poor corporate governance abroad. Adding melamine to milk products at home means exporting those same products abroad. Failures in China's judicial system mean the world's companies and people can't rely on Chinese courts for a fair trial. We also note that China's reputation suffers as a result of thuggish practices. Of course, if we're honest, many of us simply find it deeply painful to see artists, lawyers, and activists locked up for no other reason than wanting to voice their opinions.
Yet all these arguments have failed to produce real change. We could consider stronger action: cancelling the bilateral Strategic and Economic Dialogue on the grounds that the timing is not propitious. This is eminently doable, but the Chinese don't really care about the Dialogue. So while it might be a dramatic statement on our end, it is unlikely to produce any real change. Economic sanctions seem unworkable in the face of China's role in today's global economy, but perhaps an initiative by multinationals on good governance—training lawyers, supporting civil society, etc.—is doable.
Above all, we should listen to the Chinese people who are engaged in the fight for greater openness. What do they want from the international community? That would seem a good place to start—if only they can have the chance to tell us.