Outbound Investment Screening Waits in the Wings
The thousand-page CHIPS bill avoided a new screening procedure for U.S. investments abroad, but it signals how industrial policy will likely be used to discourage American companies from investing in China.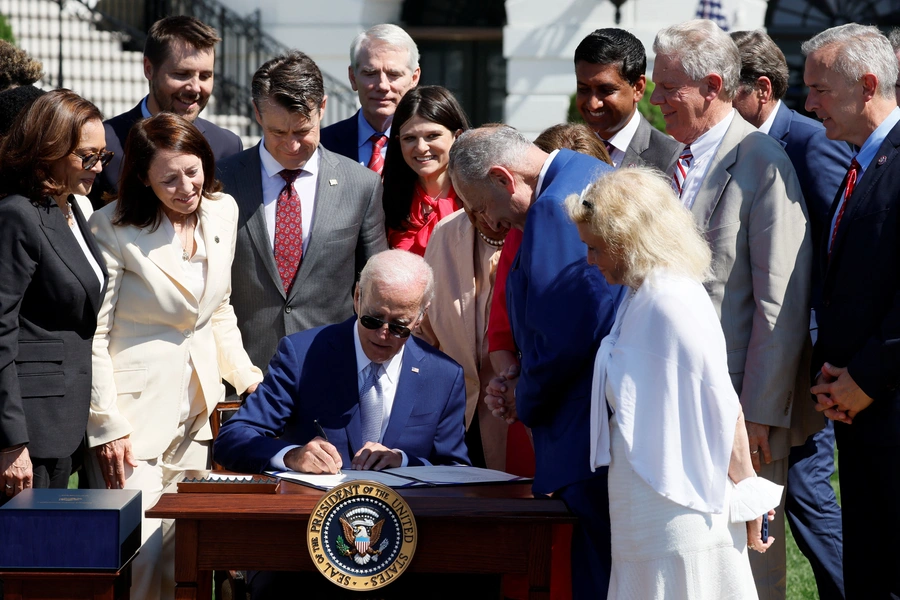 A controversial proposal that would have subjected some foreign investments by U.S. companies to a review by an interagency committee failed to make it into the CHIPS and Science Act of 2022, which President Biden signed into law last week. I wrote about the details of the outbound investment screening mechanism earlier this summer, and warned that it was unclear whether the benefits of these rules would outweigh the costs on American companies.
Senators Bob Casey (D-PA) and John Cornyn (R-TX) pushed the outbound investment screening proposal, which would have vested an interagency committee (the Committee on National Critical Capabilities) with the power to screen investments made abroad by U.S. companies that involve "national critical capabilities" in "countries of concern." While their proposal did not make it into the final text, the CHIPS legislation does include language restricting how companies receiving subsidies for semiconductor manufacturing can make investments. It states:
"The covered entity may not engage in any significant transaction, as defined in the agreement, involving the material expansion of semiconductor manufacturing capacity in the People's Republic of China or any other foreign country of concern."
The law defines "foreign country of concern" as covered nations as defined in Section 4872(d) of Title 10 United States Code, which includes China, Iran, North Korea, and Russia. The law also empowers the secretary of commerce—in consultation with the secretaries of defense and state and the director of national intelligence—to identify other countries that may pose a threat to U.S. national security for the purpose of administering state aid for investments in semiconductor manufacturing. The main concern, of course, is competition with China, which is why it receives special mention.
There are some exceptions to this rule—for instance, existing and future investments in legacy semiconductors. These chips are widely used, and their recent shortages have led to a production slowdown in the automotive industry, among others. Another exception are investments that primarily serve the foreign market in which they are made. As Martin Chorzempa of the Peterson Institute for International Economics has pointed out, such exceptions could weaken the law's guardrails against outsourcing.
Chorzempa also notes that the government may learn a lot about U.S. investments in China through the notification requirements in the law. American companies receiving subsidies will be required to notify the secretary of commerce of any transactions in China or other countries of concern. The secretary will then determine, in consultation with other cabinet officials, whether that investment runs afoul of the rules. If the company is found to be in violation, it must cease its investment or otherwise return its federal financial assistance. So, companies receiving subsidies will have a strong incentive to comply with these investment restrictions, though the specifics of how the law will be applied remain to be seen. For example, it is not yet clear what may constitute a "significant transaction" that is subject to review in the first place—those regulatory details have yet to be developed. Only then will the scope of the notifications requirements—and which investments they cover— be known.
Though these provisions do not establish the kind of sweeping outbound investment screening mechanism I described in my previous writing, they do prohibit some investments in China and allow the Commerce Department to broaden the list of countries the restrictions apply to. It is not immediately clear what procedures would be needed to determine whether an additional country is a national security concern, or whether the department will need to provide a justification for why a specific country poses a threat to national security. What is clear is that our trading partners are taking notice. Leading Korean chipmakers Samsung and SK Hynix have hinted at how the CHIPS bill is forcing them to rethink their investments in China. As with many aspects of trade regulation, an action by one country tends to have ripple effects throughout the global economy.
With growing fears of high-tech competition with China, it is likely that we will see similar rules in future bills that dole out taxpayer dollars to subsidize certain industries. If Congress is not able to act on outbound investment screening, the president may pursue other policy options, such as export restrictions on chipmaking equipment to China, which has been under consideration.
The Biden administration has already signaled support for screening certain investments in China, which suggests it is likely that Senators Casey and Cornyn will work to revive outbound investment screening in the future, even if there was opposition to including it in the broader CHIPS package. Any new language that emerges will undoubtedly be informed by discussions that unfolded as Congress hammered out the CHIPS bill to accommodate the many concerns raised about the provisions, including those from the business community. That said, it's not certain that such legislation would garner enough votes when it eventually emerges. In the meantime, the proposal will wait in the wings, but it won't be long before it takes center stage.