Politics Heat Up in Tokyo
What a difference a week makes.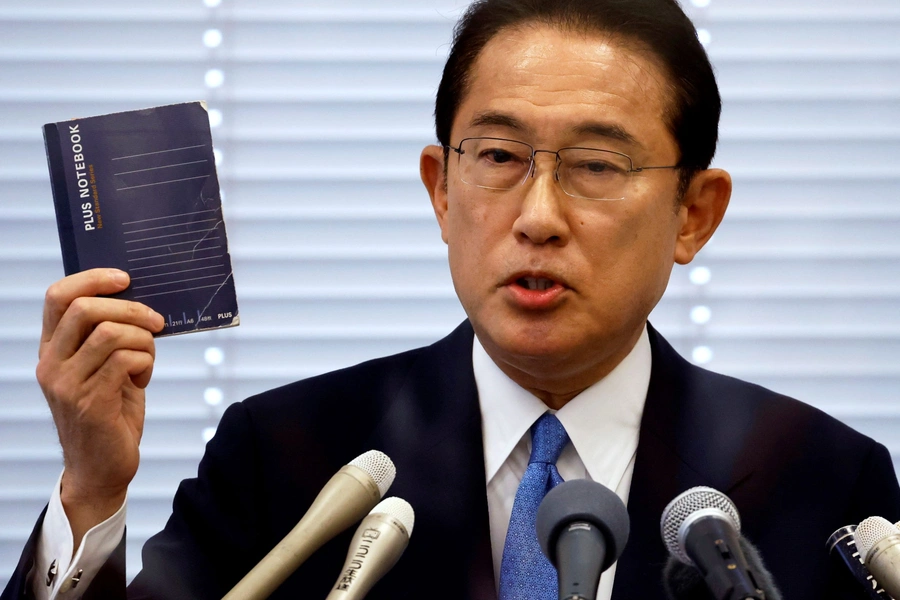 What a difference a week makes.  Last week, it seemed that the prime minister of Japan, Yoshihide Suga, would not be seriously challenged in the party's leadership race. Yes, there were names floated as possibilities in the press, but none were seen as threats. Nor were they public favorites in media polling.
One of those is former foreign minister Fumio Kishida, currently head of the party's policy research committee, who ran last year in the race to succeed former prime minister Shinzo Abe when he resigned suddenly. Kishida has his own faction with 46 members and is widely respected within the party. A reserved and quiet man, he has not attracted a lot of popular enthusiasm.  In last year's party race, Kishida struggled to garner support despite his strong ties to the former prime minister and his diplomatic experience.
But last week, Kishida came out swinging. Interestingly, Kishida has taken aim not at Suga but at the man who has endorsed Suga's bid to stay on as Japan's prime minister, the Secretary General of the LDP, Toshihiro Nikai. He wants to shake up governance of the party and finally dispel the association of politics with money that continues to plague the LDP.  Kishida wants to limit the tenure of senior party leaders to a maximum of three years renewed annually, an obvious dig at the current secretary general of the party who has been in office for five years. 
This year's LDP presidential race will be a full election, one that includes votes from party rank and file as well as from Diet members.  Electability across the nation will be an important determinant of the outcome.  Now with only weeks to go until September 29, the date anticipated for the LDP race, the party is in disarray: party elders are in tension and younger members worry that they are about to be trounced in the Lower House election led by an unpopular prime minster.
So how is this going to unfold?  All kinds of ideas are seeping into the press, and leaks from within the party abound.  For those who are asking if Suga is in trouble or not, the answer is clearly yes. Public polling reveals his public approval rating has dropped to the 28-35% range. But these emerging divisions within the party seem more worrisome for Suga now. Silent are the two voices that could tip the scales:  former prime minister Shinzo Abe and his political partner and current deputy prime minister, Taro Aso.  To date, they have been Suga supporters, but Kishida met with both over the weekend and the meetings were friendly. Perhaps to mollify his party critics, Suga has upped the ante, meeting with Nikai to begin making changes in party leadership prior to the election. 
Kishida's momentum seems to have hit a nerve, and yesterday Suga responded by suggesting he could avoid a divisive party leadership contest by dissolving the Diet in mid-September. Would Suga really force his party to face disgruntled voters prematurely and without party approval?  As prime minister, he has the authority to dissolve the Diet.  With dissension in the party rising and factional leaders failing to line up publicly behind him, Japan's prime minister seems to be threatening his own party with an election they are dreading and woefully unprepared to face. Less than a day later, after considerable public furor, Suga denied he would derail the LDP race and claimed that he doesn't "think it's possible to dissolve the Diet in this difficult situation."
Political drama aside, three factors will shape political calculations in Tokyo between now and October 21 when the Lower House term ends.
First, public frustration with the government over the COVID pandemic response remains high.  While some aspects of the vaccine roll out have been positive (Japan's vaccination rate, for example, is projected to surpass that of the United States within a few weeks), there have been fumbles.  Japan's medical system is falling behind in its ability to treat COVID infections. Reports of Japanese dying at home instead of being given proper treatment in hospitals appear nightly on the national news.  A few weeks ago, there was a heartbreaking story of a COVID positive pregnant woman who was refused care by numerous hospitals and had to give birth at home; she lost her child.  States of emergency have been expanded now to include 21 Japanese prefectures, the highest number yet.  And media polling reveals that roughly 70% of Japanese think their government has failed them on COVID response.
Second, the LDP and the Komeito have suffered at the polls of late.  COVID frustration is one large part of the story, but there are other factors.  Political scandal plagued the Abe Cabinet and tarnished the reputation of the prime minister himself. It has also affected by-elections. A notable loss in a longstanding LDP stronghold in Hiroshima to the Constitutional Democratic Party of Japan revealed the depth of voter outrage at their LDP representative Katsuyuki Kawai; he and his wife were found guilty of vote buying and each sentenced to prison terms. Kawai was a close ally of Abe. More recently, public ire was directed at both ruling parties when senior members were discovered visiting Ginza nightclubs while their government was telling Japanese to stay home and businesses to close early. Prime Minister Suga was forced to issue a public apology.  And a mayoral race in Yokohama where the prime minister has close political ties resulted once again in a defeat of the LDP candidate and a win for the opposition CDPJ.
Third, with Abe gone and the pandemic souring public confidence, the LDP is expected to lose seats in the 2021 Lower House election. The question is how many.  For the past three elections, the LDP coupled with Komeito maintained a supermajority, with two-thirds of the Lower House seats under their control.  Right now, the LDP maintains 276 seats while Komeito holds 29 of the 465-seat Lower House.  Public polling by Nikkei Shimbun shows that the LDP garners 39% support in contrast to the largest opposition party, the CDPJ, which draws only 11%.  Nonetheless, there is an opportunity here for the opposition to make some inroads into the LDP's current electoral advantage. This could be an even tougher electoral fight than expected.  
Finally, there is the question of the next generation of LDP leadership. Conventional wisdom has these rising contenders keeping their heads down and sitting this party race out. Taro Kono has stated that his intention is to fulfill his assignment of vaccinating the Japanese people, but all eyes will be on him in the coming days to see if the disarray leads him to raise his hand once again.  His new book, entitled Moving Japan Forward, is on the front shelves of most Japanese bookstores.  Shinjiro Koizumi, the younger but highly popular LDP star, is rumored to be in Suga's sights for an important next cabinet post.  Another ally of Abe and Aso, Akira Amari, may be interested in that secretary general post opening soon.  And Japan's current foreign minister Toshimitsu Motegi could also to be in contention for a leading position in the party.
Politics this fall are shaping up to be more fluid - and thus more fascinating -than most of us expected.  There is a growing sense of unease about the fate of the party at the polls later this year and the party's generational split on the prime minister's leadership. Will senior party leaders like Abe and Aso try to calm the waters or will they let the chips fall where they may?  Will Suga, like Junichiro Koizumi two decades ago, try his hand at throwing down the populist gauntlet, letting Japanese voters decide who they think has the best ideas for dealing with the pandemic?   And what about all those LDP Diet members and local politicians who see their own political fortunes being dimmed?  Will a next generation leader step in – or be asked to step in – to challenge Suga and to help unify the party prior to going to the polls?
Stay tuned. Prime Minister Suga has announced his intention to reorganize the LDP party leadership and reshuffle his Cabinet in the week ahead. More next Tuesday on these surprising moves and countermoves within the LDP.