Remembering Mahsa Amini: Women Journalists Advancing Women, Peace & Security Principles
A look at the role of journalists, especially female journalists, and the mission of Women, Peace, and Security a year after Mahsa Amini's death.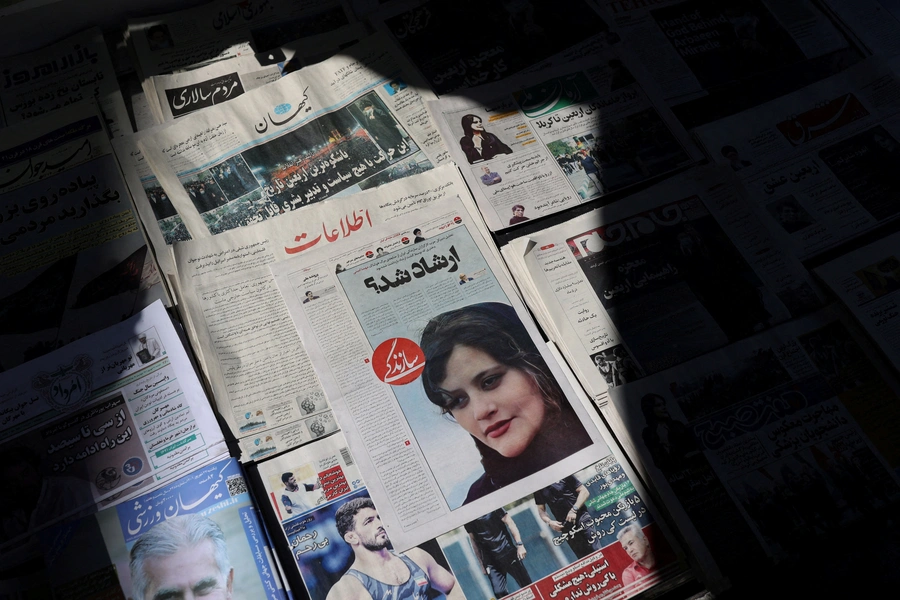 On September 13, 2022, a young Kurdish-Iranian woman named Mahsa Amini was arrested and detained by the Iranian government's religious police, the Guidance Patrol, during a visit to her brother in Tehran. She was charged with improperly wearing a hijab. Shortly thereafter, she was admitted to a hospital and pronounced dead on September 16th. Iranian government officials claim the twenty-two-year-old suffered a heart attack, but witnesses say the physical evidence strongly indicates that she was beaten into a coma by the police and subsequently died of head trauma.  
Two Iranian women journalists played key roles in breaking this story. Niloofar Hamedi gained access to the hospital and posted photos of Amini's family and other content about Amini's injuries and death. Elaheh Mohammadi reported on the funeral in Amini's hometown of Saghez. Subsequently, sweeping demonstrations erupted across the country. Full of outrage against the Iranian government, young women and men thronged the streets, and many women burned their hijabs in protest. These images dominated press outlets for weeks, drawing Western as well as Iranian media.   
These women journalists, and others like them, have been instrumental in carrying out the mission of UN Security Council Resolution (UNSCR) 1325 on Women, Peace and Security (2000).  Consisting of four pillars—participation, protection, prevention, and relief and recovery—WPS is the first of its kind to acknowledge women as active agents of conflict management and peacebuilding. It calls for women to have both a seat and a voice at all tables considering security issues. Although the impetus behind the UNSCR 1325 framework was security rather than social justice, the latter is often an outcome of implementing WPS principles. Both elements are at stake in the conflict engendered by Iran's draconian theocracy, which is especially oppressive to women. Within these conflicts, media is a significant means to the furtherance of WPS principles, and its lens is a method for achieving an overall more stable security environment. 
Gender inequality and conflict are closely interrelated and are reinforced by decades of longitudinal empirical research. Specifically, if a nation has high gender inequality, it is more than twice as likely to be a fragile state; more than three times as likely to have a more autocratic, less effective, and more corrupt government; and more than one and a half times as likely to be violent and unstable. Calling these governments into account is necessary and vital to the advancement of WPS. Women journalists, such as Hamedi and Mohammadi, further the implementation of UNSCR 1325 in multiple ways, including shaping public opinion and agenda setting.  
Media coverage, including photojournalism, plays an important role in what information is presented to the public. Agenda setting is achieved both by what stories professional journalists cover and how much they are covered. In the case of Niloofar Hamedi and Elaheh Mohammadi's reporting on Mahsa Amini, the media set the public discourse in Iran by denouncing a corrupt and oppressive government. Other citizen journalists joined in—Iranian bloggers, social media influencers, and Twitter followers. The images of courageous young women protesting male authority in the streets of Iran were galvanizing and showed the significance of women's participation. Just as the "tank man" who stood in front of a column of tanks in Tiananmen Square in 1989 came to symbolize oppression in China, images of Mahsa Amini and young women burning their hijabs have stimulated the conversation about oppression in Iran. Without this kind of grass-roots journalism followed by international media efforts, the protests in Iran might have been overlooked.  
The impact of these journalists spurred retaliation against them. Worried about its grip on power, the government of Iran declared that Iranian journalists who reported on the protests were guilty of "a conspiracy against national security." Both Niloofar Hamedi and Elaheh Mohammadi were arrested and imprisoned. Potentially facing the death penalty, their separate trials began in May 2023 after eight months in custody. The Committee to Protect Journalists confirms that the two women are being held in the women's ward of Tehran's Evin prison. Other Iranian journalists who stood up for the protection of women, documented gender-based violence, and demanded accountability from government authorities are also imprisoned. In all, twelve women journalists are currently in jail in Iran, eleven of whom were arrested during the protests over Mahsa Amini's death. 
Press coverage helped create a groundswell of attention abroad as protests in Iran grew. During the initial four months, media coverage was at a high intensity as reported arrests and deaths from the demonstrations peaked. Reports revealed that at least 522 people were killed and 20,000 arrested. International press coverage has since waned as Western media television crews have largely moved on to cover other stories, such as the U.S. election cycle and the war in Ukraine.  
Nonetheless, the media coverage of Mahsa Amini's death changed the power equation. For protestors, the oxygen of international media coverage fanned the flames of social change and brought international recognition. That is why journalists, especially women journalists, must continue to bring issues of gender-related injustice and violence like Mahsa Amini's death to light.  
Kathryn Pilgrim is an award-winning broadcast journalist who frequently lectures on WPS issues. She previously served as a CNN correspondent and news anchor for 24 years. She is a member of the Council on Foreign Relations. 

Joan Johnson-Freese is a Senior Fellow with Women in International Security, Professor Emeritus at the Naval War College, and teaches Women, Peace & Security at Harvard. She is the author of Women, Peace & Security: An Introduction.