The Renewing America Interview: San Francisco Mayor Ed Lee on Pension Reform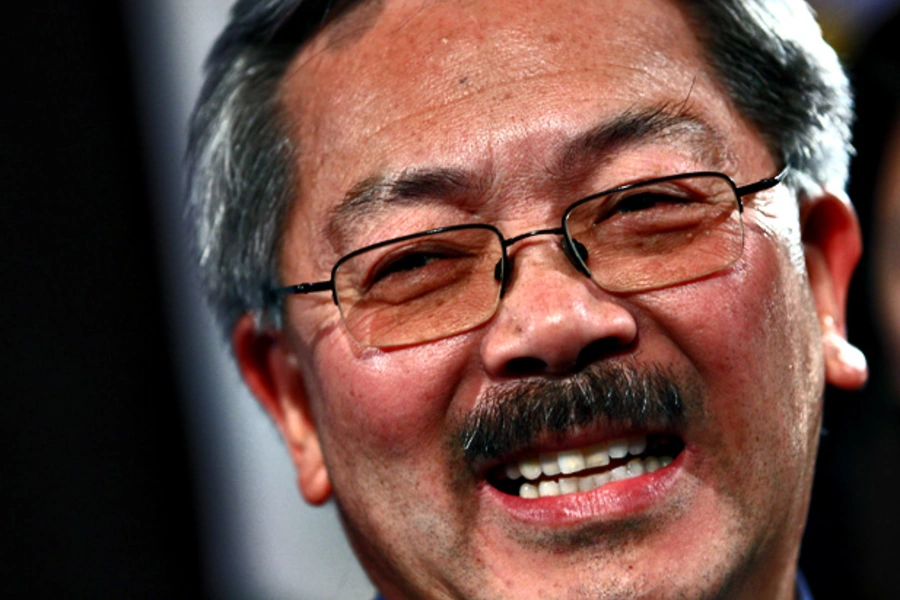 When he took over as San Francisco's interim mayor in January 2011, Ed Lee seemed like just the reluctant warrior the city needed to tackle its fiscal woes. He hadn't run for office since his bid for high school senior class president, and had no aspirations to break the forty-year trend when his caretaker mayorship expired the following January. "I didn't care about future office, I just wanted to do what was right for the city," he told me in a recent phone conversation.
Lee, who wryly admits he made more money as a city administrator, came into office facing a $385 million deficit out of a $6.8 billion budget. "We had to cut to the bone many of the critical departments: police, fire, social services, health," he said. "The city of San Francisco was trying to climb out of a big hole, and we didn't have a vision yet."
First and foremost, Lee knew he had to take aim at a public pension system that threatened to bleed city coffers dry in the not-too-distant future. Putting off these reforms, his administration thought, would mean starving San Francisco of the money it needed to fund infrastructure and other future investments essential in keeping the city competitive both domestically and internationally. The controller's office projected pension costs would nearly double in just three years, jumping from $275 million in FY2011 to $532 million in FY2014.
"All indicators were bad," he explained. "We weren't necessarily going to go under as a city, but if we didn't make pension reform the highest priority and make some structural changes, we would be faced with some of the examples that started popping up."
And San Francisco didn't have to look very far for other cities facing pension-related solvency problems. Vallejo, a Bay Area city of over 100,000, declared bankruptcy in 2008 after funneling more than 80 percent of its budget to pay the salaries and benefits of city workers. In nearby San Jose, the bustling hub of Silicon Valley, falling tax returns and runaway entitlement spending forced the state's third-largest city to lay off more than a fifth of its workers.
Lee came to the conclusion that in order to get meaningful reform on such a hot-button issue, he had to get political buy-in up front from the broadest coalition of stakeholders. "While I wanted to get everyone under the tent in order to get their best advice," he said, "I also had to get everybody to agree with me on what this economic picture looked like, because I didn't want to have people accusing me of lying or doing this for political reasons."
Throughout the summer and fall, Lee's office fostered extensive negotiations between the city, the private sector, and powerful labor unions—which had rejected past reform efforts—to build a consensus initiative. Pension reform in San Francisco requires amending the city charter and, therefore, must receive a majority vote in a public referendum. "The [negotiating] process worked so well," Lee said, "that it was many of these groups that asked me to continue to run for mayor. I was surprised at that kind of support."
Indeed, pension reform became a defining issue in the November mayoral election, where Lee's initiative squared off with an alternative proposal from another candidate, public defender Jeff Adachi. Lee's measure sought several reforms including: an end to so-called pension spiking, caps on pension benefits, increases in retirement ages, and greater contributions from both future and current employees.
The mayor's proposition, which most observers say triumphed because of Lee's consensus building campaign, is estimated to save the city $1.3 billion over ten years. Adachi's ill-fated measure, which would have required more concessions from labor unions and saved the city more money—approximately $1.6 billion over the same period--was primarily crafted with advisors.
But Lee readily admits there's more work to be done on this issue, as his critics are quick to point out. "We settled with a little less than we wanted to, but it was enough to keep everyone under the tent. There's no lawsuit, nobody is challenging it, and everybody is enjoying a little bit of a better time," he says.
Meanwhile, the city at the end of the bay has not been so lucky. While San Jose voters overwhelmingly endorsed pension reform in mid-2012, a series of union lawsuits threatens to undo the measures and, if nothing else, divert the city's already scarce resources to costly legal battles. Perhaps Mayor Lee can be of some assistance.