Revitalizing Human Trafficking Policy Twenty Years In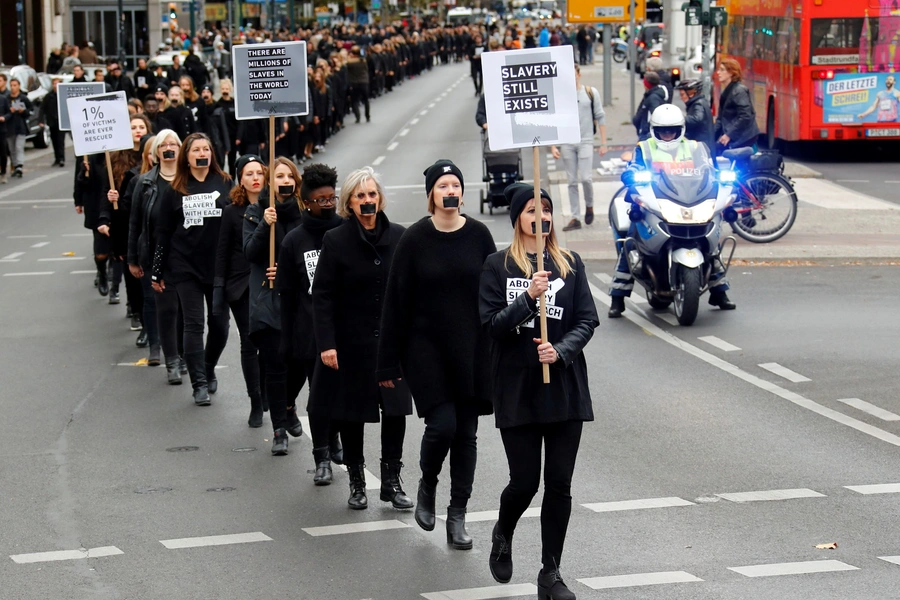 This blog post was authored by Olivia Enos, senior policy analyst in the Asian Studies Center at The Heritage Foundation, and Mark P. Lagon, chief policy officer of Friends of the Global Fight Against AIDS, Tuberculosis and Malaria, and former U.S. Ambassador-At-Large to Combat Trafficking in Persons, CEO of Polaris, and president of Freedom House.
It has now been twenty years since the U.S. Congress enacted the Trafficking Victims Protection Act (TVPA) and the world crafted the Palermo Protocol. With an imminent presidential election, what direction should U.S. policy take on trafficking in persons (TIP)? Forming a unified strategy, prioritizing the role of survivors and civil society, and capitalizing on an opportunity for U.S. global leadership offer the recipe to take the global battle against modern day slavery to a new level.
Unified, Focused Strategy
An interagency strategy that capitalizes on the historically bipartisan nature of efforts to combat TIP is in order. A multiplicity of parallel strategies emerged from various agencies over the last three presidential administrations, yet there still remains no single cohesive strategy that unifies these various lines of effort.
The Trump administration was expected to issue a comprehensive strategy at the White House Summit on Human Trafficking this past January to commemorate the twentieth year anniversary of the passage of the TVPA. But a National Action Plan only materialized on October 19, 2020.
Benefits of a more comprehensive interagency strategy include the potential to identify areas of synergy and cooperation across agencies while simultaneously streamlining efforts to eliminate duplication or rectify efforts working at cross-purposes with one another.
A comprehensive strategy might offer clarity regarding the role of new entities like the Global Fund to End Modern Slavery (created and partially funded by Congress, GFEMS has targeted focused grants to, for instance, India, Vietnam, and the Philippines yet, thus far, has been slow to produce the incidence studies upon which its progress was premised—the first are expected later this year). The strategy also would offer clarity on new positions, like the first-ever White House position in the Domestic Policy Council to serve as an interagency coordinator for U.S. anti-trafficking efforts.
It is worth asking whether the proliferation of institutions and positions diluting the State Department TIP Office's lead interagency role (and proliferation of legislation beyond TVPA reauthorizations) has corresponded with an increase in the efficacy of U.S. efforts to combat human trafficking.
A unified strategy should address questions about the United States' principal goals in championing antihuman trafficking efforts. Is it to reduce the number of victims? Is it to better equip governments around the world with the knowledge of best practices for combatting trafficking? Is it to act as exemplar refining the United States' own efforts to combat trafficking domestically? Or is it a mix of these priorities?  
Some of these challenges may be better addressed through an interagency strategy. Any future administration would be well-advised to pursue one in 2021.
Civil Society as the Linchpin
Civil society is key to overcoming trafficking. All too often, even democratic governments treat civil society as carping critics or suitors to garner state funding rather than as invaluable partners—not to speak of autocratic governments seeking to muzzle civil society. Indeed, civil society is increasingly under duress—a fourteen-year global trend documented by Freedom House, and also CIVICUS.
It is little appreciated that the assistance the TIP Office gives to civil society implementers around the world is as important as its famous annual TIP report that gives grades to countries. For that reason, the TIP office should reverse its trend over the past two presidencies of favoring U.S.-based contractors— "beltway bandits"— rather than mission-driven and experience-rich civil society grantees.
Prioritizing civil society's response rightly recognizes that addressing, and eventually eradicating, human trafficking requires vigilance and focus not only from governments, but from individuals and civil society. It also acknowledges that a lot of human trafficking is local and requires solutions tailored to the forms of trafficking most prevalent or unique to that location. On-the-ground civil society organizations are often the best positioned to respond in these contexts.
One organization, The Market Project, provides opportunities to survivors of trauma to become a part of fully operational, market-based businesses and equips them with skills that offer survivors hope and a future. The Market Project started Nguvu Dairy in Uganda, a frozen yogurt business that meets the demand for a product in the local community, while employing survivors of exploitation in a trauma-informed workplace. Because the business meets a market need of that community, it is profitable largely apart from philanthropy and helps teach survivors transferable skills, like how to run a business. This organization reminds us that civil society can harness the private sector as a non-government force for good, and not just a witting or unwitting enabler of trafficking.
Civil society organizations that treat survivors as equals, not resources to be mined, equip survivors with opportunities to speak to the exploitation they faced without further compromising their dignity. Survivors' insights can help better inform civil society; survivors become an integral part of the civil society response by forming their own non-governmental organizations and leading the charge for justice.
The U.S. government, too, recognizes the value of bringing survivor voices into the discussion, founding the U.S. Advisory Council on Human Trafficking, which provides input at senior levels on how best to advance U.S. anti-trafficking policies. Efforts should be made to ensure that survivor input is heard and implemented. One way of doing this would be to integrate their voices into the creation of a comprehensive inter-agency strategy.
Opportunity for Restored U.S. Global Leadership
U.S. leadership has demonstrably contributed to progress against trafficking. That so many nations have enacted comprehensive laws covering all forms of trafficking (for children and adults, and for sexual and labor exploitation) has a lot to do with the U.S. annual report's assessments and accompanying diplomacy—as proven by scholars such as Duke University's Judith Kelley. Muddying clarity about the relationship of migration and trafficking, or applying sanctions either chiefly to strategic enemies or alternatively as a blanket excuse to reduce foreign assistance, can contribute to a drift in U.S. leadership. The result would be a curtailing of progress in a still long road to abolishing modern slavery.
Renewed U.S. leadership on TIP can spur progress in countries. The United States should encourage and partner with countries to not merely pass laws and create interagency working groups and survivor referral mechanisms as is common, but also work to markedly increase prosecutions, as well as victim identification and rehabilitation efforts.
Without U.S. leadership, governments worldwide may not step up within their country or on the global stage to address this scourge, and the ones that do (China or illiberal governments in the UN) may not do so in a manner that respects the rights and inherent equal value of all people. Choosy use of the most effective multilateral mechanisms is needed.    
Consider, however, not just what U.S. leadership offers to the fight against TIP, but what the fight against TIP offers to U.S. global leadership. Fighting human trafficking at home advances U.S. credibility not only in its anti-trafficking diplomacy but in its overall global standing. Particularly in a time when the enduring legacies of slavery are a focus of a national reckoning today, efforts to stamp out modern-day slavery (without denigrating or failing to address the former) are important.
Fighting trafficking has been a calling card of U.S. foreign policy for two decades. Governments see the United States putting resources behind tackling a scourge that is not solely a parochial U.S. interest. In the future, forceful but collaborative leadership will help restore the standing of non-military assets of foreign policy – what some call "soft power" but which is really persuasive power. It will help reverse a decline in U.S. credibility where the U.S. government has failed to consistently apply its power to key matters of principle.
The reason why progress against trafficking buoys global leadership (and not just vice versa) is that the most sustainable, consequential and credible U.S. statecraft ties interests and values together.
Future U.S. anti-trafficking strategy should continue to be rooted in the truth of people's inherent dignity. When a group is subject to discrimination, stigma or marginalization – whether woman, migrant, or disadvantaged caste or minority – they are made more vulnerable to the extreme exploitation which defines trafficking. Their subjection to the compounded indignity of then being blamed for their own fate in prostitution or migrant labor necessitates action. In revitalizing its trailblazer role against trafficking, the United States will remind the world it is dedicated—rededicated—to working in partnership with civic and faith actors, businesses, and other states to apply its still unsurpassed power toward advancing universal values of dignity and equality.