Sean Connell: Korea's Creative Approach to Economic Competitiveness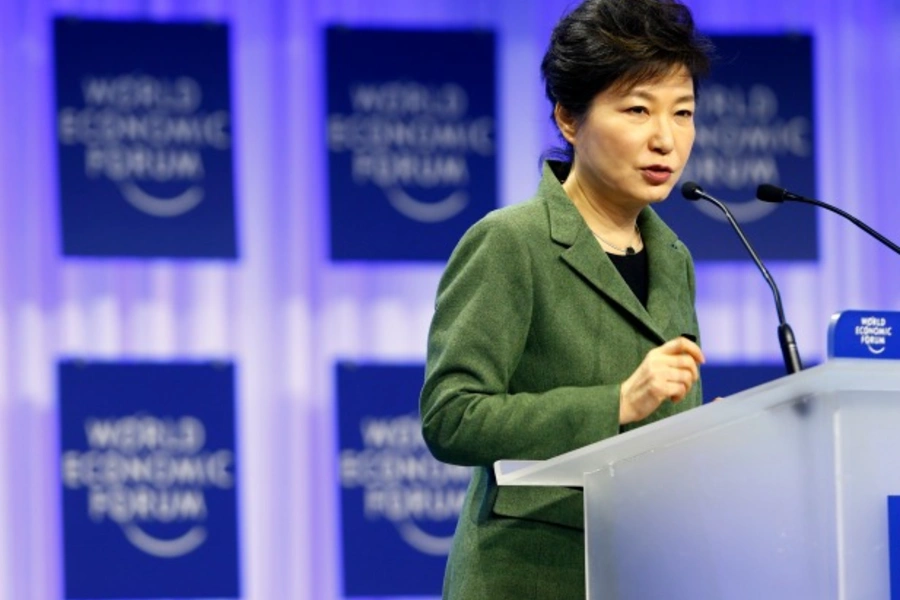 Sean Connell is a recent POSCO Visiting Fellow and Japan Studies Fellow at the East-West Center, and director of trade and economic development of the Snohomish County Government, Washington State.  This post draws on the author's paper "Creating Korea's Future Economy: Innovation, Growth, and Korea-U.S. Economic Relations," which appeared in the East-West Center's AsiaPacific Issues, No. 111. The views expressed are solely those of the author, and do not necessarily reflect the policies or positions of any organization with which the author is affiliated.
South Korean president Park Geun-hye announced in her January 6 New Year's address to the nation a three-year plan for "economic innovation," with the goals of increasing Korea's economic growth rate to 4 percent, employment to 70 percent, and per capita income to $40,000—the "474" vision.  Park's strategies to achieve these targets include tackling public sector reforms and righting "ill practices rampant in our society"; boosting domestic demand through promoting Korea's long-underperforming small and medium enterprises (SMEs) and services sector; and fostering a "creative economy."  While much commentary has focused on the feasibility of the "474" slogan—drawing some parallels with former President Lee Myung-bak's overly ambitious "747" growth plan, more significant is the underlying objective of fostering the innovation that will sustain Korea's future economic competitiveness.
Park has described the term "creative economy" to mean a process of creating new jobs and industries through converging science, technology, culture, and industry in new ways, and by fostering "the blossoming of creativity in the very borders that were once permeated by barriers."  She and members of her government have often discussed the concept in terms of meshing existing sectors with information and communication technologies (ICT).
This agenda is an important shift for the Korean government.  There is broad consensus that Korea has reached the limits of its previous "fast follower" growth strategies, and that its future depends on developing and commercializing homegrown innovation.  Positioning innovation and entrepreneurship front and center as driving engines of its economy is a natural progression for Korea at its current level of development.  At a time of rising inequalities, falling productivity and slowing growth rates, an aging population, and increasingly uncertain job prospects for recent university graduates, it is also an urgent one.
Korea has world-class technology capabilities and human capital, and boasts global leaders in high-tech sectors including ICT.  Yet Korea's economy continues to be dominated by large family-controlled conglomerates (chaebol), meaning that SMEs and the services sector—which are major sources of innovative products, business models, and new job creation powering the U.S. economy—lag precipitously behind large manufacturers in productivity and R&D.  Fostering an environment in which more people are empowered to take risks is core to the success of the creative economy.
These challenges require addressing a range of regulatory, structural, and cultural obstacles, many of which evolved over the course of Korea's spectacular development of the past fifty years.  The Park administration recognizes these, and the important role the Korean government can play in facilitating an environment more conducive for innovation and entrepreneurship.  Last June it announced a creative economy blueprint, a comprehensive set of policies intended to encourage the creation and growth of startup businesses, generate new industries, strengthen Korea's science and technology capabilities, and cultivate world-class creative talent.  The plan includes several measures aimed at enhancing access to finance and investment capital for entrepreneurs and small businesses, which has long been a challenge in Korea's market.  Additionally, the Park administration established a new Ministry of Science, ICT and Future Planning tasked with coordinating and implementing creative economy policies across the Korean government.  It has also launched initiatives to actively engage the broader Korean public in the creative economy agenda, including an online portal through which people can seek advice and mentorship on their business ideas, and has announced plans to establish creative economy centers in 17 towns across the country.
Moving forward, broader reforms—including removing burdensome and unnecessary regulations, and enhancing labor mobility to enable skilled workers to move across sectors and industries throughout their careers—are needed to address structural constraints to innovation and encourage businesses to enhance their creative activities and capabilities.  In these efforts, the Park administration needs to hold the course in its role as a facilitator, and to be mindful of government market interventions and new regulatory measures that could inhibit the Korean economy's ability to absorb rapidly changing technologies and enable innovative new products and services to enter global markets.
The Park administration should play an active role in reducing the risks and costs of failure, both financial and cultural.  Global Entrepreneurship Monitor, which conducts the world's largest survey on entrepreneurship, has found relatively positive views among Korean people towards entrepreneurship, but also found high levels of fear of failure and low perceptions of opportunities and lack of the skills necessary to successfully start a firm.  The Park administration's focus on improving access to finance for entrepreneurs is encouraging, but other regulatory and legal factors that increase the cost of failure and contribute to risk aversion, such as Korea's strict bankruptcy laws, deserve attention.
Closely related to this are education reforms. While Korea's university graduation rate is one of the highest among OECD member countries, unemployment levels for university graduates has escalated while SMEs face challenges filling jobs, due in part to applicants who lack creative problem solving skills, professional skills development, and vocational training.  The Park government has discussed plans to introduce university restructuring reforms, and progress on education reforms is critical to the longer-term success of the creative economy agenda.  Creating more tolerance for failure, and redefining societal perceptions of success, requires infusing these principles in to the education system early.
In her remarks at the recent World Economic Forum meetings in Davos, Park invited other world leaders to join Korea in its creative economy quest.  At the same time, an important element of making Korea's economy more creative and innovative is openness to international trade and investment, which play an important role in facilitating innovation through bringing new technologies and ideas across borders and increasing competition.  Ensuring full implementation of Korea's free trade agreements with the United States and European Union and the regulatory reforms they incorporate will support the creative economy agenda and benefit innovative Korean businesses by fostering a more competitive market, bringing Korea in closer alignment with global standards, and attracting new foreign direct investment.
These are no small tasks for any government.  Accomplishing them will depend in part on the Park administration's ability to build broad, sustained public support and consensus, including for education, labor, and other structural reforms that will be politically challenging yet are integral to bolstering Korea's innovation environment.  Park's continued efforts to champion the value of innovation and the creative economy will be important in engaging and vesting the broader Korean public in its success.