The Significance of Peru's June 5 Election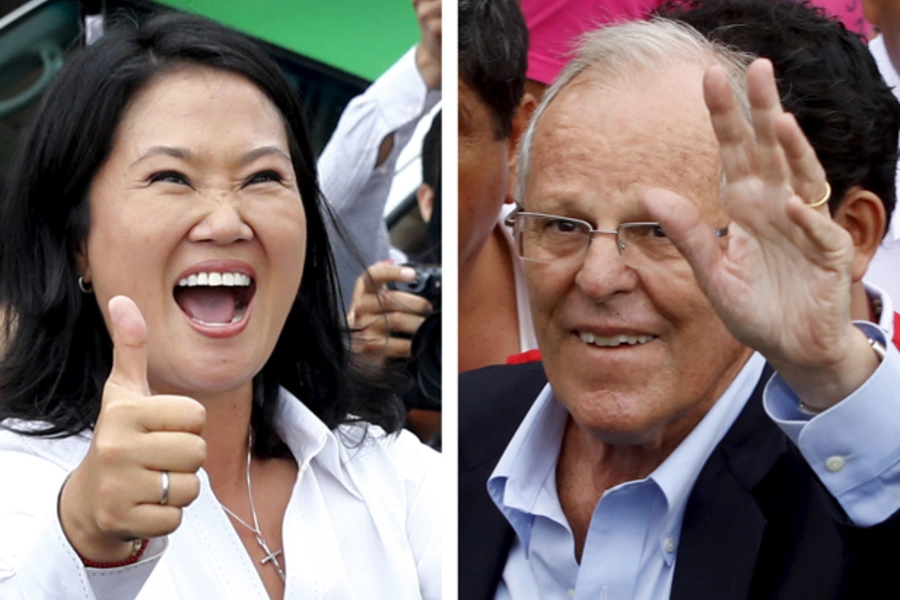 While the world is distracted by Brazil's impeachment drama, Venezuela's impending meltdown, and Cuba's promising détente with Washington, a potentially significant election campaign is underway in Peru that may have long-term implications for the success of the region's "right turn." Two candidates with robust neoliberal credentials are neck and neck in the second round contest that will take take place on June 5, and will determine who governs the country through 2021. Perhaps because of the similarities in the likely economic policies of the two contenders, not much foreign media attention has been focused on the election: regardless of who wins, Peru seems likely to continue with outward looking initiatives, such as the Trans-Pacific Partnership and the Pacific Alliance, while practicing market-friendly policies at home. But precisely because the economic policies of the two candidates are so similar—prominent Peruvian columnist and political scientist Alberto Vergara notes that whichever candidate governs Peru beginning in late July, their cabinet will be composed of technocrats who could serve their rival—observers have not focused on the underlying significance of this election to the democratic legitimacy of Latin America's new rightward turn.
The election takes place against the backdrop of the commodity bust that has diminished President Ollanta Humala to virtual insignificance (his approval ratings are under 15 percent), and a fractious party system, organized—to the extent that it is organized at all—around the legacy of disgraced and jailed President Alberto Fujimori. Fujimori, who governed by electoral and then authoritarian means from 1990 to 2000, and whose daughter, Keiko Fujimori of the Fuerza Popular (FP) won almost 40 percent in the first round of voting, famously vanquished the Sendero Luminoso and then was himself vanquished by revelations of massive corruption and human rights abuses.
But the fact that Fujimori's legacy is the lodestar that provides the basic orientation of the electoral contest does not mean that anti-Fujimorismo is an orderly or organized opposition. Indeed, Peru's 21 million voters fragmented in the first round between a variety of inchoate political forces. Most organized were those of Pedro Pablo Kuczynski (PPK) of the PPK party and Verónika Mendoza of the left-leaning Frente Amplio, who competed in a nail-biting race for second place, in which PPK triumphed by 20.1 percent to Mendoza's 18.8 percent. Following them in the electoral lists were a panoply of other candidates, some of whom were disqualified by the electoral court at the last minute, and others who garnered single-digit returns.
PPK's second place finish behind Keiko Fujimori means that the central debate of the second round has been around public security and family life issues, such as same sex marriage and abortion rights. But the fragmentation of the opposition in the first round meant that the election will to some extent be a referendum on the desired strength of checks and balances. If Fujimori wins, her Fuerza Popular will control Congress (73 of 130 seats), a majority that she could presumably use to pardon her father, or worse yet, to stack the judiciary, electoral bodies, or other oversight agencies. Understandably, Fujimori has done everything possible to downplay such possibilities, but there is a strong credible commitment problem at work: if she wins, there may be little constraint on her worst inclinations, whatever those might be. The Keiko campaign has understandably taken every opportunity to make the point that she is not her father, that the battles of the old generation must be buried, and that the mafia-authoritarianism of the 1990s has been left behind. She has stressed her commitment to the Truth and Reconciliation Commission, and emphasized her democratic credentials at every step of the process.
Oddly, PPK's campaign has not been successful in pushing this narrative, and ominously for his chances, PPK's own rejection rates have risen even as Keiko's fell. Part of the problem is that PPK was himself running a deeply personalistic campaign—his party shares his own initials, after all—and he has had to dilute his own message in the second round to bring on board the disparate anti-Fujimori forces to his left. Also damaging is the fact that PPK himself openly supported Keiko in the 2011 runoff against Humala. The central PPK campaign message, that Fujimorismo has not changed and remains a potent threat to democracy, has been lost in the din over family life and rule of law concerns. PPK has not been very good at pushing the argument that he helped to reconstruct Peru as a minister in the post-Fujimori Alejandro Toledo cabinet, in part because Toledo's legacy is a mixed one that may not help PKK with undecided voters. And so far, at least, PPK's anti-corruption rhetoric has neither lowered voter support for Keiko, nor gained him fresh new support of his own.
Looking forward, Vergara notes that whichever candidate is chosen to lead Peru will have the tough task of building institutions that can address the political fragilities of Peru's consolidating democracy. Amidst a slowing economy, not many Peruvians will be thinking about how to improve the institutionalization of the party system or the workings of anti-corruption agencies. But ultimately, this could prove to be the most important legacy of the next presidency.