Tackling COVID-19: A Problem So Big, You Can See It From Space
Links between COVID-19 and other global challenges underscore the importance of multilateral cooperation across a broad array of issue areas.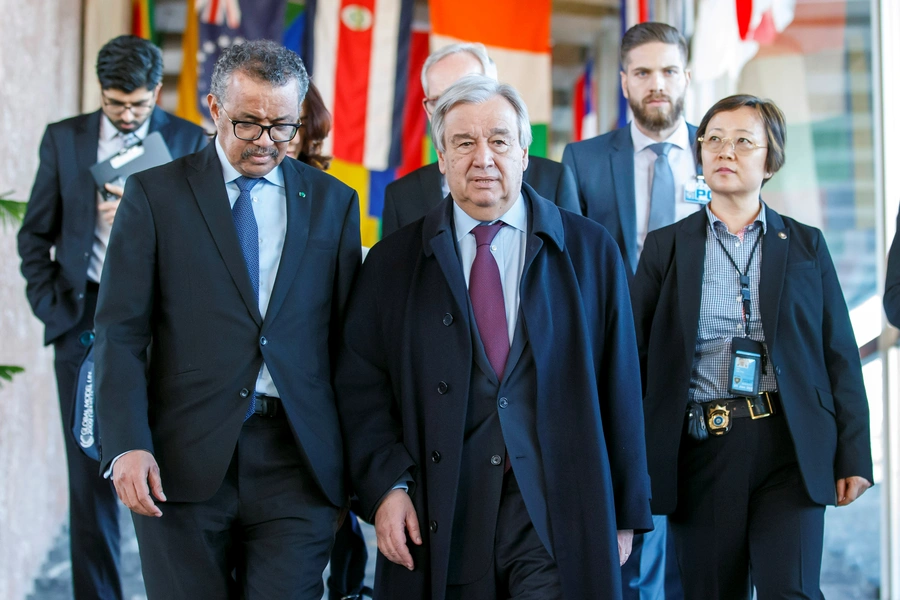 The following is a guest post by Kaysie Brown, vice president for policy and strategic initiatives at the UN Foundation and former deputy director of the International Institutions and Global Governance (IIGG) program at the Council on Foreign Relations (CFR), and Megan Roberts, deputy director of policy planning at the UN Foundation and former associate director of IIGG at CFR. This post is in their personal capacity.
Originating in China in late 2019 and spreading rapidly around the globe, COVID-19 has infected almost 400,000 people around the world and taken the lives of approximately 17,000. Its consequences are starting to be felt on all continents. In addition to lives lost and affected, the global economic and social toll of this pandemic are poised to be more dramatic than anything we have seen in our lifetimes.
The breathtaking speed and reach of the novel coronavirus are showing in new ways both just how connected we all are as well as how our systems of response and action are fragile or act as exacerbators. Indeed, as economic activity slows to a crawl in most corners of the world, satellite images are capturing the impacts of the virus from space as it snakes around the globe.  
The pandemic has already laid bare a number of important truths. Chief among these is that today's problems do not respect national borders but quickly crisscross nations in our connected world. The crisis has demonstrated not only the vulnerability of global public health but also the fragility of an integrated world economy to shocks, as just-in-time supply chains begin to crack and the world edges toward recession, or even depression. By accentuating deep connections across multiple global challenges, the COVID-19 emergency should serve as a clarion call for heightened multilateral cooperation across multiple shared dilemmas, not simply in the public health domain.
Consider climate and the environment. In the immediate term, as COVID-19 shutters businesses and slows economic activity, carbon emissions are poised to decrease. But the crisis could also lessen our long-term ability to make the clean energy transition needed to arrest climate change. Oil prices are plumbing depths not seen in decades, as price wars yield a surge in supply, at precisely the moment that most transportation grinds to a halt. This makes electric vehicles seem more expensive in comparison. Similarly, production delays in clean energy products like solar panels promise to extend the lifetimes of carbon-based energy. Meanwhile, the havoc we continue to wreak on the environment ensures that epidemics and other health security risks occur with more frequency in the future, locking us into a vicious cycle.
Second, COVID-19 is likely to shape long-term trends in the use of technology and the data it generates. Some of these trends may be positive. As employers and educators move online, with more than half of the world's children already out of school, digital services have coped admirably with rapidly increasing demand. Tele-health is finally starting to gain traction. And tech companies and researchers are rapidly looking for ways that artificial intelligence, big data, bioengineering, and other new technologies can quickly improve understanding of COVID-19 and facilitate treatments. Meanwhile, social media companies are working with the World Health Organization (WHO) and other health authorities to share credible information about the virus and pandemic. On the other hand, we know that social media platforms are superhighways for mis- and disinformation. Some governments are also leveraging individual user data to institute new forms of tracking and surveillance, in ways that would face far greater scrutiny in less febrile times. Tools to monitor the progression of the outbreak in real time should be welcomed, but only if they can be deployed while safeguarding the rights and privacy of individuals.
Third, some interventions to curb the pandemic are exacerbating inequality and mocking our commitment to "leave no one behind." Online learning is an appropriate interim measure for students with reliable internet and computer access, but how can schools and communities ensure disadvantaged students have access in a prolonged crisis? Similar dilemmas arise in the world of work. Professionals who can work from home and enjoy paid sick leave can weather a shelter-in-place order. Many service sector employees cannot. Already, evidence is emerging that women will bear the brunt of this crisis.
COVID-19 also lays bare inequalities at the global level. Fragile and conflict-affected countries, home to a disproportionate share of the world's poor, risk massive upheaval as health, political, and economic systems struggle to manage the pandemic. The most vulnerable of all are displaced persons. The United Nations announced last week that it was halting refugee resettlements in light of new travel restrictions. Already forced from their homes by war or disaster, refugees are now left in limbo in temporary settlements, at greater risk for contracting COVID-19.
International cooperation was strained even before the pandemic emerged. The crisis further threatens its ability to galvanize action, as politicians and publics retreat behind national borders. This would be a tragedy, eroding gains the world has made in global development and upending efforts to tackle the climate emergency. In 2008-2009, the world came together to address the global financial crisis. Such solidarity has been conspicuously lacking today. Even a virtual session of the Group of Seven (G7) last week failed to generate real momentum, as leaders focused primarily on announcing new border closures. Worse still, many senior officials around the world are peddling conspiracy theories, sowing confusion and undermining urgently needed cooperation, not to mention their own credibility. In Geneva, the WHO is working hard to galvanize and coordinate action worldwide as well as leading on much-needed global communications about the status of the virus and what is needed to halt its accelerating spread. In New York, the current epicenter of COVID-19 in the United States, the United Nations headquarters has had to essentially shut its doors.
Some pin their hopes on the Group of Twenty (G20), established during the Great Recession, as it plans its own virtual summit this week. But that may be too much to ask from this year's host, Saudi Arabia, a protagonist in the global price wars and a weak broker when it comes to managing U.S.-Chinese frictions.   
Before the pandemic, 2020 was shaping up as a high-stakes opportunity year for international cooperation. The United Nations sought to catalyze meaningful collective action on several fronts, including: setting ambitious agendas in the ten year countdown to realize the Sustainable Development Goals; cutting greenhouse gas emissions to stave off planetary catastrophe; developing a new framework to protect biodiversity while beginning to chart an important conference the following year on food security; advancing new norms to govern emerging technologies; and making meaningful progress on women's rights on the historic twenty-fifth anniversary of the 1995 Beijing World Conference on Women.
Ideally, COVID-19 will serve as the wakeup call needed to remind us that we are all neighbors facing the same global challenges, and stronger when we confront them together. Over the past several years, new actors have stepped up to show leadership on global issues. They include businesses, local leaders, and young and passionate citizens taking to the streets in mass protest. The quick response from across these sectors to fund the WHO's response to the pandemic through the recently launched COVID-19 Solidary Response Fund is a powerful statement that these actors see themselves as part of the global response. The question is whether such activism and leadership among these actors will continue, in the face of immediate health concerns and social and economic emergencies in their own backyards?
The coronavirus crisis is unfolding against a historic backdrop, the seventy-fifth anniversary of the UN Charter, signed in San Francisco in June 1945. As part of the UN75 commemoration, Secretary-General Antonio Guterres had launched a global discourse, in the hopes of "crowding in" ideas about the UN we want and the United Nations we need. It is a timely effort, ever more so now. The United Nations, after all, was established in a moment of crisis, as was the Global Fund for AIDS, Tuberculosis, and Malaria in 2002 and the G20 in 2008 in the face of the global financial crisis.
With luck, COVID-19 will bring the world not only suffering but a new appetite for collective action and a recommitment to global cooperation across systems and geographies. It may yet catalyze new thinking, new networks, and new models that help cast off distrust toward working together. It may forge new pathways to tackle head on issues of inequality that have led to global discontent. And it may push institutions to work in ways that feel uncomfortable but leverage the strength of different actors and in a fashion that mirrors the world we live in today and are poised to embrace tomorrow. But that can only happen if world leaders step up and lead, together.