U.S.-ROK Security Consultative Meetings: A Review of Progress Under the Obama and Lee Administrations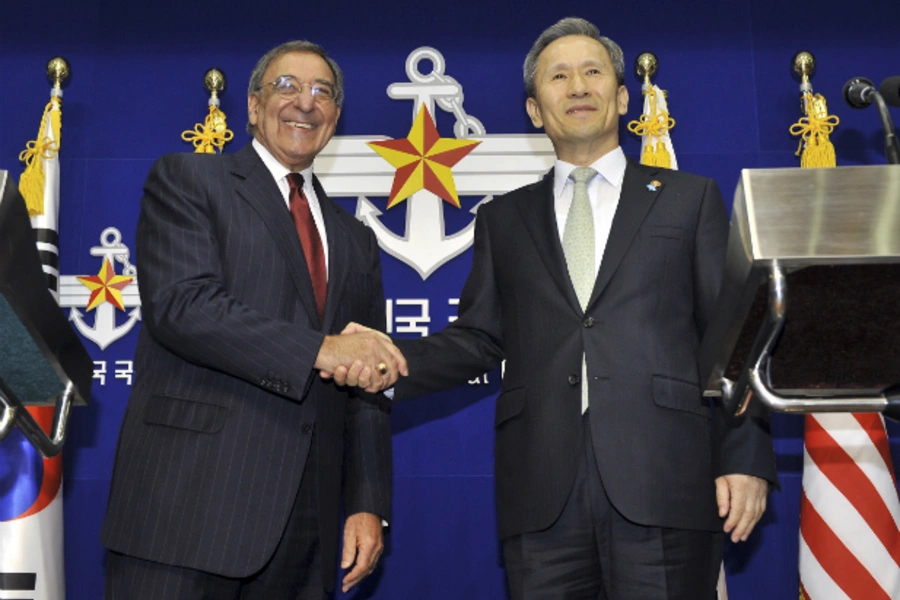 U.S. secretary of defense Panetta and ROK minister of defense Kim Kwan-jin released a joint communique following the 44th annual Security Consultative Meetings (SCM) on Wednesday.  Since this meeting is an annual event that rotates between Washington and Seoul, I decided to compare this week's communique with the one issued four years ago (at the end of the Bush administration) under Lee Myung-bak's first defense minister Lee Sang-hee and his counterpart Robert Gates to provide a sense of how the relationship has developed during the stewardship of Presidents Lee and Obama.  Here are my takeaways:
The Joint Vision for the Alliance is being implemented.  The SCM has become the primary institutional vehicle through which the two countries are implementing the June 2009 U.S.-ROK Joint Vision Statement, adopted during President Lee's first White House visit with President Obama.  This joint vision statement emphasizes strong U.S.-ROK coordination to deter North Korean provocations while broadening the scope and application of the U.S.-ROK alliance to encompass regional and global security cooperation.  In my view, the Joint Vision for the Alliance provides a valuable foundation for assuring continuity of strong relations.  It should be reaffirmed by the U.S. president and his new South Korean counterpart at their first meeting in 2013.
North Korea Focused Deterrence has Replaced North Korea Focused Diplomacy.  Talk of diplomatic progress in Six Party Talks in the 2008 SCM Joint Communique has been replaced by a focus on enforcement of UN Security Council resolutions 1718 and 1874, in response to North Korea's steady progress in developing its nuclear and missile programs.  The Joint Communique justifies the Revised Missile Guidelines between the United States and South Korea completed a few weeks ago as a North Korean "counter-missile" strategy, along with other exercises needed to improve deterrence against North Korean missile and other provocations.
The establishment of a U.S.-ROK Korea-U.S. Integrated Defense Dialogue (KIDD) and the development of a U.S.-ROK Counter-Provocation plan in 2011 reflects the establishment of strengthened institutional efforts to more closely coordinate U.S.-ROK responses to North Korean provocations.  The Extended Deterrence Policy Committee has been established as a new bilateral mechanism for addressing extended deterrence commitments against growing North Korean nuclear and WMD threats.
The evolution of institutionalized coordination in response to these developments has been an unheralded success of the past four years, given both the challenges and risks to coordination and the increase in the forms and frequency of North Korean provocations during the past four years. Given recent tensions near the NLL, today's SCM Joint Communique emphasized the need to prepare for additional North Korean provocations in that area.
U.S.-ROK Alliance Has Gone Global. As emphaiszed in CFR's new E-book on South Korea's Contributions to International Security, U.S.-ROK cooperation on global security issues has expanded considerably compared to 2008, when Korean military contributions to stability in Iraq and Afghanistan were recognized as part of the Global War on Terrorism.  Today's list of alliance cooperation off the peninsula includes South Korea's deployment of a Provincial Reconstruction Team in Afghanistan, South Korean contributions to Haiti disaster relief operations, counter-piracy efforts in the Gulf of Aden, the UN mission in Lebanon and a decision to dispatch peacekeeping forces to South Sudan, and South Korea's participation in the Proliferation Security Initiative.
The Alliance Encompasses New Aspects of Functional Cooperation.  Today's Joint Communique welcomes the launch of a new U.S.-ROK Cyber Policy Consultation and reaffirms the need to strengthen cooperation in both the space and cyberspace domains, subjects not addressed in the 2008 Joint Communique.  In addition, the U.S.-ROK alliance has evolved to address areas such as counter-terrorism, pandemics, and maritime security also covered in The U.S.-South Korea Alliance, which evaluates the alliance's development based on the Joint Vision Statement.
Preparations for OPCON Transfer Continue.  Following a joint decision by the two presidents to delay implementation of transition of wartime operation control (OPCON) in June 2009 that was originally set to take place in December 2012, the two militaries continue preparations for OPCON in 2015.  The decision to hold the annual Military Consultative Meeting (MCM) biannually from now through 2015 suggests a desire on both sides to intensify the pace of planning for this transfer to make sure it is done right. It also alludes to the desire by both militaries to expand their cooperation.
As the United States and South Korea face presidential elections in the coming weeks, the institutional foundations for continued security cooperation are in good shape.  This is important because institutions bind the United States and South Korea together operationally even if tensions or conflict were to arise at a political level between two new presidents.  Current institutional arrangements will provide a new president in South Korea and a new administration in the United States with much to work from as both countries move to a new chapter in the management of the U.S.-ROK alliance.