Women in the 118th Congress: Halting Progress, Storm Clouds Ahead
Women made modest gains in representation in the 2022 Congressional midterms but the path for women's issues in the 118th Congress is uncertain.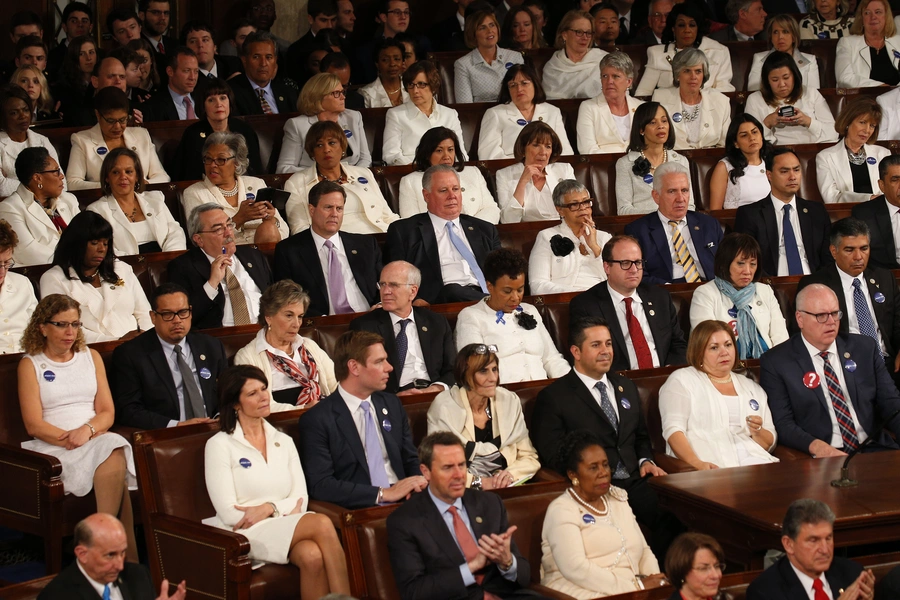 Women's representation in the U.S. Congress increased slightly after the midterm elections, but the divided Congress and Republican-led House mean that gender equality issues will face strong headwinds. The new Congress will send powerful signals to the rest of the world about the United States' direction on women's issues—no matter whether the specific debates, actions, and inaction concern domestic or foreign policy—and could, given these hurdles, diminish the credibility of U.S. leadership on gender equality.  
How Many Women Are Now in Congress?
Thanks to a gain of 2 seats in the 2022 midterm elections, the 118th Congress includes a record number of women, with a current total of 149 women in the House and Senate. The Republican Party also set a record by seating 42 women legislators, compared to 106 Democratic Party women. The 149th is Senator Kyrsten Sinema (I-AZ), who ran as a Democrat but switched her affiliation to Independent shortly after her victory. That number will likely increase to 150 in February following a special election in Virginia slated to replace a member who died in late November.
Viewed in the global context, however, those gains are modest. While 28 percent women's representation in Congress is a U.S. record, the United States continues to fall behind in relative terms as more women are elected to parliaments and legislatures around the world. In a global review of female representation in legislative bodies, the United States now occupies seventieth place. In thirty-one countries, women hold 40 percent or more of seats. The U.S. rate of progress has slowed since the notable wave of U.S. women elected to office in 1992, despite a surge in 2020. Efforts to increase women's representation in Congress and other elective bodies range from partisan efforts, such as those led by former Speaker of the House Nancy Pelosi (D-CA) and Representative Elise Stefanik (R-NY), to a host of nonpartisan organizations that recruit, train, and fund candidates. 
How Many Congresswomen are In Leadership Roles?
Women's positions in leadership roles paint a mixed picture. Former Speaker Pelosi, the first woman to serve in that role, stepped down from the most powerful leadership position in Congress after a total of eight years as speaker. However, the Democratic Caucus has since elected Representative Katherine Clark (D-MA) to its minority whip position, making her the second woman to serve in the top-two leadership positions. The new Republican majority in the House elected Stefanik as chair of the House Republican Conference, ranking third in the Republican leadership hierarchy. In the Senate, Patty Murray (D-WA) became the first woman elected president pro tempore, serving third in the line of presidential succession. 
As for leadership at the committee level, women chair three committees in the House—down from seven committee chairmanships in the 117th Congress—and four in the Senate. Notably, for the first time, women hold all four leadership positions on the powerful House and Senate appropriations committees.
What Does this Mean for Women's Rights?
Of all the gender-related issues before Congress, abortion and reproductive rights top the agenda. In January, Republicans introduced two dozen bills that would restrict funding and access to abortion or related services, building on the gains that the pro-life constituency realized from the Supreme Court's overturning of Roe v. Wade last summer and the enactment of abortion bans of varying severity in fourteen states. While polls show 61 percent of Americans, and 74 percent of those under thirty, support access to abortion with limited or no exceptions, a majority of Republicans support various levels of restriction. In the Senate, Lindsay Graham (R-SC) proposed a national abortion ban at fifteen weeks, but some Republicans prefer state-by-state laws that they see as more durable. Any federal abortion restriction bills are unlikely to become law, given the Democratic majority in the Senate and President Joe Biden's pledge to veto laws that would curtail reproductive rights. Whether Senate Democrats will try to pass a bill codifying abortion rights is unclear given their narrow margin in that chamber and the requirement of 60 votes to avoid a filibuster. Abortion and reproductive rights will continue to drive headlines and voter registration among younger Americans, while creating a wedge between the United States and the rest of the world, where the trend has been toward increasing liberalization.  
The most direct effect Congress will have on women's rights this session will come through its power of the purse. As part of their bid to cut government funding, Republicans have pledged to seek reductions in already approved spending for family planning or other gender-related programs at home and abroad. Those efforts could erode the Biden administration's commitment to devote $2.6 billion of the 2023 budget to gender-related foreign assistance. A particular Republican target for funding cuts could be the $200 million allotted for gender equality and equity programs abroad in places such as Pakistan, which ranks second-to-last in the annual Gender Gap Report issued by the World Economic Forum. Afghanistan ranks last, and has imposed increasingly draconian restrictions and punishments on women, most recently banning them from employment by relief organizations and any education beyond sixth grade. Given the dramatically worsening conditions there, humanitarian aid for Afghans could find bipartisan support, even as sharp investigations on U.S. policy toward the country are likely to continue. 
Both parties could also come together in rare instances over discrete issues, such as efforts to punish aggressors for war crimes and gender-based violence, including atrocities committed by the self-proclaimed Islamic State (also known as ISIS) and the Syrian regime, Iran's crackdown on protestors, and well-documented Russian attacks on civilians in Ukraine. One venue for bipartisan cooperation could be the Women, Peace, and Security Caucus (WPS) in the House, co-chaired by Representative Mike Waltz (R-FL) and Representative Lois Frankel (D-FL). The 2023 Omnibus bill provides $150 million for WPS efforts to support women's participation in peacekeeping, conflict resolution, and decision-making in peace processes. Senator Jeanne Shaheen (D-NH), who championed the initial WPS Act of 2017, could introduce legislation to strengthen the law, which currently requires the administration to refresh its strategy for the Department of Defense and other relevant departments this year. Truces and talks in Ethiopia, Yemen, and possibly Ukraine could provide important testbeds for WPS initiatives. 
The opening month of the 118th Congress showed that culture wars will continue as members seek to fulfill pledges made on the campaign trail, which will create ongoing uncertainty abroad about the direction of other U.S. policies, including gender-related ones. However, the midterm elections revealed some trends among the electorate—young voter involvement, fatigue with extreme positions, and the desire for results—that could create pressures for moderation and agreement on gender equality.