CFR's Corporate Program provides a unique forum for private-sector leaders to interact with decision-makers from government, media, nongovernmental organizations, and academia to discuss issues at the intersection of business and foreign policy.
Overview
Founded in 1953 with twenty-five corporate members, the Corporate Program has since expanded to include more than 120 companies from various industries and regions of the world. Through CFR's unmatched convening power, the program links private-sector leaders with decision-makers from government, media, nongovernmental organizations, and academia to discuss issues at the intersection of business and foreign policy.

Executives at member companies have access to the Council's intellectual capital through briefings with CFR fellows, rapid-response discussions led by CFR fellows and other experts, Foreign Affairs magazine, and hundreds of meetings hosted each year virtually or in New York, Washington, and other major cities throughout the United States and around the world. 
Benefits of Corporate Membership
Corporate membership is available at three levels: Founders ($100,000), President's Circle ($75,000), and Affiliates ($40,000). 
Member companies are offered briefings by in-house experts, a members-only website, CFR resources tailored to the private sector, and roundtables designed specifically for executives. The highlight of the program year is the annual Corporate Conference, which addresses such topics as competitiveness, geopolitical risk, and the global economic outlook. Additionally, the program provides professional development opportunities for individuals on a senior management track through its Corporate Leaders Program, and, for those with fewer than ten years of experience, through its Young Professionals Briefing series.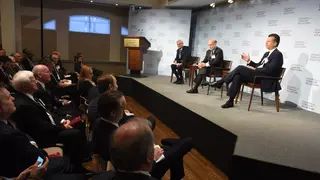 Corporate Events
Whether based in Bangkok, Bologna, or Burbank, corporate members can participate in virtual meetings and view replays of more than two hundred meetings with world leaders and experts each year. The Council on Foreign Relations is location neutral with both in-person and virtual accessibility.
The Corporate Program convenes small, high-level discussions in New York and Washington, DC, for senior executives on global issues relevant to the private sector. Corporate members also have access to policy discussions in Atlanta, Boston, Chicago, Dallas, Houston, London, Los Angeles, Miami, San Francisco, and Seattle.
The Annual Corporate Conference
Open exclusively to CFR's corporate members, the Corporate Conference provides candid, executive-level dialogue on pressing issues affecting the private sector. Experts, including executives from member companies, share their knowledge and insight in conference panels and breakout sessions.

The eighteenth annual Corporate Conference will be held on Thursday, March 30, 2023, and Friday, March 31, 2023. 
Fellow Briefings
An exclusive benefit of corporate membership, a fellow briefing is a discussion led by a CFR fellow and intended to provide a greater understanding of a particular topic or region. Each briefing is tailored to the company and can be held in person or virtually.
Examples of fellow briefings include a one-on-one meeting with the firm's chief economist, a small briefing to C-suite executives on cybersecurity, and a company-wide conference call on global trade sanctions.
Professional Development Opportunities
Senior Management Track
Through the two-year Corporate Leaders Program, President's Circle– and Founders-level companies have the opportunity to recognize highly accomplished individuals on a senior management track. Once designated as Corporate Leaders, executives with eight to twelve years of experience have access to CFR's Stephen M. Kellen Term Member Program activities, as well as general meetings, the Corporate Conference, and other programming.

Young Professionals
The Corporate Program's Young Professionals Briefing series involves early-career professionals in CFR's foreign policy conversations. These career development opportunities are intended for employees with fewer than ten years of professional experience. Led by CFR fellows, Corporate Leaders, and other experts, briefings focus on critical global issues and include lessons learned from their careers.
Contact
To learn more about corporate membership, contact the Corporate Program at [email protected] or 212.434.9684.