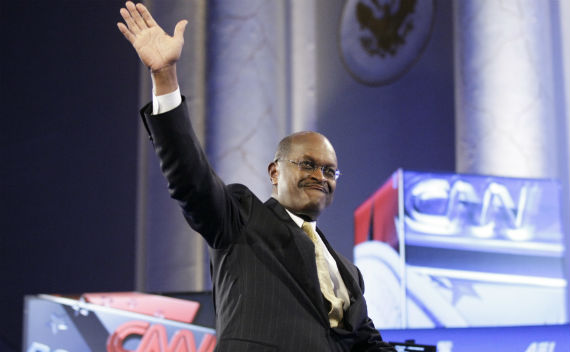 Herman Cain talked about foreign and national security policy last night at Hillsdale College in Michigan. He said that as president he would focus on "military strength, economic strength, and moral strength." Rather than "cut, cut, cut," he would increase the number of active ships:
I happen to believe that we have allowed our military to get too weak. We've got the lowest number of U.S. ships active in the United States today, since 1915, since before World War I. That's not strength.
Cain didn't say why the raw number of ships is critical. After all, one of today's Aegis-class destroyers does a heck of a lot more than a dozen 1915-vintage destroyers. Cain also didn't say how he would pay for a larger defense budget while also balancing the federal budget and instituting his 9-9-9 tax plan.
While Cain was speaking, his campaign was posting his vision for foreign policy and national security online. As campaign policy statements go, it is thin gruel. (Compare Cain's vision statement, for example, with Mitt Romney's foreign policy white paper.) The Cain vision statement consists of blurbs about twenty different countries, each of which gets a label, e.g., "Mexico: Friend and Partner," "Russia: Rival," and "Iran: Adversary Regime." (No, Uzbekistan doesn't make the list. Neither does any country in sub-Saharan Africa.) The one-paragraph descriptions that go with each country don't add much information beyond the title. For instance, the paragraph that goes along with "Libya: Clarity Needed" pledges that "as president, Mr. Cain will work to bring clarity to the Libyan situation."
If you want to know how a President Cain would handle any of the multitude of functional challenges facing the United States—think nuclear proliferation, terrorism, the eurozone crisis, an undervalued Chinese currency, infectious diseases, climate change, etc.—well, the Cain vision statement isn't of any help. It doesn't acknowledge that functional challenges exist.
As for foreign policy priorities, well, the vision statement doesn't say anything about them either. So Cain still has a lot of questions to answer on foreign policy--assuming, of course, that he stays in the race.