Abenomics Is Womenomics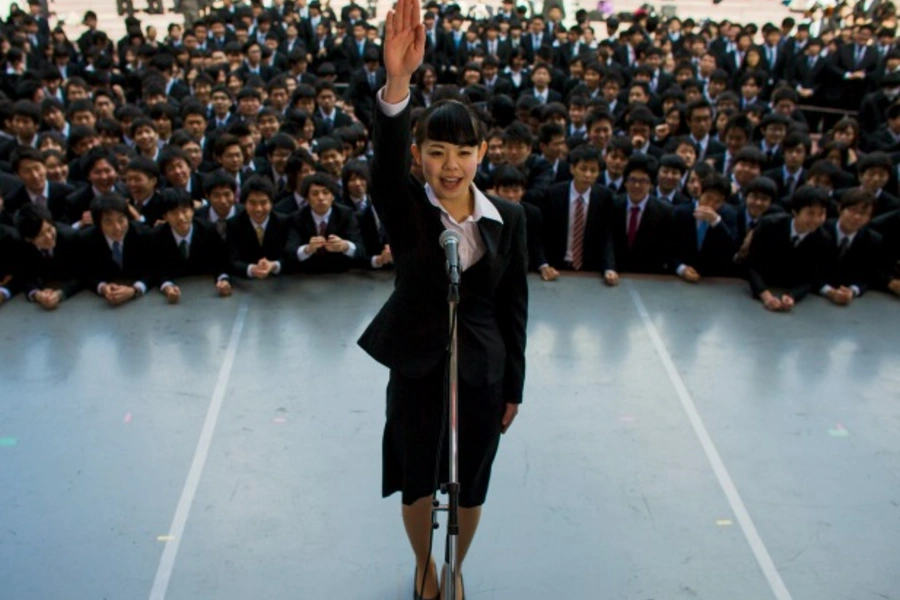 On his visit to the United States last month, Japanese Prime Minister Shinzo Abe spoke about his plan for economic growth, known colloquially as "Abenomics." His plan comes at a crucial time: Japan's economic prospects are far from favorable, especially when coupled with the country's projected demographic decline. By 2060, Japan's total population is expected to shrink by 30 percent, and the elderly population is expected to grow to a whopping 40 percent. At the same time, Japan's GDP is forecast to grow just 0.8 percent in 2015, as compared to 3.1 percent in the United States.
A critical pillar of Abe's economic plan is increasing women's labor-force participation. As the prime minister said in an address to the United Nations General Assembly in 2013, "enhancing opportunities for women to work and to be active in society is no longer a matter of choice for Japan. It is instead a matter of the greatest urgency."
Many leading economists agree that increasing women's participation in the economy could provide the boost in growth that Japan needs. Japanese women are among the best educated in the world, but in 2010, only 60 percent had a job, as compared to 80 percent of men. The work culture in Japan—which includes long work hours and limited vacation time—makes it challenging to reconcile career aspirations with caregiving obligations. Data show that about 70 percent of Japanese women leave the labor force when they have children, and most do not return.
Goldman Sachs estimates that if Japanese women were employed at the same rate as men, the country's GDP could increase by nearly 13 percent, and a more recent report released by Citi GPS put this prediction at nearly 20 percent. Prime Minister Abe has embraced this strategy: at the Women in Business Summit in Tokyo in 2014, he remarked, "Abenomics won't succeed without womenomics."
Japan's focus on women's economic participation is part of a growing chorus of institutions and individuals calling for reduction of the gender labor gap as a means to boost overall national economic performance. Beginning in 1999, Goldman Sachs—which coined the term "womenomics"—argued for a reimagining of the social expectations for women to counteract shrinking economic growth. Since then, a number of leading economic institutions have thrown their weight behind this approach, including the Organisation for Economic Co-operation and Development (OECD), the International Monetary Fund (IMF), and World Bank, among others, as well as publications like the Economist.
Most recently, Citigroup, one of the United States' largest banking companies, voiced support for this approach. In their new report, "Women in the Economy: Global Growth Generators," researchers highlight the role that closing the gender labor gap can have on sustainable economic growth in nations around the world. As an added benefit, they argue that given the way women typically spend their earnings, a smaller gender labor gap would not only add to the national GDP, but also boost human capital and help alleviate poverty.
Though it is too soon to determine the extent to which "womenomics" will improve the economic situation in Japan, it has already shown promise in moving the issue of women's economic empowerment from the periphery to the center of discussions on economic growth.  This policy has also had tangible effects: In a span of five years, the number of women in the workforce rose from 60 percent to 68 percent, and over the past two years the number of female executives has increased by 30 percent. Moreover, this debate has encouraged the Japanese to reexamine the status of women, not only as a matter of equal rights, but as a national economic imperative. While the long-term effect of "womenomics" in Japan remains to be seen, it is surely something to celebrate.