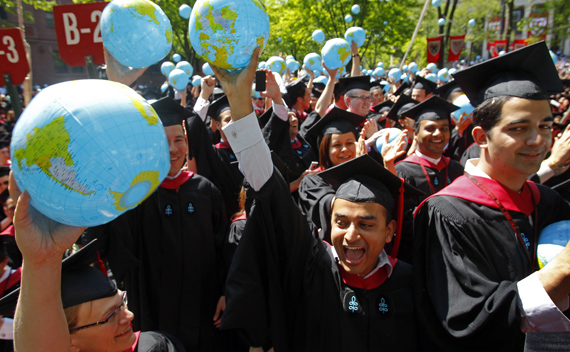 Japan's disasters, and our efforts to sustain our support, were the focal point of discussions at the U.S.-Japan Conference on Cultural and Education Interchange (CULCON) meeting I attended two weeks ago. Gathered there were the leading administrators for university, foundation, and people-to-people programs that sustain the U.S.-Japan relationship.
The news on Japan, of course, is difficult given the tragedy of this spring, and all of those who attended had stories to tell of the dampening impact the disasters, especially the nuclear disaster, has had on travel to and study in Japan.
The harder nut to crack, however, will be the impact of fiscal constraints on our ability to invest in the next generation of educators on Japan. Across the board, funding is disappearing in the United States to sustain education, exchanges, and research on Japan.
But this is not just a story about Japan studies. In the April agreement on the FY2011 continuing resolution, Congress and the Obama administration agreed to a 40 percent cutback in federal government support for HEA-Title VI and Fulbright-Hays program funding, which is one of the the mainstays of our ability to train our next generation of global experts.The Department of Education has put $50 million of support for these badly needed programs on the chopping block, and this summer the FY2012 appropriations process on Capitol Hill could potentially end our universities' ability to invest in programs that teach critical languages, that train college faculty to teach about critical regions of the world, and that allow for doctoral research and faculty training. Congressional funding put in place after 9/11 has had a tremendous impact on language courses and enrollments at the Title VI National Resource Centers, with dramatic increases in American students studying Arabic, Chinese, Hindi, Urdu, Persian, Korean, and Japanese.
Sitting in Washington, DC, the policy implications of a rising Asia are all too clear. Given the influences already felt in the United States by China's rising economic and political influence around the world, it seems obvious why we should be training our next generation of leaders to understand Chinese culture, society and politics.
But what is often forgotten is the importance of our relationships with Japan and Korea, key allies and partners of the United States. What will those relationships look like 10 or 20 years from now if we cannot teach our students to speak the languages or to understand the societies in which they are likely to want to do business, to teach or to develop strong non-governmental partnerships? The General Accounting Office has published report after report on how ill-equipped our government is to field global experts who speak foreign languages or to sustain in-depth knowledge about many of the countries around the globe.
We need more investment in global education simply to sustain the partnerships and bonds that we currently enjoy in Asia. At the CULCON meeting, I looked out on an audience that spanned multiple generations of business, non-profit, educational, and government experience in both the United States and Japan. Everyone in the audience understood how the opportunities we had to learn, teach and share our acquired expertise have been diminished already by insufficient government support and insufficient private sector investment in the future.
But this year, it is here in Washington that we ought to focus our effort—to remind our government and our Congress of the need to think of America's future—in Asia and around the world. We must educate our next generation on what is happening in the world, and more importantly, we must give them the skills that will be required for them to compete globally.