Andrew Yang's Moment: The Economic Costs of the Pandemic Mean the Time for UBI Is Now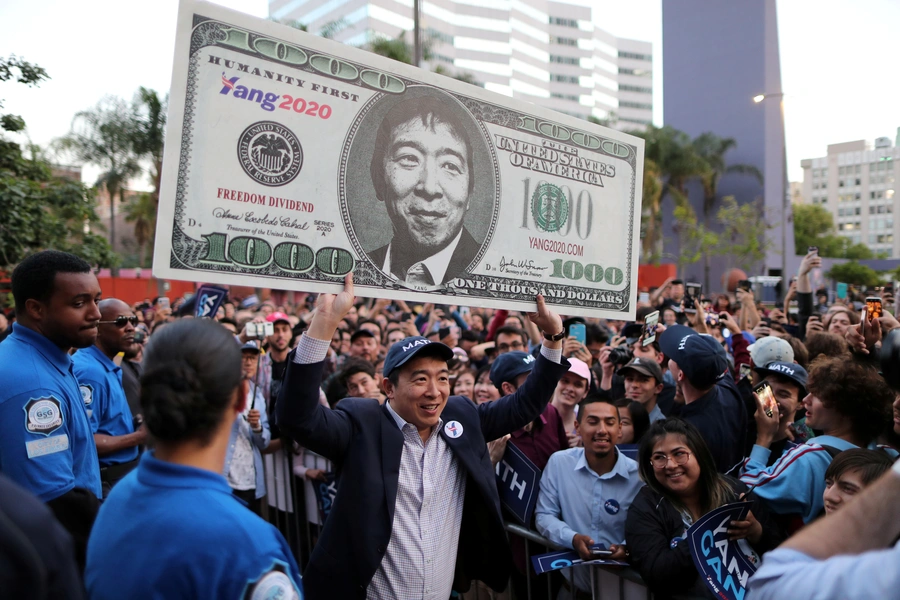 As fears of the growing coronavirus pandemic are leading to something close to a temporary shutdown of the U.S. economy, the moment has come to listen to the most important young political voice in the country: Andrew Yang.
Yang's dark horse run for the Democratic presidential nomination was based on the simplest of ideas: if Americans are poor and struggling, give them money. He took the idea of "universal basic income" (UBI) from the stuff of think tank analyses and policy books to the front pages of newspapers.
Its moment has come more quickly than he could have imagined. Mitt Romney, the Utah Republican senator, has joined a growing chorus of Democrats in calling for direct cash grants of $1,000 to all American adults to help them weather the economic hit from the virus. As Congress is considering additional measures to help an economy that is careening into recession, getting money quickly into the hands of struggling individuals and families must be a top priority.
To be clear, I have not always been a fan of UBI. In our 2018 CFR Independent Task Force on the Future of Work, we called for more targeted measures of the sort that are also under consideration now—extending sick leave to all working Americans, wage subsidies, increasing tax credits for lower-income workers, and strengthening unemployment insurance. In ordinary economic circumstances, such targeted measures may offer more bang for the buck.
But the overwhelming virtue of UBI is its simplicity. It gets money to individuals in need, and out into the wider economy, more quickly than any other alternative. Unemployment insurance only kicks in after people lose their jobs, and does not fully cover many part-time and gig economy workers, or others who may see a temporary sharp reduction of their income during the crisis. Aid to small businesses will be critical, but the loans are complicated and often take months to disburse. A cash transfer has immediate impact that these other measures cannot match.
That money is going to be needed quickly. In just the past several days, governors in major states from New York to Washington have ordered the closure of bars, restaurants, gyms and other recreational facilities. All concerts, conventions, sporting events and other mass gatherings have been canceled. Most Americans have appropriately stopped travelling, which is pummeling the airlines and hotels.
Many retail establishments from Apple to Starbucks are shutting down or reducing hours. In an economy where consumer spending drives 70 percent of economic growth, millions of American workers are going to feel the impact immediately.
It is heartening to see shows of personal generosity, such as NBA rookie phenomenon Zion Williamson, who has pledged to cover the salaries of New Orleans's arena workers for one month. But the reality is that most Americans will have little or nothing to fall back on. Even with the solid economic growth of the past decade, some 40 percent of Americans still say they do not have the resources to cover a $400 emergency.
The cost of UBI, of course, looks daunting. There are roughly 210 million Americans aged 18 or older, so the first $1,000 check would cost the government about $210 billion. And there is no reason to think one month will be sufficient. The current closures are likely to last at least two months, and possibly much longer.
Despite the $1 trillion budget deficit currently being run by Washington—much of it brought about by the irresponsible 2017 tax cuts for companies and wealthier Americans—there is no question that such quick relief is affordable. The Fed has now cut overnight interest rates to near zero, and in the current market chaos, investors will still want to hold even very low interest-bearing Treasury debt. The money is there if Congress asks for it.
Beyond that, who knows? Americans may find that the stability provided by a steady monthly check is exactly what they need in the current era, where the economic uncertainties of daily life are multiplying. It could mark the beginning of a long-overdue rethinking of how to help more Americans flourish in the economy of the twenty-first century.
The 2008 financial crisis and the Great Recession left a poisonous political legacy in part because Americans believed that we were not all in it together. Big banks and others were bailed out, while many Americans suffered through grinding months and years of unemployment or part-time work or unmanageable mortgage payments. 
This crisis is a chance at a do-over. All Americans must have the means to take time from work to protect their health, or the income to stay home and support their families as needed. If they don't, the virus will likely spread more quickly and the economic pain will linger far longer.
Andrew Yang is right. Give money to people. Do it now.