Up-Armored SVBIEDs Make Their Way to Nigeria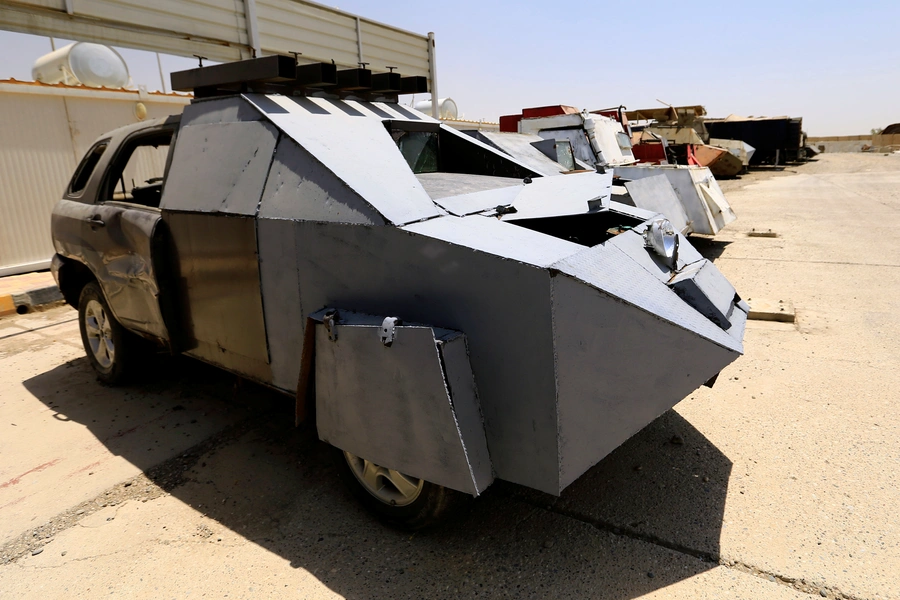 Jacob Zenn is an adjunct assistant professor at Georgetown University's Security Studies Program and a fellow on African and Eurasian affairs at the Jamestown Foundation.
On July 11, the Islamic State in West Africa Province (ISWAP) released a video called "Tribulations and Blessings" after months of no formal video releases. This lull may have been related to facing battlefield pressure, as was the case with the Islamic State. The recent ISWAP video shows the group's use of new, lethal equipment. It also challenges some stereotypes about Boko Haram. The group's epicenter has been in Borno State and members tend to speak Kanuri. But, the militants in the video come from across Nigeria. Two "martyrs" in the video, for example, were from Kaduna ("al-Kadunawi") and Lagos ("al-Lagossi").  
Observers have pointed out that, for the first time, the video shows ISWAP using at least two "up-armored suicide vehicle-borne improvised explosive devices (SVBIEDs)" (pictured). These are four-by-four vehicles with padded armor to protect the driver and explosives inside. They are used to carry out suicide attacks on Nigerian troops during battles. Up-armored SVBIEDs are not like car bombs, which are designed to avoid detection in urban environments. Rather, up-armored SVBIEDs appear obviously to be weaponized, but in the bush they still have some camouflage. Their armor makes it difficult for opposing troops to shoot them to a halt before the driver detonates explosives near the frontline among troops, killing himself and those around him. 
The Islamic State first pioneered SVBIEDs in Iraq and Syria after it conquered territory there in 2014, and now the group regularly uses them. While ISWAP's adoption of SVBIEDs in Nigeria could have been the result of observing the Islamic State from afar, it is also possible that there was direct interaction between Islamic State militants and ISWAP.
The effective transfer of sophisticated tactics usually requires in-person training between members of allied groups. To that point, a factory where ISWAP makes up-armored SVBIEDs, as seen in this video, appears complex enough that outside advising was likely. Similarly, the alleged rocket-making factory seen in an ISWAP photo release in 2015 looked similar to an Islamic State video's depiction of a rocket-making factory from "al-Fallujah Province" in Iraq. The cell phone of an arrested ISWAP militant in Cameroon in 2015 carried that same al-Fallujah video. At the least, the Islamic State's advising on ISWAP's up-armored SVBIEDs could spare ISWAP several years of trial-and-error to make them as lethal as possible.
There are no reports that al-Qaeda-aligned jihadis in Mali or the Shekau faction of Boko Haram in Nigeria have employed up-armored SVBIEDs. Given that these groups operate in similar political and physical environments, it raises the question of why ISWAP is different. There are no conclusive answers at this point.
There is some evidence, however, that earlier in the insurgency, in 2010 and 2011, al-Qaeda in the Islamic Maghreb (AQIM) provided training to Boko Haram in suicide bombing. (Boko Haram carried out the first suicide bombing in West Africa in 2011.) This new ISWAP tactic, unlike the suicide bombings that often targeted civilians, is geared towards defending territory from Nigerian troops. In fact, ISWAP's leader, Abu Musab al-Barnawi, has stated he will only target civilians who collaborate with "Christian proselytizing" NGOs or the Nigerian government. ISWAP's use of up-armored SVBIEDs is likely intended to frustrate the military's efforts to win back remaining ISWAP territory. Amid reports of ISWAP overrunning a barracks on the Yobe-Borno border on July 14, the sources of ISWAP's recent surge in capabilities warrant further investigation. 
For more on Nigeria, Matthew Page and John Campbell provide an overview of its politics, history, and culture, including the threat of Boko Haram and religious conflicts, in their new book, Nigeria: What Everyone Needs to Know, which was published by Oxford University Press in July.