Asa Hutchinson: A Distinguished Career in Domestic Counterterrorism
The veteran Republican politician tackled the violent far right in the 1980s, with considerable success.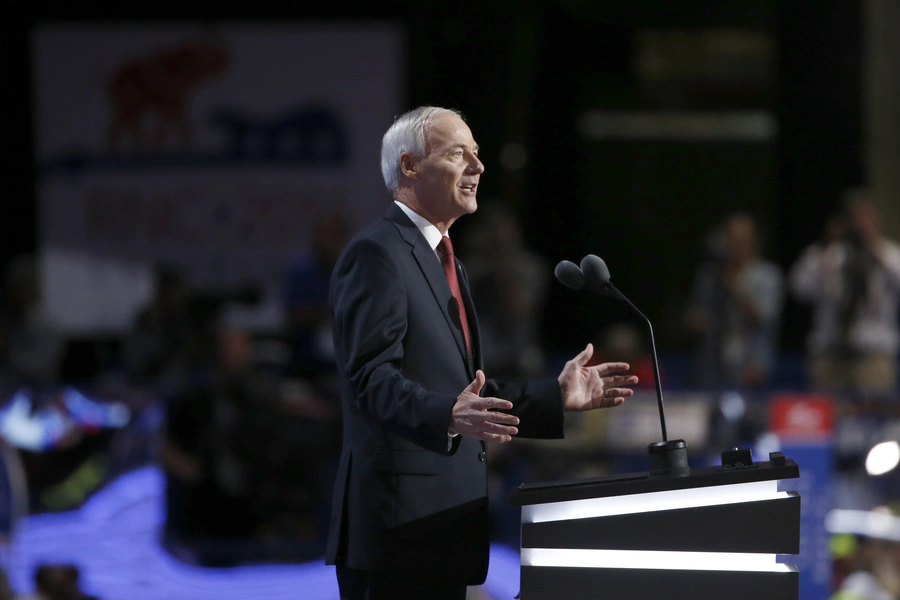 This past Sunday, former Arkansas Governor Asa Hutchinson announced he is running for president of the United States. Seeking to occupy a "non-Trump" lane in the Republican Party, Hutchinson has portrayed himself as a principled and experienced leader, advancing conservative values in both domestic and foreign policy. "I'm confident that people want leaders that want the best of the America, not those who appeal to their worst instincts," he told ABC on Sunday.
The former governor's resume shows a long and distinguished career of service in the federal government. After a brief stint in the House of Representatives in the late 1990s, Hutchinson served as administrator of the Drug Enforcement Administration and undersecretary of homeland security for border and transportation security in the George W. Bush administration. He was confirmed for the former role by a 98-1 vote in the Senate.
But even earlier in his career, Hutchinson was a U.S. attorney for the western district of Arkansas—at 31, the youngest in the country. And in that role, he met head on with the nefarious, violent, and seditious forces of America's far-right white supremacist and anti-government extremist movement. As part of an investigation into the Covenant, the Sword, and the Arm of the Lord (CSA), described by the FBI as a "paramilitary, survivalist, religious organization" subscribing to the "'Identity' religion which professes belief that the white race is God's chosen people," the government obtained warrants to search the CSA compound in Elijah, Missouri, close to the Arkansas border. The group's leader, James Ellison, was wanted on firearms charges, and another member had previously murdered a police officer.
On April 19, 1985, federal agents surrounded the compound, and a tense stand-off began. Two days later, Hutchinson donned a flak jacket and entered the compound to take part in negotiations to end the siege without bloodshed. Ellison and his co-conspirators surrendered, and were eventually convicted. "We prosecuted them, and it diminished after we sent them to prison," Hutchinson later recalled. "You have to take them very seriously." A reporter covering Hutchinson's run for Senate in 1986 noted that he "received a citation from the FBI and the Director's Award from Treasury" for his work against CSA.
Hutchinson paid dearly for his efforts to combat the violent far right. At the time of the stand-off, in fact, the CSA had targeted him for assassination, alongside an FBI agent and presiding judge. "They had, in fact, left their compound to carry out their mission when they had a wreck on the way," Hutchinson later reminisced. Police would find a map of his home at the CSA compound. Some also suggested the Oklahoma City bombing in 1995, which killed 168, was partially in revenge for Hutchinson's and other prosecutorial efforts against the CSA. Perhaps counterintuitively, Hutchinson has frequently cited both his work against the CSA and their threats against him as part of his innate optimism about the direction of the country. "Nearly forty years ago," he declared in 2022, "I joined a band of hundreds of good people who linked arms to confront those who believed violence and racial hatred were the answer to their anger. Sometimes I fear we are not moving fast enough toward an America that is truly equal. But we are making progress as long as we listen to each other and care about each other."
As far-right terrorism has risen to become a leading national security challenge over the past decade, Hutchinson has been relatively rare among Republicans in that he has loudly and publicly spoken out against far-right extremism and terrorism. When asked in August 2019—just days after a white supremacist terrorist attacked a grocery store in El Paso, Texas, killing 23—whether he thought "we have a white nationalist problem in this country," Hutchinson was unequivocal: "I do. I think there's been some resurgence of it. Obviously, it's a minority, it's not reflecting of America… It's been a problem that every generation has to confront, and leaders need to speak out about it." He went on to add that "No one should be targeted for who they are," and called for enhanced hate crimes legislation, including for crimes against women and the LGBT community. Hutchinson has also criticized former president Donald Trump for meeting with a white supremacist at Mar-a-Lago and said that January 6 "disqualifies [Trump] for the future." He also remains committed to managing in a bipartisan fashion. "We've never had the intensity of division that we have right now," Hutchinson said in 2020. "What we have to do is to listen to each other and look for that common ground."
To be clear, Hutchinson is no liberal. His views and record on hot-button issues like gun control and trans rights will make him unsupportable among even the most moderate of Democrats. Moreover, his chances of upending the tandem at the top of the Republican party—former president Trump and Florida governor Ron DeSantis—are next to nil. But his service to his country at this hour might be in highlighting to Republican counterparts both the severity and seriousness of the threat the violent far right poses to the country and its leaders—including to institutions cherished by conservatives, such as the military and law enforcement but also the Republican party itself—and, more importantly, how to counter the threat with bravery and conviction.
Few politicians with a national profile have played such prominent roles in America's battles with seditious elements on the far right. Perhaps the most prominent fellow example is former Senator Doug Jones, who as United States attorney for the northern district of Alabama during the Clinton administration prosecuted members of the Ku Klux Klan for the 1963 Birmingham church bombing and issued an indictment of Atlanta Olympic Park bomber Eric Rudolph. The violent far-right terrorism that they fought in an earlier era now poses a pressing national security threat to the United States. Governor Asa Hutchinson's race for president may be short, but his example to his Republican counterparts on countering such domestic terrorism from the far right should not be overlooked.
The author thanks Ella Busch for her research support.