Aung San Suu Kyi: Notably Absent from the Opening of the UN General Assembly
As the Myanmar military attacks the Rohingya minority, the country's female leader, Aung San Suu Kyi, has done little to stop the violence. The harsh lesson from it all: women leaders do not always promote peace.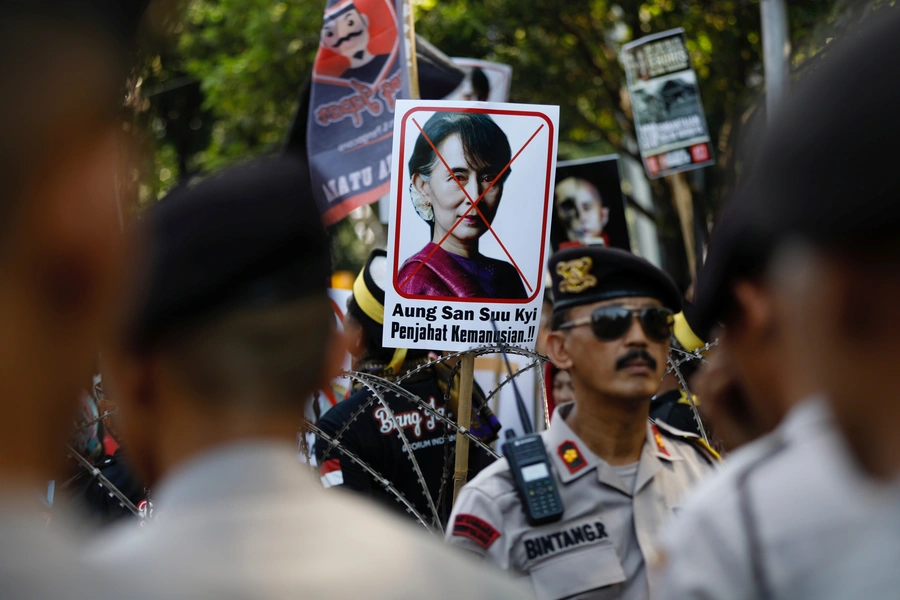 As the United Nations General Assembly (UNGA) opened for debate today, the world is once again reminded that leadership around the globe is overwhelmingly male. As of March 8 (International Women's Day) this past year, Pew Research counted fifteen women who are heads of state or government. Of the few female leaders appearing at the opening of the GA, one is notably missing: Myanmar's de facto leader, Aung San Suu Kyi. While research suggests that women's leadership is correlated with more sustainable peace and greater economic development, we of course cannot always assume that powerful women will lead in ways that guarantee peace, prosperity, and respect for human rights.
Having famously won the Noble Peace prize in 1991 for her non-violent efforts to promote free elections and human rights in her home country, Suu Kyi is now leading a government responsible for some of the worst atrocities the world faces as it heads into the UNGA's annual opening. New York Times columnist, Nicholas Kristoff, rightly describes the situation as shameful. While not the formal president of Myanmar, Suu Kyi is the country's de facto leader. (She is constitutionally barred from the presidency because her children are foreign nationals, so her official title is "state counsellor.")
Over the last few weeks, the Myanmar military has been conducting a brutal campaign against the ethnic, religious minority, the Muslim Rohingya in the state of Rakhine, allegedly to quell terrorist activity. The military notes that on August 25, Rohingya militants attacked several police and army sites, leaving twelve people dead.
Despite claims that the military is, in response, targeting terror suspects, the military appears to have indiscriminately attacked Rohingya civilians, regardless of their connection to any terrorist activity. Myanmar soldiers have reportedly burned homes, shot fleeing civilians, beheaded children, and raped women. Entire villages have been destroyed, and the violence has forced 379,000 Rohingya to flee to Bangladesh in the last month alone, where they are encountering land mines allegedly planted by the Myanmar military to prevent them from returning.
Despite these shocking atrocities, President Donald Trump said nothing about Myanmar in his speech at today's gathering of world leaders. By contrast, United Nations High Commissioner for Human Rights Zeid bin Ra'ad Zeid al-Hussein has referred to the atrocities as "a textbook example of ethnic cleansing." UN Secretary-General Antonio Guterres notes, "The humanitarian situation it is catastrophic."
While Suu Kyi's direct authority over Myanmar's military is limited—given that top general, Min Aung Hlaing, maintains a large degree of power—activist groups and fellow Nobel Peace Prize laureates Desmond Tutu, Malala Yousafzai, and Shirin Ebadi have called on Suu Kyi to at least denounce the violence. She has refused to do even that, instead claiming that the situation has been contorted by a "huge iceberg of misinformation" and cynically calling reports of human rights atrocities "fake news."
Even gender-based violence—which certainly cannot be justified as part of the military's anti-terrorist "clearance operations"—has not provoked Suu Kyi's condemnation. Several Rohingya women have reported being raped by Myanmar soldiers, but Suu Kyi's official Facebook page derided their accusations as "fake rape."
Following a period of relative silence on the matter, today Suu Kyi gave a speech on the violence in Rakhine. In effect, she called on the security forces to abide by human rights and humanitarian law, but she did not acknowledge that the atrocities committed by the military are the reason behind the massive number of refugees fleeing Myanmar—much less call for accountability. She referred to the Rohingya only once, in the context of the Arakan Rohingya Salvation Army militant group, which she accused of acts of terror. Amnesty International called the speech a "mix of untruths and victim blaming."
While the violence has escalated dramatically since late August, persecution of the Rohingya minority is nothing new, and neither is Aung San Suu Kyi's inaction on the matter. Myanmar law restricts the Rohingya's rights to study, work, travel, marry, obtain health services, and practice their religion. A woman who rose to power on the strength of her moral authority, Suu Kyi has largely turned a blind eye to the Rohingya's plight.
Nonetheless, in August 2016, Suu Kyi appointed former UN Secretary-General Kofi Annan to lead a commission tasked with providing guidance on the issue of the Rohingya in Rakhine. Yet, while paying lip service to reform in Rakhine, Suu Kyi has instead prevented it. She has blocked journalists from entering northern Rakhine and denied a UN proposal to send a fact-finding mission into the state.
When it comes to stopping the violence, Suu Kyi admittedly does not have much control over the military. The military is fairly independent—as it has powers reserved that allow it to make decisions without oversight from an elected civilian government—and essentially controls Rakhine state, where the Buddhist population has been bitterly warring with the Rohingya for decades.
Plus, there is little public sympathy for the Rohingya in Myanmar, who are widely viewed there as illegal immigrants from Bangladesh. Many Burmese, including members of Suu Kyi's National League for Democracy party, see the Rohingya as outsiders—referred to as "Bengalis"—who are not entitled to live in the country, even those who have been there for generations.
In contrast to the deafening inaction from Suu Kyi, Bangladeshi Prime Minister Sheikh Hasina—another woman leader and Myanmar's neighbor—visited Rohingya refugees in Bangladesh and spoke out against their treatment, saying, "What is the crime of the women and children or the innocent people? ....They belong to Myanmar.... How can they deny they are not their citizens?"
Otherwise, internationally, Suu Kyi appears to be betting on a veto from China, if the Security Council moves against Myanmar. Both China and India are standing by Suu Kyi's claims that the violence is simply a result of the Rohingya militants' misdeeds.
While politically tricky, Suu Kyi should exercise her moral authority to take not only a stronger stand, but stronger steps—including visiting Rakhine—to try to halt the atrocities being committed against the Rohingya. CFR Senior Fellow Joshua Kurlantzick put it well in noting that "in the end, she is the popularly elected leader in Burma; while Buddhist nationalist groups and generals might dislike a visit by her to Rakhine, they would be unlikely to stop her."
While Suu Kyi wants to stay in power, allowing a genocide to occur on her watch is a clear sign of the weakness of her leadership. As the New Yorker's Gavin Jacobson notes, Nobel Laureate Suu Kyi is now tragically the "Ignoble Laureate."
Maiya Moncino assisted in the preparation of this post.