Beginning the Post-Abe Era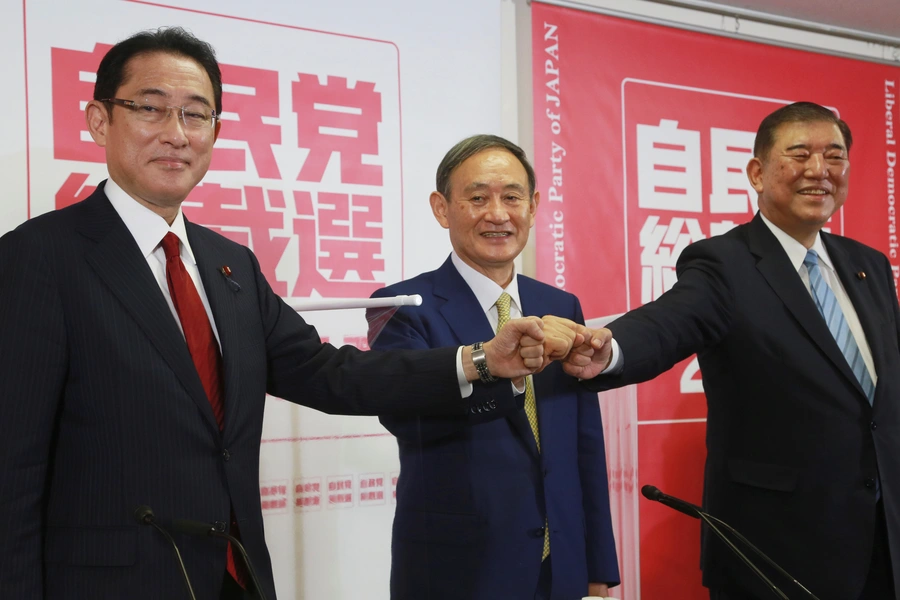 Prime Minister Abe Shinzo will resign on September 16, two days after the LDP elects the next president of the party. His long tenure in office gave Abe the opportunity to leave his mark on his party, on his country, and indeed on the globe. So, what's next? What can we expect post-Abe?
Abe left his party in a good position politically, and thus his successor as party president will step into the prime minister's office with a strong legislative foundation from which to govern. The LDP, in coalition with Komeito, maintained its two-thirds majority in the Lower House through three elections, 2012, 2014 and 2017. By October 2021, the LDP will again have to ask Japanese voters to support them. Abe's immediate successor, therefore, needs to keep a steady hand on governing while ensuring the LDP is well positioned to maintain its advantage in the Diet.
The field is small for an LDP party leadership race. Three well-known candidates, all of whom had significant policy responsibilities under Abe, are in the running. Kishida Fumio, former Foreign Minister in the Abe Cabinet, currently serves as the head of the LDP Policy Research Council. Ishiba Shigeru, meanwhile, has perhaps the most experience governing Japan. He was Defense Agency chief under Prime Minister Koizumi and Minister of Defense under Prime Minister Fukuda Yasuo. He then assumed the position of Agriculture Minister in the Asō Cabinet, and served as Secretary-General of the LDP from 2012-2014, presiding over two of three electoral wins for Abe. Abe gave Ishiba a cabinet post for regional revitalization, a new post designed to mitigate the impact of Japan's population decline. Suga Yoshihide, current Chief Cabinet Secretary, was Abe's right hand man throughout his almost eight years in office, and highly regarded for his adept management of Japan's complex bureaucracies.
The rules of this party election are important to note. Rather than a full vote, Secretary General Nikai Toshihiro organized an abbreviated process designed for when a party president unexpectedly steps down. Abe's health issues led to his abrupt resignation, and the COVID-19 pandemic provides ample reason to argue for continuity in government. LDP Diet members (394) will have the largest voice, with only 141 members from Japan's 47 prefectures weighing in to represent party rank and file. Factional politics aligned early on in the race and fell in quickly behind Suga. Already, Japanese and global media have dedicated considerable space to introducing him as the man likely to succeed Abe, and many of us have made the case that the policy agenda laid down by Japan's longest serving prime minister is likely to be continued.
Who is not running in next week's leadership race may be just as important to understanding the post-Abe era, however. A second election hovers just over the horizon in Japan. The stability of the Abe Cabinet was due to two factors:  the desire within the LDP to maintain unity after their party's three-year stint in the opposition, and the ability of the Abe-led LDP to create and maintain a two-thirds majority in the Lower House of parliament. Thus, party unity is necessary to steady government, but it is perhaps even more important to the LDP's fortunes at the polls.
While this managed succession process may be suited to coping with Abe's sudden departure, it may not over time serve the cause of party unity. There are others in the LDP who would like a shot at the top post. The party's next generation of leaders are popular, smart, and policy-savvy; the current Minister of Defense Kono Taro easily comes to mind, as does the current Minister of Environment Koizumi Shinjiro. (In the days following Abe's resignation, Koizumi publicly cast his lot with Kono Taro rather than Ishiba Shigeru, his pick in 2012.) Japan's current foreign minister, Motegi Toshimitsu, who negotiated Japan's bilateral trade deal with the Trump Administration, is also seen as a future contender in Kasumigaseki. While party seniors may have managed this first transition to the post-Abe era, the LDP will want to take full advantage of this next generation's appeal to younger voters if it wants to remain in power.
The conspicuous absence of women being cultivated for leadership in Japan's conservative party remains puzzling. In policy terms, the burden Japanese women will have to bear in the transition to an aging society also seems underappreciated. Today, 28.4% of Japanese are 65 or older. A decade and a half from now that proportion rises to 33.3%. Younger Japanese will face a far different set of social and economic expectations, and this is especially true of women. Structuring Japan's economy to attract and sustain full female participation was a critical piece of Abe's economic agenda. But there are a host of concerns about the future of Japanese society (such as shared responsibility for raising a family, health care, and social welfare of the elderly) where younger Japanese women and their partners see work-life balance differently. Where are the women in the LDP who can help think through how their society can thrive? One obvious example is Noda Seiko, a 9-term representative who has led the Policy Research Council and has been the Minister for Internal Affairs and Communications, the Minister in charge of Women's Empowerment, and the Minister of State for the Social Security and Tax Number System. She has run for the presidency before, but her inability to garner support within her party suggests that the LDP cannot yet see their way to offering a seasoned social policy advocate a chance at the helm.
Finally, the general election will reveal whether Japanese voters see any alternative to the LDP. In the past two House of Representatives General Elections, the LDP garnered approximately 48% of eligible votes, yet not all of these voters were party members. There is a broad swathe of Japanese voters who are not aligned with any party. Those were the voters that gave Koizumi Junichiro his win in his 2005 reform election, and who four years later gave the Democratic Party of Japan their impressive victory. These largely urban voters also turn out for LDP alternatives, such as the former governor and head of the Osaka Isshin no Kai, Hashimoto Toru, and the current highly popular governor of Tokyo, Koike Yuriko. In preparation, Japan's opposition parties, the Constitutional Democratic Party of Japan and the Democratic Party for the People, have merged in an attempt to rebuild a center left reformist party to contend with the LDP.
Japanese politics may not be ready for realignment, and Japanese voters have many reasons to be risk averse when it comes to choosing who should govern. Beyond the structural challenges that attend its demographics, there is plenty to worry about. Japan's strategic setting seems increasingly threatening, repeated natural disasters have ravished the countryside, and the world seems more unpredictable. Even the U.S. seems less reliable these days.
The danger for the LDP is that they once again rest on their laurels. In polling after Abe's resignation announcement, the majority of Japanese saw his time in office as positive for Japan (Yomiuri, JNN, Asahi). If Abe's time in office suggests anything for those who follow in his footsteps, it is that the Japanese people want stable government, but even more, they want innovative and bold ideas for the way forward. In the post-Abe era, it will be important to deliver on this need for hope.