Building a Skilled GirlForce: Lessons from Roya Mahboob
On International Day of the Girl, we celebrate Roya Mahboob, Afghanistan's first female tech CEO. Roya works to open doors for the next generation of women leaders in STEM through mentoring, coaching the Afghan Girls' Robotics Team, and her non-profit, Digital Citizens Fund.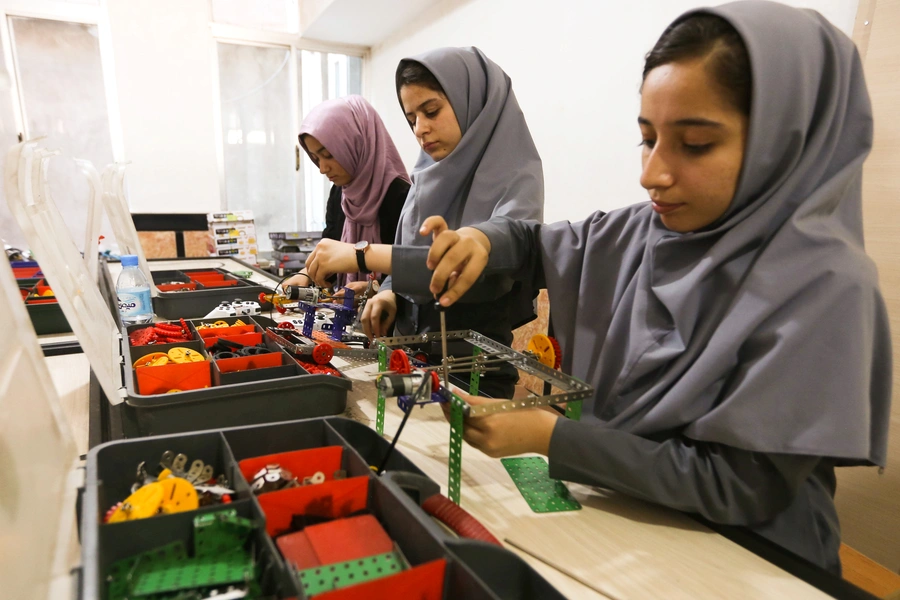 This blog post is co-authored with Rebecca Hughes, research associate in the women and foreign policy program.
In 2013 TIME Magazine named Roya Mahboob one of the 100 most influential people of year. Shortly after, a message was delivered to her parents' house in Herat, Afghanistan. It was simple and to the point – "Stop, or we will kill you." But Roya was no stranger to overcoming threats and barriers.
Afghanistan is one of the world's most challenging places for girls with a hunger to learn. Yet Roya was fascinated with technology and determined to pursue her passion. She enrolled in computer courses and went on to earn her degree in computer science from Herat University. In 2010, she co-founded the Afghan Citadel Software Company (ACSC). They used their company to bring more women into Afghanistan's growing tech market, by hiring a workforce that was 70 percent women. By the age twenty-three, Roya was not only Afghanistan's first female tech CEO, but also a champion working to empower the next generation of Afghan female leaders.
Tackling the Tech Gender Gap
While Roya's success is extraordinary, the barriers she encountered are not. Today, a generation of girls is preparing to enter a workforce that has been transformed by technology and innovation. Yet, girls face biases and hurdles that hinder their ability to access the education and training that will prepare them for careers built around technology. Research shows that from a young age girls are conditioned to think they are not as good at STEM (Science, Technology, Engineering, and Math) subjects as boys. By college, only 3 percent of information and communications technology (ICT) graduates around the world are women.
The gender gap in girls' education translates to missed career opportunities for women. Currently women hold only 5 percent of leadership positions in the tech industry. Instead of pursuing careers in tech, many women are funneled into less lucrative careers. In developing countries, women often end up working in the informal sector, where low wages and exploitation is common. This not only limits individuals, but also hinders gender equality and development. In the coming decades, as technology is harnessed to solve global challenges, millions of new STEM jobs will be created. To meet this demand, girls and boys need equal access to STEM education and careers.
Building A Skilled GirlForce
Yet, in spite of the many challenges they face, girls are finding ways to pursue their dreams and women leaders like Roya are helping pave the way. In 2012 Roya launched the Digital Citizen Fund (DCF), a non-profit dedicated to helping girls in developing countries build digital literacy. Over 9,000 girls have gone through DCF's training programs. Roya also mentors dozens of young women and coaches the Afghan Girls' Robotics Team, which attracted international attention when they were denied U.S. visas and nearly prevented from taking part in an international robotics competition in Washington, DC. For years, Roya has been doing her part to open doors for the next generation of women leaders. Hopefully her efforts are about to get a boost.
Today, on the International Day of the Girl, governments and advocates around the world honor girls and their achievements. This year's theme "With Her: A Skilled GirlForce," calls on leaders from all sectors to invest in girls today, so they can lead tomorrow.