Campaign 2016 Foreign Policy Roundup: Reactions to the Paris Attacks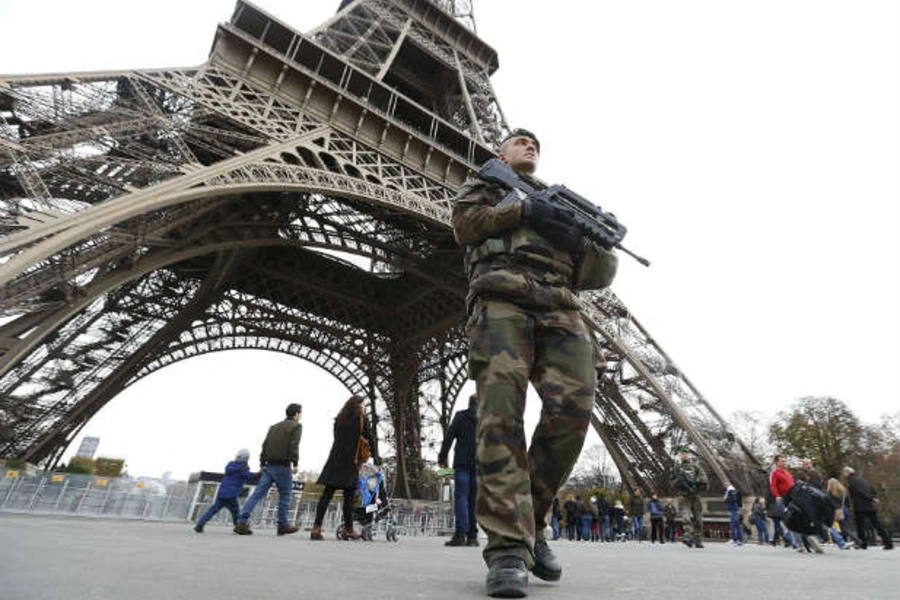 The horrifying terrorist attacks in Paris last Friday have pushed foreign policy to the forefront of the campaign debate—at least for now. Republicans and Democrats split on the wisdom of accepting Syrian refugees. But when it comes to how to deal with self-proclaimed Islamic State, the fault lines aren't so sharp.
Most GOP candidates demanded a halt to the entry of Syrian refugees into the United States. Donald Trump called Syrian refugees "one of the great Trojan Horses." Ben Carson said that accepting them would be a "suspension of intellect." Marco Rubio also joined the "no-refugees-for-now" camp, saying "there's no way to background check them." Ted Cruz said he would introduce a bill into the Senate to limit Muslim Syrians from entering the United States. Rand Paul introduced a bill that would bar the administration from accepting Syrian refugees and require many foreign visitors, including French citizens, to undergo background checks before they can enter the United States. Mike Huckabee called for "immediately ban[ning] ALL visas for travelers and tourists from any country with a significant ISIS or al-Qaeda presence."
The one Republican candidate who dissented was Jeb Bush. He stressed that his first priority would be creating a "safe zone" abroad, and he noted that the U.S. government should carefully vet all people entering the country. Still, he favors accepting some refugees:
But we have systems in place—if there is any kind of concern, we shouldn't allow people in. But I don't think we should eliminate support for refugees. It's been a noble tradition in our country for many years.
While Bush finds himself isolated among GOP presidential candidates on the refugee issue, he is in tune with the French government. It announced yesterday that it will accept 30,000 refugees over the next two years.
The three Democratic candidates, Hillary Clinton, Bernie Sanders, and Martin O'Malley, all favor accepting Syrian refugees. Indeed, Clinton and O'Malley both want the United States to go from accepting 10,000 refugees to accepting 65,000. Both also want a careful screening process.
The division between Republicans and Democrats is far less stark when it comes to the question of how to respond to the Islamic State. Lindsey Graham repeated his call for the United States to send 10,000 combat troops to Syria as part of a large-scale international coalition. Jeb Bush joined Graham in calling for U.S. ground troops in Syria as part of an international coalition, but he didn't specify how many. He did say that the number need "not necessarily" be substantial.
None of the other candidates endorsed sending in U.S. combat troops. They instead proposed steps such intensified airstrikes, sending in more special operations forces, and encouraging and helping friends and allies in the region to do more. Many of these are things the U.S. government is already doing. We will see in the coming weeks if the pendulum shifts in favor of the Graham-Bush position.
In Case You Missed It
Here is what the candidates had to say about the Paris attacks: Hillary Clinton, Bernie Sanders, Ted Cruz, Marco Rubio, Lindsey Graham, Chris Christie, Mike Huckabee, Rand Paul, and Jim Gilmore. Mike Huckabee released his national security plan. John Kasich did as well. Jeb Bush gave a speech on "U.S. Defense Policy for the 21st Century." Hillary Clinton outlined her strategy for defeating the Islamic State in a speech here at CFR. Ben Carson explained his stance on Syrian refugees. Rick Santorum did the same. Louisiana Governor Bobby Jindal dropped out of the race, saying "this is not my time." The New York Times has an interactive that explains who is still in the race.
Time provides the full text of Saturday night's Democratic debate. The Washington Post offers an annotated version. PBS fact checked the debate.
Ben Carson's advisors say he is struggling to grasp foreign policy. The New Yorker's Amy Davidson explains "Ted Cruz's religious test for Syrian refugees." The Week argues that "Paris could mean trouble for Clinton and Fiorina." A NBC News/SurveyMonkey online poll says "a majority of Americans oppose accepting Syrian refugees." A Bloomberg poll sought (and found) similar results on American opinion toward the refugee crisis. A Reuters/Ipsos poll in the aftermath of the Paris attacks found that Americans want the Obama administration to do more to combat the self-proclaimed Islamic State, but not if it means sending in U.S. combat troops. The double wish persists.
Looking Ahead
Chris Christie will discuss U.S. foreign policy at CFR this Tuesday, November 24. You can watch the livestream at 12:30 p.m. EST. Marco Rubio and former candidate Jim Webb have already done CFR talks. The next Republican debate is on Tuesday, December 15 in Nevada. The Democrats next debate on Saturday, December 19, in New Hampshire. If you're counting, we are 73 days away from the Iowa caucuses. We are 354 days away from Election Day.