Campaign 2016: Former Secretary of State Hillary Clinton, Democratic Presidential Candidate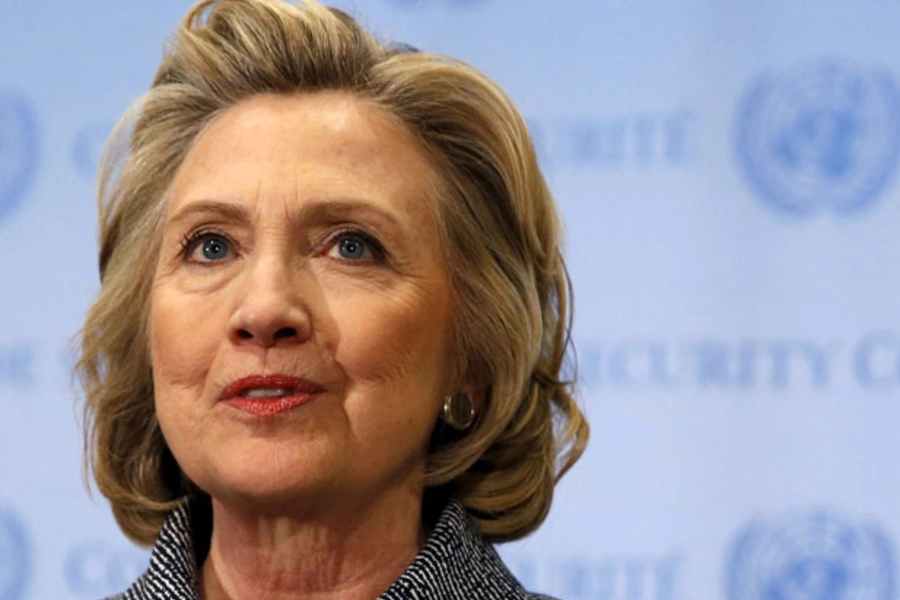 Pakistan has had one. So have Great Britain, Indonesia, Poland, Ukraine, and four dozen other countries. Argentina, Brazil, and Germany have one right now. But the United States has never had a woman head of government. That will change at noon on January 20, 2017 if Hillary Clinton gets her way. The former first lady, U.S. senator, and secretary of state made it official yesterday: she is a candidate for president. This is, of course, her second shot at the White House. She was the prohibitive favorite back in 2008 to win the Democratic nomination, but she lost to long-shot candidate Barack Obama. Clinton is once again the prohibitive favorite. Time will tell whether she can capitalize on the opportunity.
The Basics
Name: Hillary Diane Rodham Clinton
Date of Birth: October 26, 1947
Place of Birth: Chicago, Illinois
Religion: Methodist
Marital Status: Married to former President Bill Clinton
Children: Chelsea (35)
Alma Mater: Wellesley College (BA); Yale Law School (JD)
Career: U.S. Secretary of State (2009-2013); U.S. Senator from New York (2001-2009); First Lady of the United States (1993-2001); First Lady of Arkansas (1979-1981, 1983-1992); Attorney, Rose Law Firm (1976-1992); Assistant Professor, University of Arkansas School of Law (1974-1977, 1979-1980); Attorney, Children's Defense Fund (1973-1974)
Campaign Website: https://www.hillaryclinton.com/
Twitter Handle: @HillaryClinton
Campaign Announcement
Ted Cruz announced his presidential candidacy on Twitter. Rand Paul opted for a speech at Liberty University. Clinton opted for a two-minute, eighteen-second video that put the spotlight on the voters she will try to win over rather than on herself or specific issues.
Her core message was a pledge to fight for her fellow Americans:
Americans have fought their way back from tough economic times, but the deck is still stacked in favor of those at the top. Everyday Americans need a champion, and I want to be that champion.
Clinton followed up the video's release by taking off on a two-day road trip to Iowa. She will travel with two aides and make "unplanned" stops along the way. She will then spend two days in Iowa doing events. She doesn't plan to hold a campaign rally or give a major speech until next month.
Clinton's Story
Clinton has been in the national political spotlight for more than two decades, so it's hard to uncover anything about her that isn't already well known. But here are two things about her you probably have either forgotten or never knew: she was originally a Republican—indeed, she was elected president of the Wellesley College Young Republicans Club--and she hasn't driven a car in nearly two decades.
Nearly two-in-three Americans viewed Clinton favorably when she stepped down as secretary of state in 2013. Now just half do. But she is still viewed more favorably than any other potential candidate, Republican or Democrat.
Clinton will draw on a vast campaign network that includes advisors from her past campaigns and from her husband's and President Obama's teams. Many of those advisors have been chomping at the bit waiting for her to declare. Ready for Hillary emerged in January 2013 with an eye toward 2016. The super PAC American Bridge 21st Century founded Correct the Record to defend Clinton against her critics' accusations.
The upside to being in the national spotlight for as long as Clinton has been is that you make a lot of friends. The downside is that you make a lot of enemies. Her friends will cite her path-breaking work on issues like health care and women's rights. Her critics will dredge up every misstep and scandal, whether real or manufactured, that has come her way. At a minimum, expect to hear a lot about Benghazi and "email gate."
Republicans will also try to tie Clinton to what they say are the Obama administration's failures. Clinton will inevitably distance herself from Obama on some issues. No two politicians agree on everything. The critical question for the Clinton campaign is which issues and how far the distancing.
Clinton's Message
With Clinton's entry into the presidential race long considered a foregone conclusion, the big question surrounding her campaign has been: What will her message be? The New York Times placed that question at the center of its front-page coverage of Clinton's campaign announcement:
Mrs. Clinton faces an especially high threshold, Democrats say, to deliver a persuasive — and, to some degree at least, selfless — rationale.
As the first lady in 2000, she drew enormous attention to her first campaign for the United States Senate. But her lack of a clear-cut message early on fueled accusations of carpetbagging and a sense among voters that Mrs. Clinton felt free to coast from the White House to a seat representing New York. She overcame that with a barnstorming blitz of close-up conversations that impressed voters across the state, and won by 12 percentage points.
Despite that experience, however, Mrs. Clinton's entry into the Democratic primary field in January 2007 showed that she still faced difficulty in reconciling her outsize public image with the need to dispel any air of entitlement.
While Barack Obama offered a crisp promise to end the "smallness of our politics," and John Edwards spoke of healing the divide between the "two Americas," Mrs. Clinton issued a statement to her supporters: "I'm in. And I'm in to win." The declaration rang hollow and uninspiring to some Democrats, and a videotaped message of her sitting on a couch and saying, "Let the conversation begin," is still being parodied. Iowa caucusgoers rewarded her with a third-place showing.
Clinton's video campaign announcement struck an obvious populist note. That makes sense given that she been has been criticized by some Democrats for cozying up to Wall Street and ignoring Main Street. So she has work to do early on to court progressive Democrats, especially those trying to persuade Massachusetts Senator Elizabeth Warren to run. (Warren herself has repeatedly said she won't). The challenge Clinton faces is linking her populist message to specific policies in ways that don't alienate both centrists and progressives.
Clinton has yet to identify her priority issues on the campaign trail. However, shortly after her campaign video was released, her campaign chair, John Podesta, tweeted:
Helping working families succeed, building small businesses, tackling climate change & clean energy. Top of the agenda. #Hillary2016

— John Podesta (@johnpodesta) April 12, 2015
That list is as remarkable for the priorities it cites (climate change) and those it omits (immigration). But then again, Twitter only allows 140 characters.
Foreign Policy Views
Clinton traveled plenty as first lady and then senator. But she broke all records as secretary of state, visiting 112 countries and traveling 956,733 miles. Her supporters say her work as secretary bolstered America's image in the world and improved U.S. diplomacy. Other reviewers find it harder to sing her praises. The debate over her accomplishments will likely continue. What is indisputable is that she has a long foreign policy record. That's both good and bad. On the one hand, claims that she isn't ready for the 3:00 a.m. phone call aren't believable. On the other hand, her critics have a lot of decisions and remarks to criticize.
Here is where Clinton has a potentially difficult road to walk. She is more hawkish than most Democrats, some of whom have yet to forgive her for voting to authorize the Iraq war. But she isn't as hawkish as most Republicans would prefer. So reassuring Democrats during the primary could make her vulnerable to GOP criticisms in the general election, should she make it that far.
Clinton will face the added challenge of distinguishing between what she believes and what the two administrations she was a part of did. She created headlines last summer after she gave an interview in which she seemed to take a shot at Obama's handling of foreign policy:
Great nations need organizing principles, and 'Don't do stupid stuff' is not an organizing principle.
So her words will be closely watched throughout the campaign.
Smart Power
Clinton championed "smart power" when she was secretary of state:
It means the intelligent use of all means at our disposal, including our ability to convene and connect. It means our economic and military strength, our capacity for entrepreneurship and innovation, and the ability and credibility of our new president and his team. It also means the application of old-fashioned common sense in policymaking. It's a blend of principle and pragmatism.
Clinton also launched a "21st Century Statecraft" initiative: "complementing traditional foreign policy tools with newly innovated and adapted instruments of statecraft that fully leverage the networks, technologies, and demographics of our interconnected world."
Clinton's belief in smart power does not mean she opposes hard power. She pushed hard for the surge in Afghanistan in 2009, for establishing the no-fly zone for Libya in 2011, and for keeping U.S. troops in Iraq beyond 2011. She also was an early proponent of arming the Syrian rebels and disagreed with Obama's decision not to get involved. Last August, she explained:
The failure to help build up a credible fighting force of the people who were the originators of the protests against Assad—there were Islamists, there were secularists, there was everything in the middle—the failure to do that left a big vacuum, which the jihadists have now filled.
She admitted, however, in her 2014 memoir, Hard Choices, that Syria is a "wicked problem." She has elaborated on this point, noting that she's "not saying if we had [gotten involved earlier] it would have prevented the outcome we're seeing now." Still, Syria remains a foreign policy issue where she is likely to distance herself from Obama.
Pivot to Asia
In her final speech as secretary, Clinton touted the pivot to Asia as an example of smart power's success:
We've sent Marines to Darwin, but we've also ratified the Korea Free Trade Agreement. We responded to the triple disaster in Japan through our government, through our businesses, through our not-for-profits, and reminded the entire region of the irreplaceable role America plays.
Clinton penned an article entitled "America's Pacific Century" in 2011 setting out the administration's goals for the pivot. Three years later, she reflected:
I do see [the pivot to Asia] as one of the most significant strategic moves that we made during those first four years. … there is certainly no doubt that much of the history of the twenty-first century is going to be shaped in Asia.
Clinton supports the Trans Pacific Partnership (TPP) and its European counterpart, the Transatlantic Trade and Investment Partnership (TTIP). That could cause her problems with the Democratic base, which is hostile to free-trade agreements.
Russia
Clinton took the lead on another signature foreign policy of Obama's first term: the Russia reset. She memorably gave Russian Foreign Minister Sergei Lavrov a button in 2009 that mistranslated "reset" into Russian. That public relations hiccup aside, she explains in Hard Choices what she and President Obama understood "reset" to mean:
In 2009, President Obama and I thought we could achieve key U.S. national interests with Russia through an approach with three elements: finding specific areas for cooperation where our interests aligned, standing firm where our interests diverged, and engaging consistently with the Russian people themselves. This approach became known as the 'reset'
The reset produced a few achievements, notably Russia's entry into the World Trade Organization and the conclusion of the New START Treaty. But Clinton wrote in Hard Choices that her parting memo to Obama on Russia advocated a harder line in dealing with Vladimir Putin,. As U.S.-Russian relations have deteriorated over the past year, Clinton has called for ramping up U.S. aid to Ukraine. This tough talk, however, will not spare Clinton from Republican criticism in the general election, assuming she gets that far.
Iran
Clinton can also expect criticism on Iran policy. Here she can counter that she took then candidate Obama to task in 2007 for being "irresponsible and frankly naïve" in proposing to conduct diplomacy without preconditions with Iran, North Korea, and Cuba. At the time, she wrote:
If Iran does not comply with its own commitments and the will of the international community, all options must remain on the table. On the other hand, if Iran is in fact willing to end its nuclear weapons program, renounce sponsorship of terrorism, support Middle East peace, and play a constructive role in stabilizing Iraq, the United States should be prepared to offer Iran a carefully calibrated package of incentives. This will let the Iranian people know that our quarrel is not with them but with their government and show the world that the United States is prepared to pursue every diplomatic option.
Clinton supported Obama's negotiations with Iran while she was secretary of state and also after she left the administration. But she has been careful in her public comments to stress the importance of taking a hard line with Tehran. She explained last year:
I am well aware that I am not at the negotiating table anymore, but I think it's important to send a signal to everybody who is there that there cannot be a deal unless there is a clear set of restrictions on Iran. The preference would be no enrichment. The potential fallback position would be such little enrichment that they could not break out.
Iran could become the foreign policy issue of the campaign, assuming of course, that a final deal is ironed out.
Cuba, Benghazi, and Women's Rights
One issue where Clinton clearly sides with Obama is Cuba. She praised the decision to normalize relations with Havana. She wrote in Hard Choices that she had "recommended to President Obama that we take another look at our embargo. It wasn't achieving its goals, and it was holding back our broader agenda across Latin America." Clinton also supports immigration reform, including Obama's executive action on immigration.
Clinton's detractors won't let her forget about the attack on the U.S. consulate in Benghazi. Some Republicans claim that she ignored requests for additional security at the compound, and so bears responsibility for the four American lives lost there. Clinton devotes an entire chapter of Hard Choices to explaining the choices she faced. It hasn't blunted GOP criticism.
One foreign policy theme that Clinton has consistently championed across her career has been women's rights. Many of her supporters still remember her 1995 speech in Beijing when she declared that "women's rights are human rights." Clinton subsequently made global women's issues a priority when she was secretary of state. Look for her to speak about the issue during the campaign. She will do so with justifiable pride.
More on Clinton
Clinton has written two memoirs, Hard Choices, which covers her time as secretary of state, and Living History, which covers her early life through her time as first lady. If you are looking specifically for what she has said about foreign policy, she has spoken at CFR nine times. You can read transcripts from talks she gave in 2003, 2006, 2009, 2010, 2013, and 2014. You can also watch videos from each of those appearances: 2003, 2006, 2009, 2010, 2013, 2014. She gave hundreds of speeches, remarks, and interviews as secretary state. She also gave an excellent interview to the Atlantic's Jeffery Goldberg last August on her tenure as secretary of state.
More books, articles, and blog posts have been written on Hillary Clinton than on every other American politician in the last decade who wasn't already president. Foreign Policy has a guide to its best coverage of Clinton. There's even a Tumblr, Texts From Hillary, that was inspired by a photo of Clinton checking her phone on a plane. In all, there are just too many Clinton profiles to count or catalogue. Google can give you a good start.
Rachael Kauss assisted in the preparation of this post.