Campaign 2016 Friday Foreign Policy Roundup: Democrats and Republicans Have Different Priorities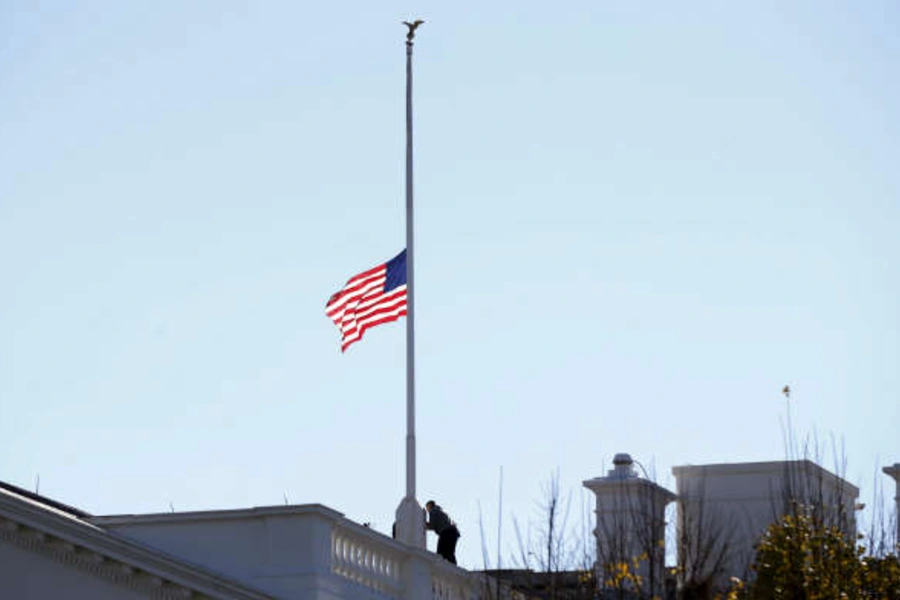 In a post last week, I noted that polls showed that terrorism has jumped up the priority list for voters and wondered whether it troubled Democrats and Republicans equally. The poll I looked at last week didn't provide the answer, but a poll out this week from Monmouth University does. In what probably won't come as a surprise, Democrats and Republicans see things differently.
The Monmouth poll asked "which of the following issues is the most important to you in deciding who to vote for president?" Respondents were allowed to name their top two concerns. Here are the results:
Republicans
Democrats

| | |
| --- | --- |
| | 1st & 2nd Choice Combined |
| National security and terrorism | 57% |
| The economy and jobs | 41% |
| Taxes and government spending | 25% |
| Immigration | 25% |
| Social issues like abortion and same-sex marriage | 11% |
| Gun control | 9% |
| Education | 8% |
| (VOL) Don't know | 12% |
| (VOL) All equally important | 10% |
| (VOL) Other | 0% |

| | |
| --- | --- |
| | 1st & 2nd Choice Combined |
| The economy and jobs | 46% |
| National security and terrorism | 36% |
| Education | 32% |
| Gun control | 20% |
| Taxes and government spending | 18% |
| Social issues like abortion and same-sex marriage | 15% |
| Immigration | 7% |
| (VOL) Don't know | 14% |
| (VOL) All equally important | 9% |
| (VOL) Other | 4% |
National security and terrorism is foremost in the minds of likely Republican voters. Nearly six-in-ten mention it as one of the top two issues shaping their choice for president. In contrast, only slightly more than one-in-three Democratic voters point to terrorism and national security. Democrats are far more worried about the economy and jobs. And the results don't change if you look only at voters' top priority. Thirty-nine percent of likely GOP voters cite national security and terrorism as their top concern, almost double the 20 percent of likely Democratic voters who do.
The priority that likely Republican voters give to national security and terrorism no doubt is both a cause and consequence of the hot foreign policy rhetoric on display at this week's GOP presidential debate. The candidates are speaking to an issue they know their voters care about, and in turn the debate remarks fuel concern about the nature of the threat and of the Obama administration's failure to meet it.
In Case You Missed It
CFR has launched Campaign 2016. It tracks and compares where all the major presidential candidates stand on the foreign policy issues facing the United States. So if you want to know where the candidates stand on China, Russia, national security, energy and climate change, immigration and the like, it's the place to go.
Hillary Clinton spoke this week about her plan to keep America safe from terrorism and about her plan for comprehensive immigration reform. Marco Rubio spoke on national security, explaining his concern about the current administration's approach to monitoring online activity. Ben Carson announced "Seven Steps to a Safer America," his plan for defeating the Islamic State.
Several new TV ads hit the airwaves (and the Internet) this week. Rand Paul's ad, "Learn From Mistakes," highlights his approach to refugees and questions the approach favored by his rivals, Ted Cruz and Marco Rubio. The new Cruz ad, "Win," released just this morning, touts his record on immigration and refugees. Jeb Bush's new ad, "What Makes Us Who We Are," lambastes President Obama's foreign policy.
The Monmouth University poll wasn't the only out this week on Campaign 2016. The Washington Post-ABC News poll released results showing that 38 percent of Republicans name terrorism as their single most important issue, with the economy and immigration trailing behind at 29 percent and 6 percent respectively.  New polls from Quinnipiac University and Gallup found similar results, as terrorism has jumped up the list of voter concerns.
If you missed the GOP's undercard debate on Tuesday, CBS and the Washington Post  have transcribed it. CBS and the Washington Post both offer transcripts of the prime-time debate (with the Post providing a few annotations along the way).  The New York Times and Post both fact-checked the debate. Time proposes an option to watch the prime-time debate in four minutes. ABC says they can cut it down to one. David Sanger of the New York Times suggests that the candidates got lost in the Middle East on Tuesday evening. CNN offers 5 debate takeaways, and Vox's Dylan Matthews proposes 3 winners and 3 losers. Vox's Max Fisher offers, "no Republican wants to admit it, but their ISIS strategies are largely the same as Obama's." Politico offers "how Cruz and Rubio exposed the GOP's rift on foreign policy," and suggests that Putin could actually be a Trump fan. And, James Oliphant of Reuters says the climate deal is the GOP candidates' new enemy.
Looking Ahead
The Democrats will debate at 8 p.m. (EST) tomorrow at St. Anselm College in Manchester, New Hampshire. ABC News, the New Hampshire Democratic Party, and the New Hampshire Union Leader will host the event. David Muir and Martha Raddatz will moderate.  If you can't watch the event on live TV, you can track the action on Twitter with the hashtag #DemDebate or watch the livestream at abcnews.com. We are now 45 days from the Iowa caucuses, 53 days from the New Hampshire primary, and 326 days from Election Day.