Monday is the Fourth of July. It's the nation's 240th birthday. Campaign 2016 has clearly enflamed divisions here at home. So here's to hoping that the next few days provide an occasion to remember what unites us. And whether you are headed to the beach or a pool, marching in a parade or just watching one, grilling outdoors or ordering in, watching fireworks or avoiding them, have a happy, fun, and safe holiday.
In Case You Missed It
Donald Trump laid out his plan to "make America wealthy again" in a speech delivered on Tuesday just outside of Pittsburgh. He was tough on trade and globalization, pledging to withdraw the United States from the Trans-Pacific Partnership, vowing to do likewise to NAFTA if Canada and Mexico did not agree to renegotiate it, and declaring that America's economic problems are "the consequence of a leadership class that worships globalism over Americanism." Trump was specific in the legal authorities he would use, and the prepared copy of his remarks came with 128 footnotes. At a rally on Wednesday, Trump pivoted to national security policy, saying once again that he favors much tougher measures against terrorists, telling the crowd "we have to fight [ISIS] so viciously and violently." The Clinton campaign dismissed Trump's speech as "reckless rhetoric."
The House Select Committee on Benghazi released its final report this week. The committee's Democratic minority concluded that Hillary Clinton did not commit any wrongdoing in her handling of the 2012 attack. Meanwhile, the committee's GOP majority criticized the performance of many government departments, but it did not issue any new criticisms of Clinton. After the report's release, Clinton told a rally in Denver, "I think it's pretty clear it's time to move on."
The NRA released its first pro-Trump ad on Wednesday. "Stop Clinton, Vote Trump" features a survivor of the 2012 Benghazi attacks criticizing Clinton's handling of the attack and encouraging discouraged voters to support Trump.
The Pew Research Center released the results of its study of America's image abroad. The survey found that people overseas have far more confidence in Clinton to do the right thing in foreign affairs than Trump. (The poll also found that the United States is far more popular around the globe than China is.) Here's how the numbers broke down: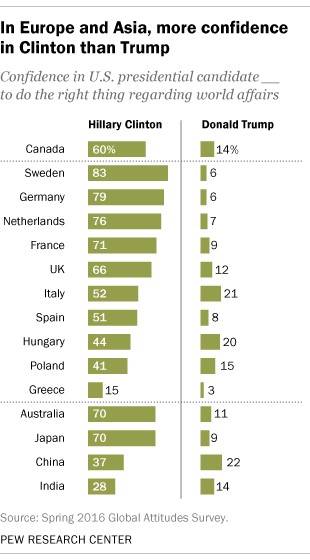 Hank Paulson, who was secretary of the treasury under George W. Bush, endorsed Clinton and criticized Trump for "endorsing a brand of populism rooted in ignorance, prejudice, fear, and isolationism." Bernie Sanders said he would support Clinton in the general election but called on her to "be bolder than [she's] been." Sen. Elizabeth Warren campaigned with Clinton and dismissed the idea that Trump's economic policies would help the middle class.
Dara Lind examined the lessons Trump can glean from Britain's Leave campaign. Beth Reinhard analyzed Trump's shifting policies. Dan Drezner argued that Trump's unconventional foreign policy proposals are fueling divisions within the Republican Party. Alan Rappeport explored the ways Trump's businesses have employed foreign workers. Rich Lowry assessed Trump's embrace of protectionism.
Looking Ahead
The Republican National Convention convenes in fourteen days at the Quicken Loans Arena in Cleveland on July 18. The Democratic National Convention follows shortly after at the Wells Fargo Center in Philadelphia on July 25.
Election Day is 130 days away.
Brett Ekberg and Jonathan Hyman assisted in the preparation of this post.