Campaign Foreign Policy Roundup: President Trump's COVID-19 Diagnosis Provides an October Surprise
Each Friday, I look at what the presidential contenders are saying about foreign policy. This week: The news that President Trump tested positive for the coronavirus injects new uncertainty into Election 2020.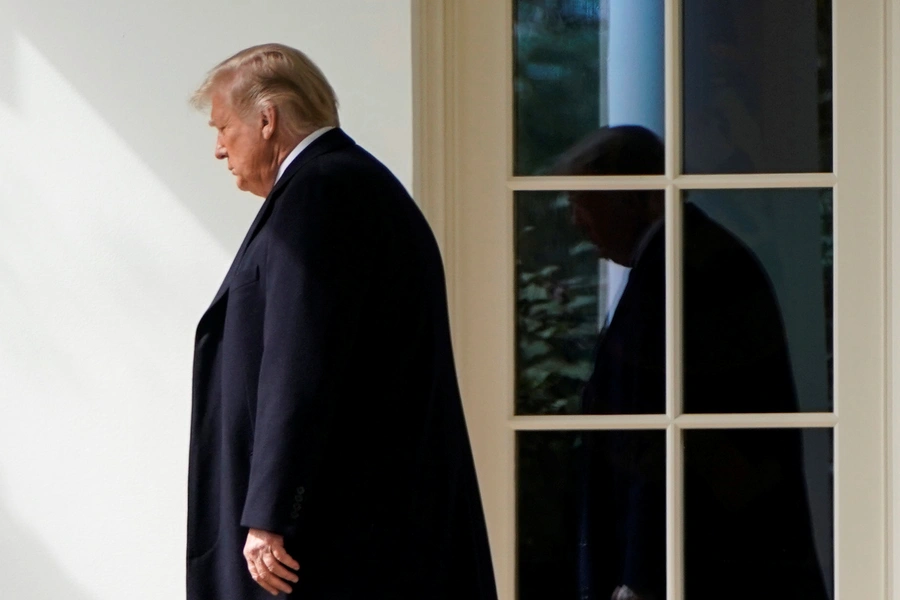 Every election year is full of talk about "October surprises." Election 2020 is no different. But this year's speculation focused on a possible COVID-19 vaccine, the release of a Justice Department report that would blame the Obama administration for wrongly starting the Russia investigation, or some major foreign policy move. Not many predictions had President Donald Trump testing positive for the coronavirus. But that's precisely what the first day of October produced.
Trump is not the first world leader to have tested positive for COVID-19. That distinction likely belongs to British Prime Minister Boris Johnson, who announced his diagnosis in late March. He subsequently became so ill that he spent three nights in intensive care. Other world leaders who have tested positive include the presidents of Bolivia, Brazil, Guatemala, and Honduras, and the prime ministers of Armenia and Russia. Most of these leaders were more fortunate than Johnson and had at worst moderate symptoms. The only world leader who may have died from the coronavirus is Pierre Nkurunziza, the president of Burundi. His death in June was officially attributed to a heart attack. The actual cause is widely rumored to have been COVID-19.
 The fact that Trump has tested positive for the coronavirus will reinforce views around the world that the United States has mishandled the pandemic and fuel growing doubts about the competence of the U.S. government. That said, Trump's illness is unlikely to have immediate foreign policy consequences, especially if his symptoms remain mild. But being seventy-four and overweight, he is at a higher risk of experiencing severe complications. Numerous fellow world leaders have already extended their best wishes to the president for a speedy recovery.
If Trump's illness ever rendered him incapable of fulfilling his duties, the terms of the Twenty-Fifth Amendment would come into play. In one scenario, Trump would inform the president pro tempore of the Senate and the Speaker of the House of Representatives that he cannot discharge his official duties. Mike Pence, who so far has tested negative for the coronavirus, would then become acting president. Ronald Reagan invoked this provision once and George W. Bush twice when they went under anesthesia for medical procedures. If Trump's condition worsened so quickly that he could not voluntarily relinquish power, a majority of cabinet officers could make Pence acting president, assuming the vice president shared their view on the need to act.
What Trump's diagnosis means for the U.S. presidential election is anyone's guess. The severity of his illness will likely matter. Voters sometimes rally around leaders, even ones they might dislike, in tough times. Boris Johnson's popularity popped some twenty points after his hospitalization. Of course, Johnson wasn't campaigning at the time. And while Americans might become more sympathetic to Trump now that he is ill, this natural human empathy may not change many votes in a deeply divided electorate. 
Trump's illness certainly throws a wrench into his campaign strategy, which relies in part on holding mass rallies in battleground states. Those events are off the table for at least the next two weeks, if not longer. Trump could also suffer a backlash from undecided voters if it turns out, as has been alleged, that he held an indoor fundraiser after learning he might have been exposed to the virus.
Trump may also have lost the chance to use the remaining two debates to close ground on Biden. The two were set to meet next in Miami on Thursday, October 15. But that's within the standard two-week quarantine period. Assuming that the president's health permits him to debate, the current partisan food fight over how to conduct the debate will only intensify. Should the event be rescheduled? What protocols should be followed to assure Biden that Trump is no longer infectious? And if the debate can't be held in person, how might a digital debate be held? The problem for Trump is that the later the debates take place, the greater the number of people who have already voted.
Biden faces risks of his own. An immediate one is to make sure that he and his broader campaign team show proper respect and concern for the president and the First Lady. Biden tweeted his hopes for a "swift recovery" earlier today. The looming risk is that Trump's illness will dominate the news in the coming week, if not longer. That will complicate Biden's efforts to reach swing voters to make a positive case for his candidacy. That typically isn't a problem for a candidate with a sizable lead in the polls. But again, the U.S. presidential election isn't a single election but fifty-one separate ones. And the race in many critical battleground states remains tight.
In all, given how 2020 has gone so far, don't be shocked if October delivers up even more campaign surprises. 
The Candidates in Their Own Words
 Foreign policy didn't get much mention at Tuesday night's debate, which might be a blessing given how the conversation went. Trump and Biden exchanged their standard barbs over whether the COVID-19 pandemic in the United States is "China's fault," as the president put it, or because Trump failed to insist that Beijing allow American officials "on the ground in China…to go to Wuhan, and determine for themselves how dangerous this was," as the former vice president put it. Trump also took a shot at how other countries count coronavirus deaths:
By the way when you talk about numbers, you know how many people died in China. You don't know many people died in Russia. You don't know how many people died in India. They don't exactly give you a straight count, just so you understand.
That remark likely annoyed more than a few people in Delhi.
The one substantive foreign policy offering came on climate change. Biden renewed his pledge to rejoin the Paris Agreement. He then went a step further:
And the first thing I will do, I will rejoin the Paris accord. I will join the Paris accord because with us out of it look what's happening. It's all falling apart. And talk about someone who has no—no relationship with foreign policy. Brazil, the rainforest to Brazil are being torn down, are being ripped down. More, more carbon is absorbed in that rainforest than every bit of carbon that's emitted in the United States. Instead of doing something about that, I would be gathering up and making sure we had the countries of the world coming up with 20 billion dollars and say, "Here's $20 billion. Stop, stop, tearing down the forest. And if you don't, then you're going to have significant economic consequences."
The problem here is that Brazilian President Jair Bolsonaro, a climate-change skeptic, has repeatedly told the rest of the world not to interfere with sovereign Brazilian territory. And true to form, he reacted to Biden's comment by tweeting that unlike Brazil's past presidents, he "does not accept bribes, criminal land demarcations or coward threats toward our territorial and economic integrity. OUR SOVEREIGNTY IS NON-NEGOTIABLE."
Trump repeated his standard foreign-policy talking points at rallies in Virginia and Pennsylvania over the weekend, touting his relationships with authoritarian leaders, praising the significance of the Abraham Accords, and criticizing Biden for being soft on China.
Biden tweeted on the conflict between Armenia and Azerbaijan:
With casualties rapidly mounting in and around Nagorno-Karabakh, the Trump Administration needs to call the leaders of Armenia and Azerbaijan immediately to de-escalate the situation. It must also demand others — like Turkey — stay out of this conflict. https://t.co/C41YKEGTyA

— Joe Biden (@JoeBiden) September 29, 2020
He didn't follow up with a tweet on what a Biden administration would do about a long-frozen conflict that has suddenly turned very hot.
What the Pundits Are Saying
CFR hosted a discussion on the top foreign-policy challenges the next president will face. The two issues topping the list were China and climate change.
Edward Alden wrote that "Biden has matched Trump's rhetoric on trade soundbite for soundbite, and his economic plans are likely to make trade conflicts worse."
Tom Bollyky and Jennifer Nuzzo assessed Trump's claims that his quick action to enact travel bans slowed the spread of the coronavirus. They concluded that Trump's directives neither came early nor cut off travel and that overall "there is little evidence that travel restrictions alone saved millions of lives."
Evan Osnos wrote that Trump presented his ban on WeChat and Tik Tok as "hard-nosed diplomacy," but on closer inspection it "has turned out to be precisely the opposite: a gesture of wall-building and retreat, suffused with the aroma of potential corruption."
George Satterfield, a professor of strategy and policy at the Naval War College, contended that China favors a Biden victory because "under a Biden administration there will be plenty of U.S. bluster initially when it comes to China, but little actually done."
Thomas Wright argued that if Trump is reelected, "the next four years will likely be more disruptive to U.S. foreign policy and world affairs than the past four have been….U.S. alliances would likely crumble, the global economy would close, and democracy and human rights would be in rapid retreat."
Campaign Update
RealClearPolitics' average of national election polls has Biden leading Trump by 6.8 percentage points, 49.9 percent to 43.1 percent. That's similar to last week, when the spread was 6.7 points. It's also the furthest behind a major party presidential candidate has been at this stage of the race since Robert Dole trailed Bill Clinton back in 1996. FiveThirtyEight pegs Biden's chances of winning at 79 percent based on current trends, two points higher than last week.
The vice-presidential debate is set for next Wednesday, October 7, at 9 p.m. ET. The University of Utah in Salt Lake City will host. Susan Page, Washington bureau chief for USA Today, will moderate. Expect a less contentious exchange of views than what this past Tuesday's debate produced. 
If you are in law school, you might consider making election law your specialty. It looks to be a booming business. The Trump administration is pursuing lawsuits in seven critical battleground states aimed at restricting mail-in voting. Federal judges handed down rulings that eased voting restrictions in Alabama, Indiana, and Wisconsin but kept them tight in Ohio. The Maine Superior Court rejected a lawsuit arguing that the state's requirements for mail-in balloting are overly burdensome. The Montana Supreme Court stayed a lower court ruling that would have allowed any mail-in ballot postmarked by Election Day to be counted. 
Not all the action is in the courts, however. Some of it is happening in governor's offices. Texas Governor Greg Abbott, a Republican, directed each Texas county to offer only one drop-off location for collecting absentee ballots. To put that directive in perspective, forty of Texas's 254 counties are larger than the state of Rhode Island. One of those forty is Harris County, which is home to Houston. It has roughly 4.7 million people. Abbott said he acted because "the State of Texas has a duty to voters to maintain the integrity of our elections." Abbott didn't explain why making it harder for voters to cast absentee ballots protected election integrity.
By tomorrow, thirty-four states will have begun sending out mail-in ballots to voters. If you live in any of these twenty-one states—Alaska, Arizona, Arkansas, Delaware, Florida, Georgia, Hawaii, Idaho, Indiana, Kentucky, Mississippi, Missouri, New Mexico, New York, North Carolina, Ohio, Oklahoma, Rhode Island, South Carolina, Tennessee, or Texas—you have until the end of next week to register to vote. If you live in Louisiana, Illinois, or Nevada, the in-person and mail-in registration deadlines are next week, though you can register online through October 13 (Louisiana), October 18 (Illinois), or October 29 (Nevada). In Rhode Island, if you don't register by the October 4 deadline, you can still vote for just the president and vice president on Election Day at your city or town hall.
Election Day is thirty-two days away. Of course, that doesn't mean we will know in thirty-two days who will be taking the oath of office next January 20.
Margaret Gach assisted in the preparation of this post.