Campaign Foreign Policy Roundup: What to Do About Afghanistan?
Each Friday, I look at what the presidential contenders are saying about foreign policy. This week: how Donald Trump and Joe Biden say the United States should deal with Afghanistan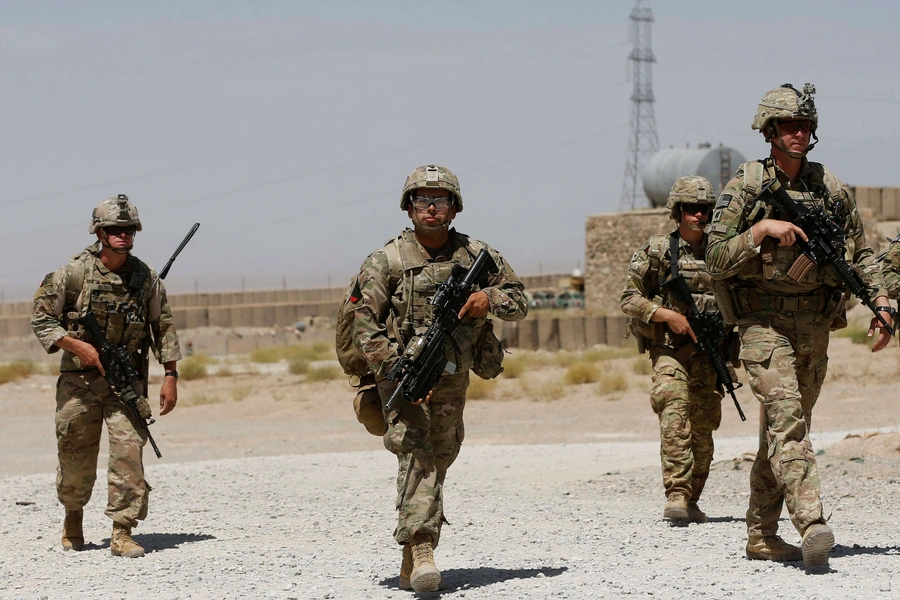 President Donald Trump made news last week when he tweeted that "We should have the small remaining number of our BRAVE Men and Women serving in Afghanistan home by Christmas!" Trump's message contradicted the one his national security advisor, Robert O'Brien, delivered just hours earlier. He told a crowd at an event at the University of Nevada, Las Vegas, that the United States would reduce the number of U.S. troops in Afghanistan from the current level of roughly 4,500 troops "to 2,500 by early next year." It was unclear whether Trump was overruling his national security advisor or just repeating his longstanding, but yet unachieved desire to end the U.S. military presence in Afghanistan.
Things became even murkier this week. Chairman of the Joint Chiefs of Staff Gen. Mark Milley shot down O'Brien's announcement, and implicitly at least, Trump's tweet. And he wasn't subtle about it, telling NPR: "Robert O'Brien, or anyone else, can speculate as they see fit. I'm not going to engage in speculation. I'm going to engage in the rigorous analysis of the situation based on the conditions and the plans that I'm aware of in my conversations with the president." Milley went on to say that U.S. policy sought "to end a war responsibly, deliberately, and to do it on terms that guarantee the safety of the U.S. vital national security interests that are at stake in Afghanistan."
As my boss, Richard Haass, tweeted, "whatever your views on the US presence in Afghanistan" these events "should unnerve you. Gone is anything that resembles an interagency process." This disarray damages the credibility of U.S. foreign policy generally, and it undermines the Trump administration's own effort to end the war in Afghanistan on favorable terms specifically. Telling the Taliban that the United States will leave sooner rather than later clearly encourages them to take a harder line in their negotiations with the U.S.-supported Afghan government—or to wait for a U.S. departure to settle matters on the battlefield. Not surprisingly, Taliban officials were quick to applaud the president's tweet.
Perhaps the Trump administration will try to clear up this mess of its own making. NBC News reports that the White House is debating whether the president should give a major foreign policy speech before Election Day. Failing that, perhaps the moderator at next Thursday night's debate, assuming it is held as scheduled, could ask a question about Afghanistan.
The irony here is that the gap between the Trump administration and Joe Biden on Afghanistan is small. The strategy that Trump outlined back in August 2017 echoed the plan that Biden failed to persuade President Barack Obama to adopt in 2009. Three years later, Trump and Biden continue to be in the same area code, if not the same zip code, on the issue. When Biden was asked in September if he supported Trump's plan to withdraw troops from Iraq and Afghanistan, he said: "Yes, I do. As long as he has a plan to figure out how he's going to deal with ISIS." Biden himself has called for reducing the number U.S. ground troops in Afghanistan to between 1,500 and 2,000 and focusing their mission on special operations against ISIS and other terrorist threats. 
U.S. troops have now been in Afghanistan for nineteen years. Nearly 2,400 U.S. service members and more than 1,700 civilian contractors have been killed in the fighting, with more than 20,000 wounded. The number of Afghans who have been killed or wounded is many times higher. For now, however, it seems unlikely that the U.S. military presence will end anytime soon, regardless of who wins on November 3.
The Candidates in Their Own Words
Florida could be pivotal to the outcome of Election 2020, so Trump and Biden are battling for votes wherever they can find them. One target both candidates have in their sights is the state's Colombian-American voters. Trump went to Sanford, Florida for his first rally since his COVID-19 diagnosis—he also held rallies in Iowa and North Carolina this week. He made it a point to criticize the Obama administration for supporting the 2016 peace accord that Colombia negotiated with the FARC rebels, ending, for the time being at least, a half-century of war:
The last administration also negotiated the terrible Obama-Biden-Santos deal with Colombian drug cartels. They surrendered the narco terrorists—they surrendered, totally gave up to them. And that caused … illicit drugs all over this country .… Under my administration, we worked with Colombian officials to seize or disrupt 227 metric tons of poisonous narcotics since April, and we're doing fantastically in terms of bringing it down, 19 percent reduction. My heart will always be with the Colombian people and the people from Cuba and the people from Venezuela and Nicaragua and all of the people that are so unfairly treated, and you'll see a lot of great things happen.
Trump also tweeted his congratulations to former Colombian President Alvaro Uribe upon his release from house arrest:
Congratulations to former President @AlvaroUribeVel, a hero, former recipient of the Presidential Medal of Freedom and an ally of our Country in the fight against CASTRO-CHAVISMO! I will always stand with our Colombian friends!

— Donald J. Trump (@realDonaldTrump) October 10, 2020
Uribe had been placed under house arrest in August by order of Colombia's Supreme Court. He is the subject of a criminal investigation into witness tampering in a case involving his possible involvement in illegal right-wing military activity in the 1990s. Uribe, who served as Colombia's president from 2002 to 2010, has been a leading critic of the deal that his successor, Juan Manuel Santos, negotiated with the FARC.
Just last week, Biden published an op-ed in Spanish in a leading Colombian newspaper El Tiempo calling Colombia "the keystone of U.S. policy in Latin America and the Caribbean," touting his long-standing support for aid under the Plan Colombia program, and vowing that "rebuilding the alliance with Colombia will be one of my priorities."
On Tuesday, Biden released a statement on Nagorno-Karabakh expressing his deep concern over the collapse of the October 10 ceasefire in Nagorno-Karabakh and criticizing the Trump administration for having "been largely passive, and disengaged, throughout this recent period of escalation."
At last night's town hall in Philadelphia, a conservative audience member who voted for Trump in 2016 asked Biden, "Does President Trump's foreign policy deserve some credit?" The former vice president responded:
A little, but not a whole lot. We find ourselves in a position where we're more isolated in the world than we've ever been. Our allies are—our go it alone, our—you know, America first has made America alone.

You have Iran closer to having enough nuclear material to build a bomb. North Korea has more bombs and missiles available to it. We find ourselves where our NATO allies are publicly saying they can't count on us. We're in a situation, as well, where in the Far East, we find ourselves in the—in the Western Pacific, where we're isolated, as well.

You have Japan and South Korea at odds with one another, China is making moves. So, I—you know, I would say we find ourselves less secure than we've been.

I do compliment the president on the deal with Israel recently, but, you know, if you take a look, we're not very well trusted around the world. When 17 major nations of the world were asked who they trust more, who is a better leader, and the president came in behind both—a national survey, international survey—both behind Putin as well as Xi.
Biden went on for a minute longer in this vein before concluding that in his view Trump has "no coherent plan for foreign policy."
What the Pundits Are Saying
My colleague John Campbell reviewed the Trump administration's policy toward Africa and argued that regardless of who is in the White House next, U.S. policy toward Africa is long overdue for a "reset."
Rush Doshi warned against assuming that China would prefer that Trump lose the 2020 election, saying: "For Beijing, a United States that is less engaged abroad, more divided at home, and seemingly uninterested in pandemic management or economic competitiveness is one with dim prospects."
Michael Brendan Dougherty summarized Biden's lengthy experience with foreign affairs as "a career of opposing successful interventions and supporting disasters."
John Hillen, former assistant secretary of state for political-military affairs under George W. Bush, wrote that it is more important to look at how Biden and Trump will continue to break from traditional foreign policy consensus than "just the Trump-the-Departure-Candidate versus Biden-the-Conventional-Candidate dynamic."
Shola Lawl and Sophia Jones examined how U.S. family planning policy might change with a change in administration and argued that "the November U.S. presidential election—and the possible repeal of controversial Trump administration policies—could mean the difference between life and death."
Paul Shinkman reviewed why foreign policy seems to be more absent than usual this election year and concluded that it follows a "broader trend of political leaders having fewer answers for increasingly complex global concerns."
Campaign Update
RealClearPolitics' average of national election polls has Biden leading Trump by 8.9 percentage points, 51.2 percent to 42.3 percent. That's down from a 9.6-point lead last week. FiveThirtyEight puts Biden's chances of winning at 87 percent, up two points from last week.
The final presidential debate is scheduled for next Thursday. If it takes place, and that's by no means a given, Belmont University in Nashville, Tennessee, will host. Kristen Welker, NBC's White House correspondent and co-anchor of "Weekend Today," is set to moderate. She has named six debate topics: COVID-19, American families, race in America, climate change, national security, and leadership.
Yes, it almost seems as if everyone is suing everyone else over voting rules this year. Thankfully, the SCOTUS blog has created a 2020 Election Litigation Tracker to help you follow who's suing whom over what. The blog has lot of entries. For its part, FiveThirtyEight.com is running a live blog with updates on voting problems.
California's state Republican Party acknowledged that it had set up unofficial mail-in ballot collection boxes in several California counties. California's secretary of state, a Democrat, sent party officials a cease-and-desist letter, and California's attorney general, also a Democrat, warned that those responsible for setting up the collection boxes could be charged with vote tampering. Republican Party officials said, however, that they would not comply with the state's demand. They argued that the boxes were permissible under California's "ballot harvesting" law, which allows groups to collect ballots for delivery to election officials. Trump urged the California Republican Party to "fight on" using the illegal drop boxes.
Forty-four states are reporting early voting statistics. So far more than twenty-two million ballots have been cast. That's slightly more than 16 percent of the total votes cast in 2016. In comparison, at this point in the 2016 race, states reported receiving about 1.4 million ballots. It's conceivable that for the first time in U.S. history that a majority of voters will cast their vote before Election Day.
As of tomorrow, all fifty states and Washington, D.C., will have begun sending out mail-in ballots. Five states—Idaho, Illinois, Massachusetts, Pennsylvania, South Dakota—have voter registration deadlines next week. If you are looking to vote by mail or online, you must register in Michigan or Wyoming by October 19, Utah by October 23, or Iowa by October 24, though each of those states offer in-person same-day voter registration at the polls.
Eight states have a deadline next week to request your mail-in ballot. The deadlines are October 20, 21, and 22 for New Mexico, Missouri, and Indiana, respectively, and October 23 for Virginia, Texas, Nebraska, Idaho, and Arizona.
Election Day is just eighteen days away.
Margaret Gach and Anna Shortridge assisted in the preparation of this post.