Can President Biden's State of the Union Address Unify Americans Over Ukraine?
President Biden delivers his first State of the Union speech tomorrow night. Can he use this perilous moment to begin to reverse the nation's deep divisions?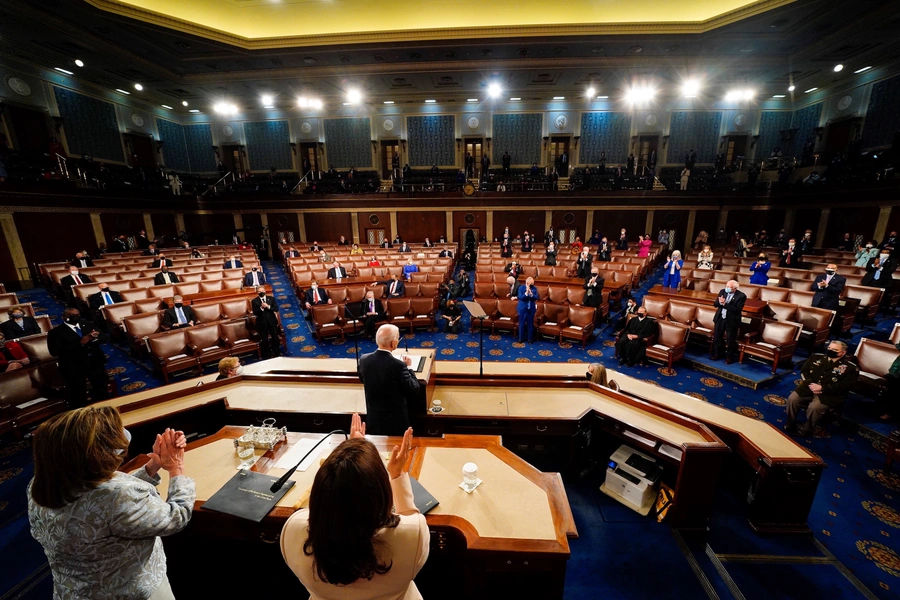 Can you make the best of a difficult moment? President Joe Biden faces that challenge tomorrow night when he delivers his first State of the Union speech.
Biden will take the podium amidst bleak news. More than 1,600 Americans a day continue to die of COVID, inflation is at a forty-year high, his domestic agenda is stalled, and Russia has invaded Ukraine. Democrats openly worry they will suffer big losses in the November midterm elections. That would return Congress to Republican control and guarantee continued legislative bickering and gridlock.
Biden certainly has positive news to tout. A record six million jobs have been created on his watch, and the unemployment rate has fallen to 4 percent. He can also point to how the West has closed ranks to sanction Russia and support Ukraine, in good part because of Biden's own skillful diplomacy.  
But that good news hasn't impressed most Americans. Biden's public approval rating stands at 41 percent, down fourteen percentage points from when he took the oath of office. His approval ratings on specific issues look similar. He is upside down on his handling of the economy (30 percent approve while 62 percent disapprove), the pandemic (47 versus 52), foreign policy generally (40 versus 56), and his Russia policy specifically (36 versus 55). Making matters worse, nearly six in ten Americans do not see him as a strong leader, and a majority says he does not have the mental sharpness to be president. Unsurprisingly given these numbers, most Americans think the country is headed in the wrong direction.
Biden could have a bit of wind at his back if the public rallies 'round the flag as sometimes happens during foreign policy crises. But those rallies tend to be fleeting even when they do materialize. Biden may not see one at all. Although most Republican lawmakers haven't followed former President Donald Trump in calling Russian President Vladimir Putin a "genius" and Western leaders "dumb," many have blamed Biden's supposed weakness for the invasion.
Whether this criticism is fair is a separate question. Biden can take credit for using intelligence adroitly to warn of the invasion and for working in lockstep with allies once it happened. Nor is it obvious what else he could have done to deter Putin short of dispatching U.S. troops to Ukraine, a step with virtually no elite or public support. But rallies 'round the flag typically occur when opposition politicians support the president or at least mute their criticism. And that doesn't appear to be happening today.
It is also an open question how many Americans will tune into Biden's speech, or truly listen to what he has to say if they do. Just 27 million Americans watched him deliver his address to a joint session of Congress last year. That's 17 million fewer than Donald Trump averaged during his presidency. It's also a smaller audience than some NFL football games. Even if the war in Ukraine drives viewership numbers higher, many people may watch to have their suspicions confirmed rather than their minds changed.
So Biden faces a significant rhetorical and political challenge tomorrow night. He has to persuade a skeptical public that we have turned a corner in fighting the pandemic, lay out how he can deliver on his promises to rebuild the middle class, make the case for his Supreme Court nominee, and explain how and why what happens in Ukraine matters not just to Ukrainians or Europeans, but to Americans themselves.
All four are daunting tasks, but the fourth could be the most difficult. It's not just that Americans want to see the federal government tackle big problems at home. It's that the steps needed to reverse Russia's aggression could aggravate those problems and divert resources away from domestic priorities. Biden acknowledged as much last week, noting that "defending freedom will have costs for us as well, here at home." And he will need to reassure Americans that standing behind Ukraine will not embroil the United States in a war, especially when Putin has put Russian nuclear forces on alert.
It will take considerable oratorical skill to square that circle. But if Biden succeeds, he could potentially begin to ease the country's deep divisions. That is something that all Americans should hope for and welcome.
Margaret Gach assisted in the preparation of this post.