Is China Gaming the System or Playing the Game?
For many, a quick glance at the Olympics medals table reinforces the idea of China as a threat—a country pursuing victory at any cost.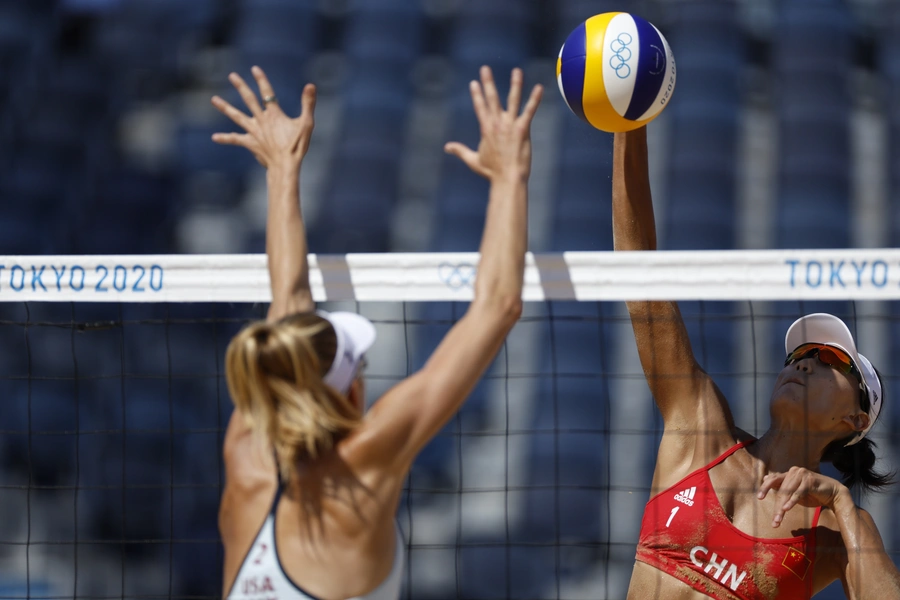 For many, a quick glance at the Olympics medals table reinforces the idea of China as a threat—a country pursuing victory at any cost. Its surge up the table in recent years seems like a perfect allegory for its rising military and economic power—a modern-day Soviet Union that uses a state-sponsored sports machine to game its way to international glory.
The numbers buttress this view. As of Thursday, the People's Republic sits atop the gold medal race with thirty-four to twenty-nine for the United States. But it has relatively few silver and bronze, a sign that resources have been aimed at disciplines with a higher probability of success. This perception is reinforced by golds being concentrated in a few sports: relatively marginal, rarely involving teams, and disproportionately female.
These are smart choices for winning gold. But it feels against the spirit of the Olympics—the work of a sports bureaucracy that aims to win in the standings rather than create a national sporting culture that organically produces elite athletes.
These concerns are legitimate, but focusing them on China is wrong. Instead, we should recognize that China is little different that other countries at the top—including the United States. Rather than challenging or upending the international system created by western countries over the past century, China is trying to win in Tokyo the same way as rich countries: by spending huge amounts of money on elite sports.
The role model for these sports programs is the old Soviet Union. Today, the last vestige of this system is Russia. Like the USSR, Russia is a relatively poor country and is fighting a losing battle for Olympic glory—perhaps reflected in its athletes' repeated penalties for doping. Still, it clings near the top, not quite as good as in the old days but still punching above its weight.
Most other countries at the top of the table have largely avoided Russia's doping scandals but followed a similar pattern. That means focusing on sports where they have a comparative advantage and pouring in money. Often, these involve sports where investment can yield quick results, such as cycling or rowing. These involve relatively little innate skill (compared to say, the parallel bars or shooting a three-pointer) but require endless hours each day of training—ideal for financial support.
Overall, the correlation is money, and the motivation is embarrassment of failing in front of the home crowd.
Look at the current medals table and, not surprisingly you will see host Japan near the top. For decades it had been a sporting lightweight, rarely cracking double digits in golds. But after it won its bid in 2012 it began investing heavily in sports, and so far this year has a record haul of twenty-one, good for third place. Up there, too, is the United Kingdom, a legacy of it hosting the 2012 games.
It is the same story for Australia, which had been an Olympic second-class power before it hosted the 2000 games. Since then it has spent generously on elite sports, as a current government document puts it, "to deliver national pride." Of the $350 million spent on sport, $150 million goes toward elite athletes.
This makes China's "sports machine" less remarkable than it often appears in the media. Like others, it sees the Olympics as part of being a great power—along with aircraft carriers, nuclear weapons, space missions, and the like. So, it continues to fund a vast, nationwide sports program.
As for the country it now rivals at the top of the global system—the United States—it does not have a vast sports bureaucracy and yet it is routinely among the world's top countries at the games. Surely, its model is more organic than China's.
That depends on how you look at it. At its heart is professional college sports, which subsidizes other sports. At face value, that sounds acceptable but there are two problems: it shifts the focus of some universities and colleges away from education and toward sports. More troubling, it imposes a form of regressive taxation. One study shows that money generated by disproportionately Black and Hispanic athletes—in football and basketball, for example—is channeled to sports dominated by whites. Therefore, this pool of unpaid athletes from poor demographic groups helps support a vast edifice of elite sports in the United States.
By contrast, China's sports machine is more transparent. This is not meant to relativize the pain and suffering of those who don't make it in China, or the gross inequality of a relatively poor country investing heavily in sports. But it should give people in western countries pause to think about China's course—is it really so brutal, or just a reflection of a system that we all, wittingly or not, follow?